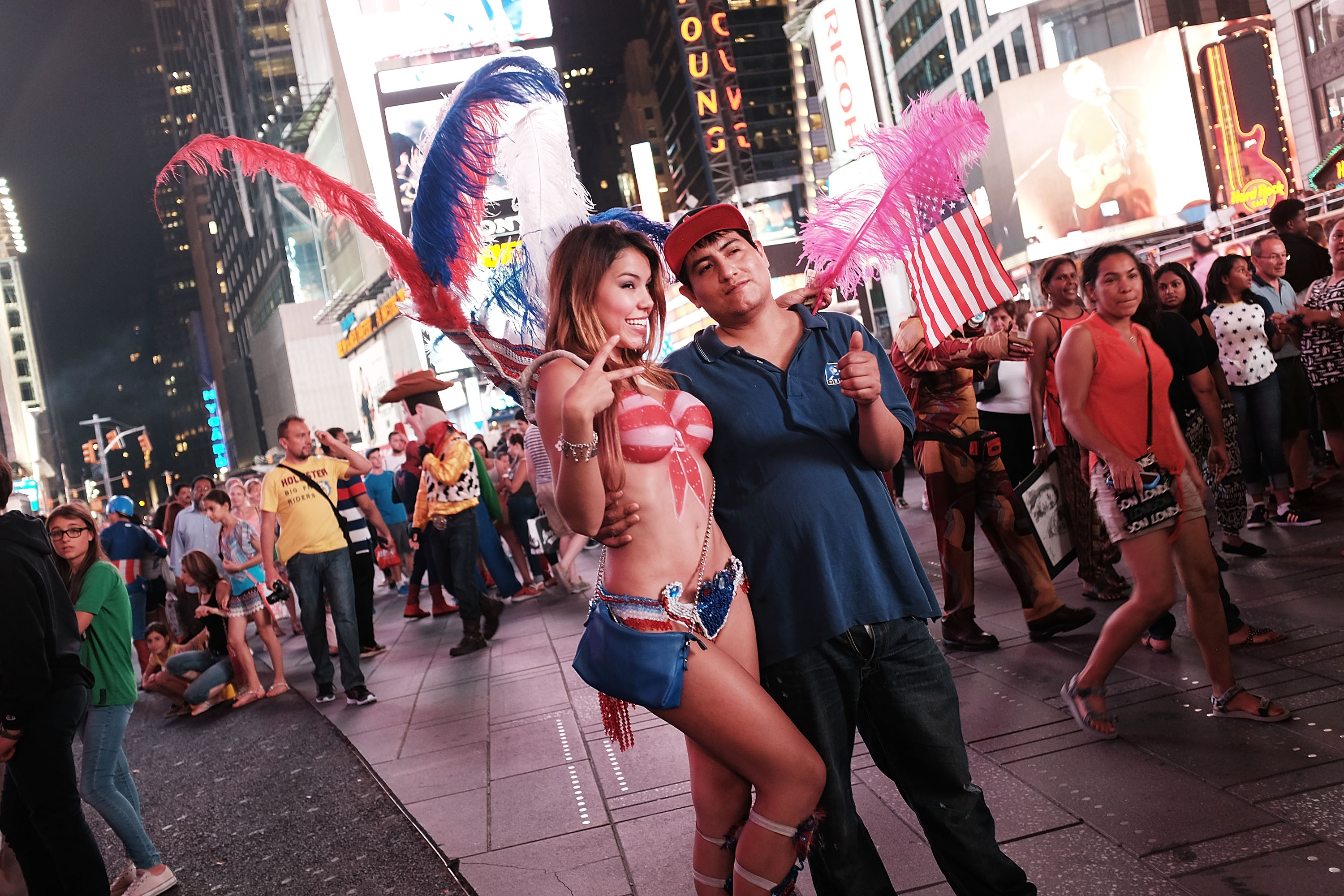 The City Council today introduced legislation to allow the Department of Transportation to oversee pedestrian plazas like the one in Times Square—the first step toward regulating the costumed characters and topless painted ladies who sent elected officials and the media into a tizzy last summer.
"The goal of this is to try to bring some type of order and safety to an area that I think is just a victim of its own success," Councilman Corey Johnson, who represents part of Times Square and is one of the sponsors of the bill, told the Observer.
The legislation, reported yesterday by Politico New York, would give DOT the ability to regulate all pedestrian plazas, where until now it has been unclear which, if any, city agency has the jurisdiction to make rules similar to the ones found in other public spaces like parks.
"No one clearly has the power to establish those rules," Councilman Brad Lander said, saying that causes issues not just in Times Square but in smaller plazas in other districts, including his own. "It's that lack of authority that means no one has the ability to write rules about the densudas in Times Square, and that was certainly part of what provoked the conversation that got us here."
Tensions created by aggressive peddlers dressed as popular kids characters like Elmo have long simmered in Times Square, where the characters pose for pictures and then demand cash from tourists. But the issue exploded into the spotlight last summer thanks to relentless coverage of tip-seeking women wearing nothing but paint on their breasts, whom the Daily News splashed on its front pages and alleged were bringing a Disneyfied Times Square back to its seedy roots.
The political back-and-forth last summer seemed to take on some of the circus-like characteristics of Times Square. Police Commissioner Bill Bratton suggested tearing up the plazas and returning cars to Times Square, a suggestion Mr. de Blasio considered but which others panned, including Manhattan Borough President Gale Brewer who deemed it "preposterous." Others noted a bit of sexism in the fact that it was shirtless women—whom the News seemed intent on both shaming and using to sell papers—and not sometimes violent costumed characters or the long-shirtless "Naked Cowboy" who had spurred so much attention.
"I am not offended by the desnudas—and that's not because I'm gay," Mr. Johnson quipped, not for the first time, today.
And Council Speaker Melissa Mark-Viverito—who last year said it was "women's bodies continue to be used as political fodder"—couldn't suppress a bit of a smile when she was asked if she was "concerned" about the desnudas and costumed characters returning in warm weather.
"Am I concerned about it?" she asked. "I mean, you know—we're concerned, listen, we want to engage in very productive conversations and take into account the concerns of the BID, and the businesses in the area and the concerns from the public, which are things that we have weighed in finding solutions and trying to at alternatives as to how we can approach this."
For several reasons beyond the lack of clear jurisdiction over the plazas—including the protections of the First Amendment and court rulings deeming a woman can be topless anywhere a man can—it's unlikely the pushy characters and scantily clad women will be banned from Times Square.
But once DOT has rule-making authority, it can do as the Parks Department has done in some places and set designated locations for certain activities—something that was among the plans outlined by a task force on the topic led by City Planning Chairman Carl Weisbrod and Mr. Bratton in the fall.
"Some of the ideas are to have designated areas that are just pedestrian flow areas. Designated areas where commercial activity could take place in. That could be costumed characters, that could be desnudas, that could be CD sellers, that could be hop-on/hop-off bus ticket sellers, that could comedy ticket sellers. The goal of this is to try to bring some type of order and safety to an area that I think is just a victim of its own success. And that's the real goal here."
The DOT would likely work with local nonprofits, like business improvement districts or other groups, to find people to manage the local pedestrian plazas. Any decisions about restrictions and the proper uses of the plazas would be make in consultation with the borough president and the community board.
Mr. Johnson said he hopes the bill will get a hearing soon and be in place for the busy summer season.