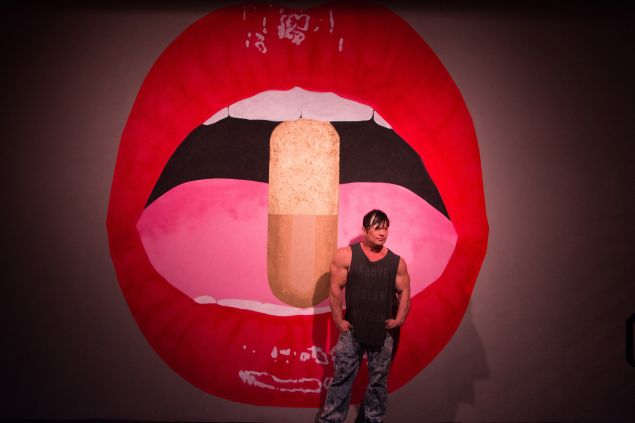 David Barton has never been known for his subtlety. It's his larger-than-life aesthetic that has made his namesake chain of boutique gyms synonymous with fitness extravagance. However, in the wake of walking away from the chain that bears his name, New York City's legendary muscle man is making his comeback in the fitness world with a new gym that embraces the subtle details.
When first walking into Mr. Barton's new Hells Kitchen gym, dubbed TMPL, it's what is lacking in the decor that is most striking. The usual sensory overload of the David Barton experience is shockingly absent; in its place is a minimalist palette of tan cashmere drapes, rich wood doors, and grey concrete beams. Mr. Barton's outfit that day was also toned down, at least by his standards, donning hand-illustrated jeans by artist Kenny Scharf and a shredded muscle tank that truly does give his massive muscles free range. His signature highlighted bangs evoke a personality that is much larger than his five foot five inch frame, however his raspy whisper of a voice suggests otherwise.
TMPL's four-letter name seems alluring to a millennial clientele, who tend to choose acronyms over full phrases. After having difficulty coming up with a name for his newest venture, it was Mr. Barton's son Bailey, that came up with idea for naming the gym after a house of worship: the temple. "I think the name really is just that, the gym is my temple. It's where I go to get right with the universe." Though his 21-year-old son came up with the name, it was 51-year-old Mr. Barton who gave it an au courant essence. "Spelling it without the vowels, it's the modern version of the temple," says Mr. Barton. After a pause he chuckled, "Four letters just looked cooler on a T-shirt." When asked if he considers himself spiritual, he replies, "You know, I like to think of myself as spiritual, but some people are spiritual, some people are intellectual, I'm physical."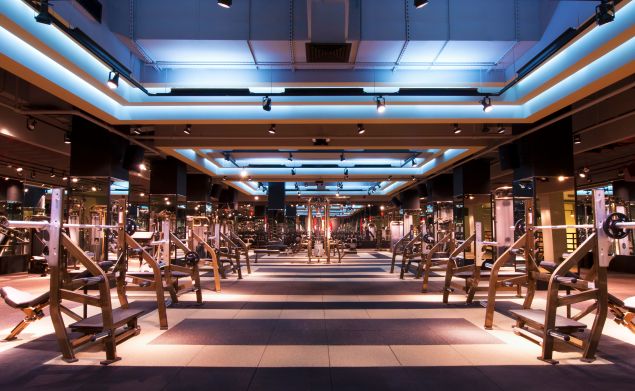 When descending from the sleek, lounge-like lobby into the guts of the gym, the signature David Barton mood lighting is undeniably present. A remastered spectrum of blues, purples and soft whites, contrasts with the rich pinks and fuchsia tones that emanate from Mr. Barton's legendary Astor Place fitness destination. The main weight room on the first floor has a church-like presence with gym equipment symmetrically bordering a vacant aisle, with a Lat-Pull machine serving as the center alter. In keeping with the muted theme of TMPL, the presence of color in the room is sparse, except for the bright red lips, parted to reveal a glittery, gold pill. "Like a pill, working out makes you feel good," Mr. Barton explains.
However it is a discreet door tucked away in a corner that holds the gym's true gem: the virtual reality cycle studio. Complete with an immersive 30-foot curved video wall, the room takes students through forests, down rollercoasters and traveling through space, creating a viable competitive edge over the no-frills SoulCycle scene.
Turning the corner, a centrally-placed fresh juice bar opens up on the lower-body tomb of Mr. Barton's TMPL. Sleek, illuminated beams draw eyes upward to the high ceiling where a hand-painted fresco of a nude, six pack-clad Grace Jones sits, holding up a gold leaf sun. "When you go into a temple, you naturally look up," explains Mr. Barton. "What better image than Grace Jones holding up the sun?"
When Mr. Barton separated from the DavidBartonGym chain in 2013, the Cornell graduate turned away from the flash of his previous endeavor and focused on the scientific roots of fitness. "This is something I've done for myself and when I work one-on-one with clients, this is what I use," says Mr. Barton. "You really have to get down to the chemistry–what's under the hood–not just the workout."
TMPL's philosophy centers around metabolic assessment of the body as a way of holistic, individualized diagnosis, addressing both nutrition and fitness in order to achieve a desired body type. When customers first visit the gym, a trainer gives a physical fitness assessment which is then paired with a full metabolic assessment that includes testing metabolic rate, body composition, and a pH test, performed by an in-house nurse. A 200-question metabolic questionnaire follows along with a 3-D body scan. After the extensive internal and external assessment, customers are fitted with a highly individualized plan–including diet and exercise–to attain their ideal fitness goals.
In a far corner room is what Mr. Barton refers to as the "Butt Room." It houses seven squat racks, which is vastly more than the usual two found in other New York City gyms. He proudly asserts that this room was made with both men and women in mind, since the #belfie revolution has given way to both genders trying to tone their assets. A quick exit and a translucent door leads into the gym's 25-meter salt water pool. The sultry oasis is immediately soothing, with a spa-like feel and swathed in periwinkle light.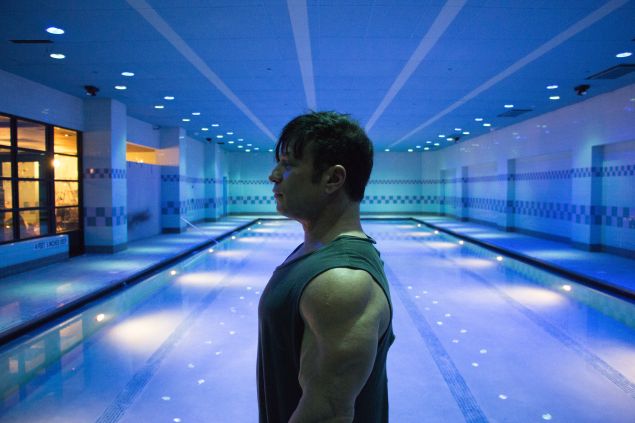 Just days before, this calm poolscape was filled with drag queens, blow up toys, and platform heels. With help from Mr. Barton's wife and eighties nightlife icon Susanne Bartsch, TMPL's christening included pastie-clad mermaids, gothic ballerinas, celebrities, and a DJ booth. "We just invited everyone we know… and some we don't," said Barton. "We throw a good party." The outlandish affair was an appropriate goodbye to DavidBartonGym and a festive hello to a new era for the fitness legend.
As the pensive Mr. Barton reflects on his fitness empire, he shares new dreams for TMPL."That's not something that I'm eager to do again, make it a national chain. Maybe local. Maybe Brooklyn."
Though his work will always embody a kind of rock n' roll spirit, this venture won't be making the same mistakes. "I think my last company was a little more niche and this gym has really broadened my appeal," reflects Mr. Barton. "DavidBartonGym started in my 20's and now I'm 51. Maybe this is me grown up."