In late 2014, Pink Floyd released their deep, imaginative, resonant and valedictory final album, The Endless River. The Endless River was a triumph, an album that firmly linked Pink Floyd with the majestic planetarium-ready rock movement they had helped create. Almost entirely instrumental, it hopscotched over the strident bitterness and turtle-snap funk of Roger Waters' The Wall and Final Cut and reconnected the Floyd legacy with the playful, evocative and engaged ambient music the band created on Meddle, Atom Heart Mother, and Ummagumma.
Just 15 months later, Dave Gilmour has released Rattle That Lock.
Rattle That Lock is a beautiful and rewarding album that retains the spacious elegance and tension of The Endless River, yet scales down the instrumental expanse to a much simpler band-based template (while adding a handful of the more concretely structured songs that The Endless River intentionally avoided). Rattle is made even more human by its refusal to be monumental; instead it maintains an effective balance of grace, mobility, song, silence and ambience.
When I listen to Rattle That Lock I visualize the blue beacon of a lighthouse seen through the fog. I see the faux-Borealis of a far-away great city reflected in the clouds. I imagine sunless Avebury Henge made bright by a new snow. And I see and hear a great artist who commands the tools of a rock band and a recording studio, and uses them to reach our ears and our hearts with tuned air. In other words, at times Rattle That Lock achieves what the very best of Pink Floyd achieved.
[youtube https://www.youtube.com/watch?v=uufP4iD9Ako&w=560&h=315]
Everyone of a certain age (and many younger people, too) know what David Gilmour sounds like; and on Rattle That Lock he sounds pretty much just like the David Gilmour you want to hear, but Gilmour applies an economy and restraint that makes this album a near-perfect bridge between the arena shouts of our classic-rock youth and the cool ambience of our NPR-attentive middle ages (which is to say that there's stuff here that sounds like WNEW would have played it in 1976, and stuff that sounds like it would sound great on Hearts of Space, very often in the same song).
Consistent throughout is Gilmour's instantly identifiable playing, his dynamic, subtle, shimmering style that allows his guitar to speak without great movement and just reflect the ring of the wood and the electrics.
Drenched in heavenly reverb, alternately emphasizing dark and light, many of the songs on Rattle That Lock are beautiful breaths of ideas and classic Floyd-ish melodies, framed by band arrangements that have an almost Satie-like discipline. Like Meddle (an album I find myself continually comparing Rattle to) this record has a deep respect for space while integrating melody, jazz and blues-touched guitars, along with a fearlessness that allows the studio to seemingly play itself.
"5 AM" begins Rattle That Lock with a gentle slope of orchestral chords (reminiscent of Charles Ives' "The Unanswered Question"), sounding like a sweet, mysterious and promising sunrise, heralded by that exquisite tone wrapped in churchly reverb. He returns to this resonant, big-room ambience again and again (most successfully on "Beauty", a dream-like yet earthbound song that is the most completely realized of the album's multiple quasi-ambient numbers, and a track which also references the classic Floyd dit-dit-dit turn-signal guitar).
[youtube https://www.youtube.com/watch?v=0MlGYgmzk9Y]
Throughout, Rattle That Lock rings with the intent to create a mood: virtually every song eases dawn-like into life, taking its time to unfold and reveal a recognizable form (this is a Floydian trick as old as the band itself; think of the interstellar radio haze that introduces Floyd's first album).
Which isn't to say the whole album is a drifty landscape; far from it. One of the successes of this album is the integration of the sublime and the solid.
"Faces of Stone", perhaps the most rewarding of the "traditional" songs on the album, is the soundtrack to an equinox in the southwest of England in which a white and gold sun pokes through opium-pink clouds at the end of a long Wiltshire day; with its skipping, sing-song melody, "Faces of Stone" could have been a classic Floyd single, though Gilmour deliberately avoids the lyrical or rhythmic adamancy that Floyd might have demanded.
The title track (and single), "Rattle That Lock", is a slightly-less gratifying but effective throwback to a mid-'80s-ish post-prog-meets-MTV pop that retains a connection to the "deeper" ambience of the album via a luxurious sonic panorama; and "Today" lopes with a light, bobbing Floyd-ish funk (never my favorite aspect of Floyd's carpet satchel, but the Robyn Hitchcock-esque swooping, spraying melody is brave and compelling), and Gilmour blends a remarkable patchwork of sounds, from childlike simplicity to Steely Dan-ish jazzy harmony to thronky guitar blurts, into an absolutely unified whole.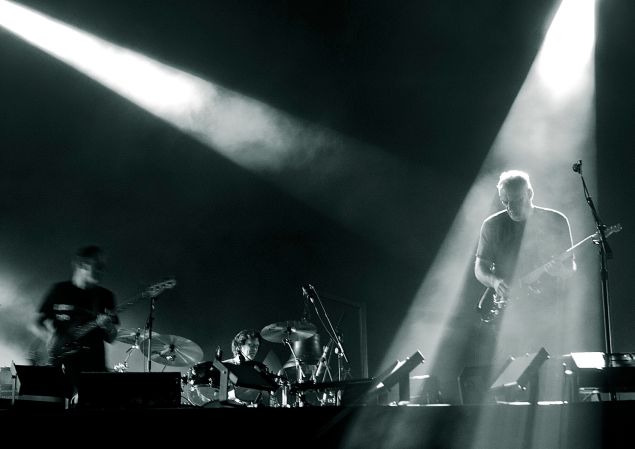 The album's only truly questionable moment is "The Girl in the Yellow Dress", an exercise in smoky jazz redeemed by the sheer sensual depth of the recording and a courageous, glacial pace that reminds me of combining Benadryl and whiskey. Oh, and unless I'm mistaken, "Dancing Right In Front Of Me", another of the album's more conventionally structured tracks, begins with a (very brief) instrumental quote from "Arnold Layne". This underlines that there's a great sense of full circle on this album, in much the same way the elegiac and stately The Endless River felt like a jubilant yet bittersweet farewell.
But Rattle That Lock hardly sounds like an artist getting ready to say goodbye. In fact, I find myself wishing Gilmour would take his magical gifts to the next stage and become one of those artists who expands his artistry and invention as they get older (as, say, Hans Joachim Roedelius and Scott Walker have).
This new album underlines that Gilmour may belong as much to the world of Charles Ives, Moondog, Harold Budd, Eno, Roedelius, and Durutti Column as he does to the stadium-filling, muscle-flexing milieu his work is usually associated with. Although there are many melodic and lyrical victories on Rattle (all the words on this album are written by Gilmour's wife, the author Polly Samson, who has been Floyd's lyricist since 1994), Gilmour may be at his best when exploring the environmental noise and contours of the studio, making his morphine-blues-via-the milky way playing ring, resonate and reverberate around the room, accompanied by chimes, drones and dashes of mood.