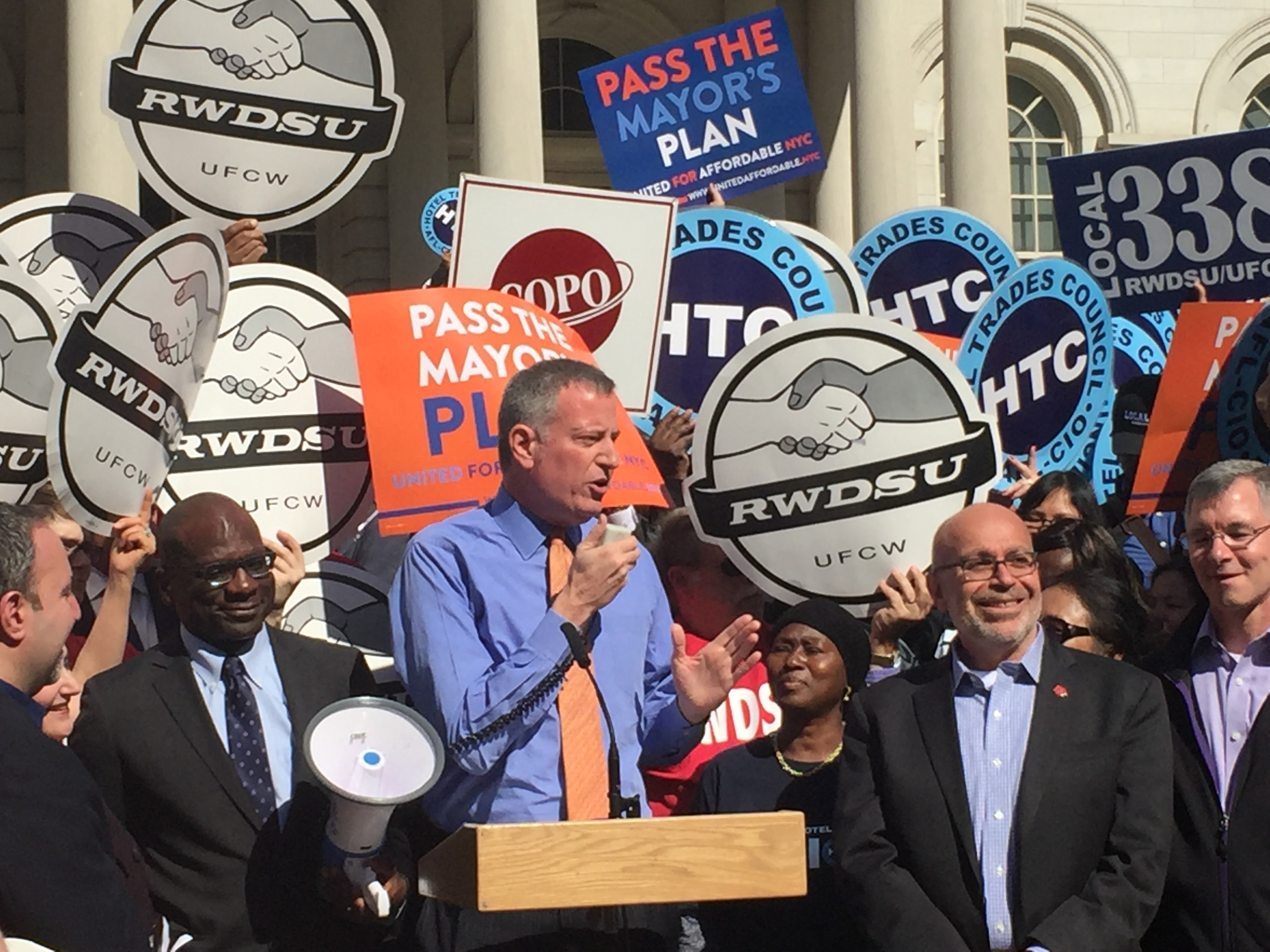 Mayor Bill de Blasio took to the steps of City Hall to rally in support of his plan to re-zone swaths of the city for affordable housing, urging the City Council to pass the controversial package of bills.
"Our time has come. You need to make your voices heard. You to make sure ever City Council member knows this is about our families, this is about our neighborhoods," Mr. de Blasio said to a crowd of cheering union employees and AARP members, speaking into the handheld microphone of a bullhorn. "We know that the status quo in our city won't do."
The Council has until the end of the month to vote on Mr. de Blasio's plans, dubbed Mandatory Inclusionary Zoning and Zoning for Quality and Affordability. The first will require developers building any market-rate housing to include affordable units, something that has previously been encouraged through tax credits but not required. The second will allow developers to build taller buildings and includes several other tweaks aimed at encouraging senior housing.
"No, it's not the sexiest title you've ever heard," Mr. de Blasio said of his MIH plan. "But I want you to focus on the word 'mandatory.'"
"Mandatory!" a union member shouted out beside him.
"Thank you," Mr. de Blasio replied. "If you want to build anything, you have to build affordable housing. The days of giveaways are over. It's time to put the interest of the public first."
But some in the City Council believe that the mayor's plan does not go far enough—that it does not provide enough housing for the city's poorest residents and that any building in certain neighborhoods, like East New York, could hasten gentrification, raise rents and the cost of living and ultimately push out residents.
Council Speaker Melissa Mark-Viverito said conversations around the plan were "productive" and "ongoing." "
"We will meet our timeline, let me just say that," she said. "We are hoping to, yes, arrive at an agreement with the administration."
Last week Politico New York reported that the Council was considering adding on a requirement that some affordable units be reserved for people making 40 percent of the area median income. The most affordable units in the mayor's proposal serve those making 60 percent of the AMI.
"I had always said at the onset that there would be changes to the original proposal, and there will be changes ultimately in what it is we have to vote on," Ms. Mark-Viverito said.
Mr. de Blasio made reference to some of the resistance in the Council today, telling the rally crowd that some will wonder whether his plan is "enough." He pointed to efforts to increase legal services for tenants, which are aimed at preventing evictions particularly in changing neighborhoods where landlords might like to bring in more rent. And he said his plan would go further than any had before.
"We're changing the rules of the game," he said.