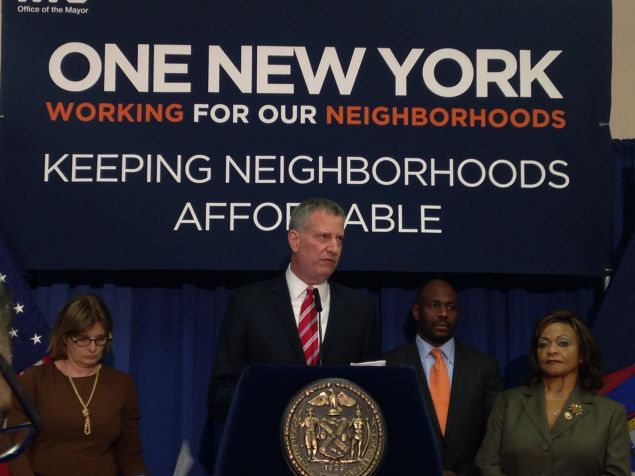 Mayor Bill de Blasio today tore into a proposal by Harlem Assemblyman Keith Wright—one of several aspiring successors to retiring Congressman Charles Rangel—that would grant his nemesis Gov. Andrew Cuomo control over the New York City Housing Authority.
Speaking at an unrelated event in Harlem, Mr. de Blasio balked at the idea that Albany could do a better job taking care of the 334 crumbling, cash-strapped, violence-plagued NYCHA developments scattered across the city than the current board, which consists entirely of mayoral appointees. Mr. Wright's proposal was a reaction to the mayor's plan to build 17,000 new apartments, 3,500 of them market rate, on authority greenspaces, parking lots and playgrounds—and use the resulting revenues to prop up the entity's moribund finances.
"I think it makes no sense whatsoever. Obviously the problems the housing authority has have to be solved here in the City of New York, not by bureaucrats 150 miles away," the mayor said.
Mr. Wright's proposal was a reaction to comments by NYCHA Chairwoman Shola Olatoye, a de Blasio appointee, that the housing authority would press ahead with the development plan with or without resident support.
"If NYCHA can't take care of tenants, and take care of its properties, then we need a state takeover. I am prepared to introduce legislation that allows Governor Cuomo to do just that," the candidate, who chairs the Assembly's influential Housing Committee, said in a press release.
Mr. Wright, Mr. de Blasio and Mr. Cuomo are all Democrats—but the assemblyman is a longtime ally of the governor's and appears to have taken his side in the highly public spat with the mayor. Nonetheless, the mayor spoke favorably about Mr. Wright today, and seemed stung at the suggestion the governor should take NYCHA out of his control.
"I've worked with Keith Wright many, many years and I like him. I was very surprised by that proposal. He didn't call me to talk to me about it. I found that, you know, surprising," he said.
Mr. Wright's camp did not immediately respond to requests for comment. But one of his chief rivals in the Democratic primary for Mr. Rangel's seat, State Senator Adriano Espaillat, denounced the idea in a statement this afternoon.
"This proposal brings new meaning to March Madness. Instead of playing political games with our public housing residents, let's bring funding and accountability to NYCHA," Mr. Espaillat said, vowing to bring back greater funds for the authority from Washington, D.C. if elected. "As congressman, I will fight for federal matching funds to city and state investments in NYCHA and seek targeted federal review in developments where there is a high incidence of maintenance complaints and potential health hazards."
The mayor said that he was unsure if he would make any endorsement in the contest. Unlike former Mayor Michael Bloomberg, who repeatedly endorsed Mr. Rangel for re-election over the years, Mr. de Blasio declined to support or oppose the congressman in his successful 2014 campaign.
Both Mr. Cuomo and Mr. de Blasio are highly popular in the city's black community.