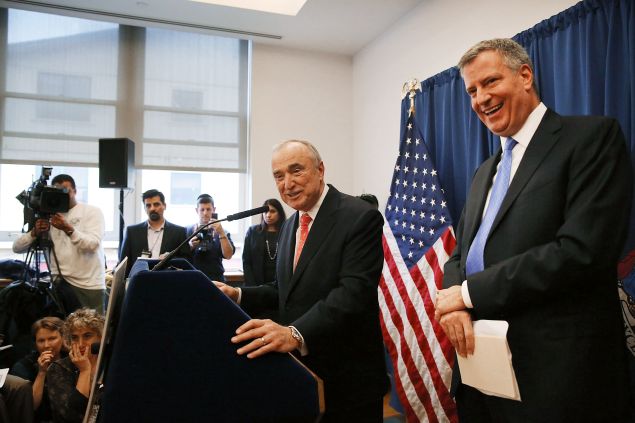 Mayor Bill de Blasio hopes to see Manhattan's new no-arrest policy for open container and public urination violations become a model for Brooklyn, Queens, Staten Island and the Bronx.
A day after Manhattan District Attorney Cyrus Vance announced the NYPD would no longer arrest, and his office would no longer prosecute, most people caught drinking, peeing, littering and riding between subway cars or taking up more than one seat on the train, Mr. de Blasio said he envisions the new tons-of-tolerance approach going citywide. The mayor compared it to his program of only issuing citations for possession of small quantities of cannabis, which he announced in 2014.
"The initiative with D.A. Vance, which we feel will be a success and spread to all five boroughs, is very consistent with the initiative we undertook on marijuana arrests," the mayor said at an NYPD press conference in Brooklyn. "I believe this will be a successful approach. We're very ready to see it succeed in Manhattan and then continue, because it makes sense.
Under Mr. Vance's program, police will still issue summonses to the low-level offenders, and arrest them if they fail to appear in court. Police Commissioner Bill Bratton said Manhattan had become the testing ground for the initiative because of the number of arrests for such minor crimes—as many as 10,000 a year—in the borough.
"If the initiative is successful, and we evaluate, we would certainly be interested in taking it to the other boroughs," he said.
Mr. Bratton denied the new policy represents the death of the "broken windows" strategy of cracking down on minor infractions, which he pioneered in the 1990s under Mayor Rudolph Giuliani. Rather, he compared it to weaning a recovered city off a regimen of treatment.
"Less medicine for a patient that's much better," he said. "Broken windows is here to stay. But it's the amount that we will constantly adjust to meet the existing circumstances."
Cops have always had the option to issue summonses for these offenses, and most people arrested for the infractions had warrants out for other crimes, according to the DA's office. Those people will still be arrested, but only on the old warrant—not for the infraction for which they were stopped. Police can arrest people for the infractions if they deem it a public safety issue.
It's unclear whether other district attorneys will take Mr. de Blasio's advice and jump aboard. Brooklyn DA Kenneth Thompson said the most important thing to deal with is the issue of outstanding warrants.
"I applaud this effort to focus our limited law enforcement resources on more serious offenses, but I have said repeatedly that we must deal head on with our broken summons court system and the 1.1 million open arrest warrants for everyday New Yorkers who committed minor, low-level offenses," Mr Thompson said. "I created my Begin Again Program to help the people of our city get relief from these warrants that pose an impediment to jobs, education and housing and to strengthen the relationship between law enforcement and the community."