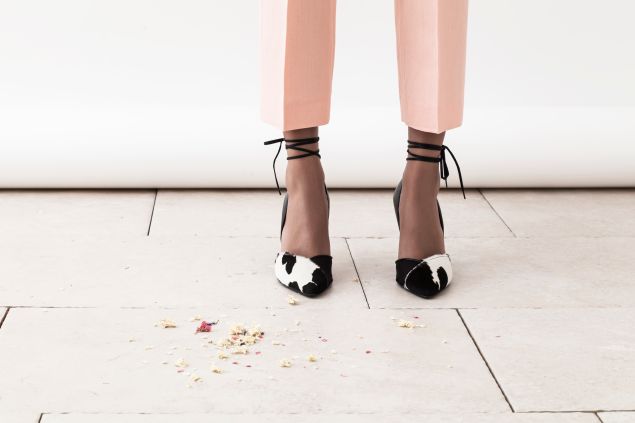 Heed our warning when we say that you should buy a pair of Dear Frances shoes right now. This Lond0n-based and Italian-made label has been garnering buzz since it was founded in 2014 and for good reason. Designer Jane Frances studied footwear design in London and Milan, eventually landing an internship at a family-owned footwear factory in Italy. When Ms. Frances decided to launch a brand of her own, she turned to that same factory in the Vigevano region of Italy to bring her designs to life.
Crafted in soft suede and fine leather, in delicate hues of pink, black and white, attention to detail is very important for Dear Frances. While timelessness is key to the brand's bottom line, a simple slice of lucite cutting through a wooden heel has become a signature of sorts. The forest green Float Boots benefit from a clear pink accent; the white Poser mules brilliantly combine the clean aesthetic of blond wood with clear lucite.
Just last month, Vogue lauded the label for being an easy way to make your wardrobe even more chic. And shortly after, Bella Hadid stepped out in a pair of simple black mid-calf leather boots. Here, Observer talks to Ms. Frances about her lucite obsession and how each pair of Dear Frances shoes come to fruition.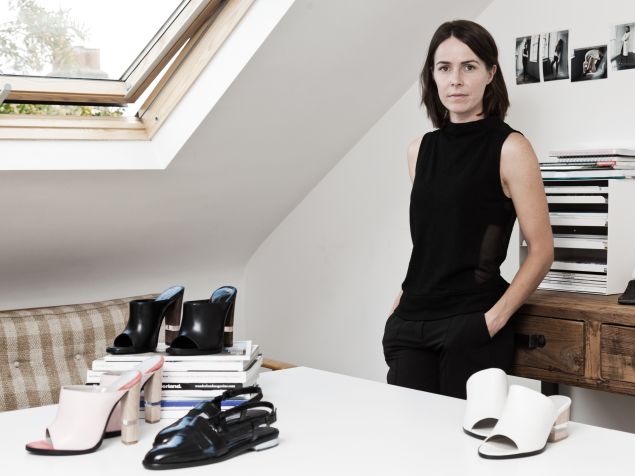 What is the Dear Frances M.O.? We are based on an ethos of warmth, simplicity and easy elegance. Keeping things simple, paring back the fuss and focusing on fine detail, texture and tone. I am interested in designing pieces that can be worn time and time again and from day to night, so it's a careful balance of uncomplicated design and statement detail.
How did you get into the shoe design business? Following my studies, I was introduced to a wonderful boutique, family-run factory in Northern Italy, where I spent several months working alongside their production team, learning the intricate work involved in the age-old process of Italian shoe production. The people I worked with really had such an incredible passion for what they did and helped to pave the way for my work in shoe design. Our shoes are still handmade at this same factory. It's wonderful to have such a close relationship with our production team and to share the values and ethos of Dear Frances.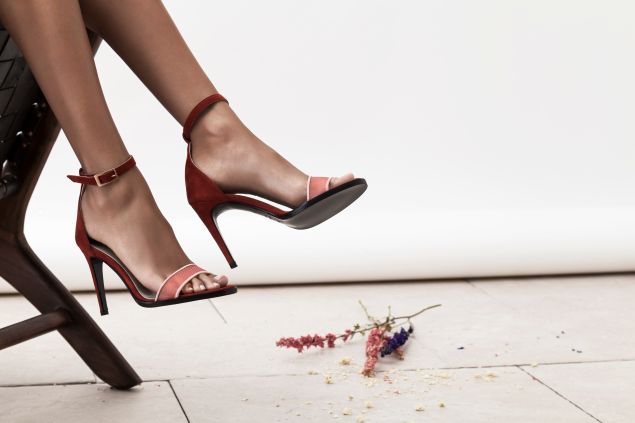 How long does it take to make a pair of Dear Frances shoes? Besides the design process and sourcing of materials for a collection, there are several steps and a variety of suppliers involved in the production of our shoes. We work with a number of skilled artisans from across Italy, including heel producers, sole makers, pattern cutters and local tanneries. We also develop custom plexiglas colors each season for inclusion in our Float Heels, as well as custom fabrics and other materials. Once the components are sourced and ready for final production, the shoes are then made by hand, with our more complex designs often taking up to one week to be completed. From concept to final product, it's a long and wonderful journey, about six months in the making!
What are your design signatures and why? The Float Heels are our signature style. The clean slice of plexiglas that runs through natural wooden heels has become incredibly popular and certainly defines our style. It's a quiet statement and comes back to the idea of elevating classics and modernizing timeless styles with details subtle enough to be worn time and again and on different occasions. I find joy in detail, so it's about focusing on finishing everything with precision, ensuring that the texture and tone work together. The closer you look the more you see.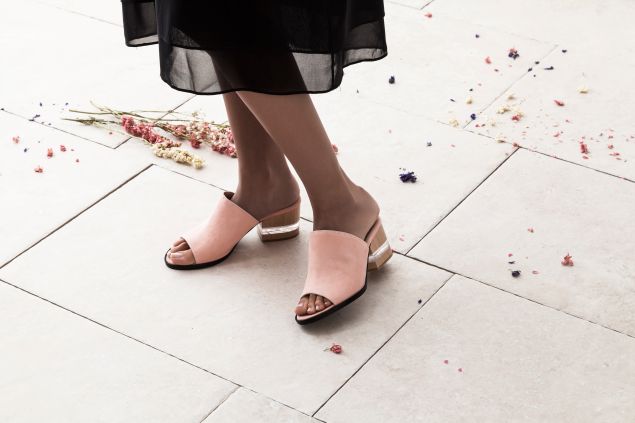 What are the best sellers in your collection? Depending on the time of year or time of day, it ranges from our ankle boots to summer slides and heels. The Spirit Boots, which feature a beautiful slimline ankle and grounding block heel are incredibly versatile and one of our most popular styles. The Float Boots and Poser Mules, styles which feature our signature Float Heel, are always great sellers and our relaxed approach to slides and evening stilettos also do very well.
How does it feel to be called "a brand to watch?" It's wonderful to see our aesthetic resonating so well with our US customers and to be recognized for doing things a little differently. We have had an incredible response from our US launch. Bella Hadid recently wore a pair of our Spirit Boots, which have become something of a cult favorite among online influencers such as Evelina, Erica Choi and Jessie Bush. U.S. editors have been hugely supportive since the beginning and we've had an overwhelming number of celebrity requests since our launch this month. It's very rewarding and we're excited about what's to come.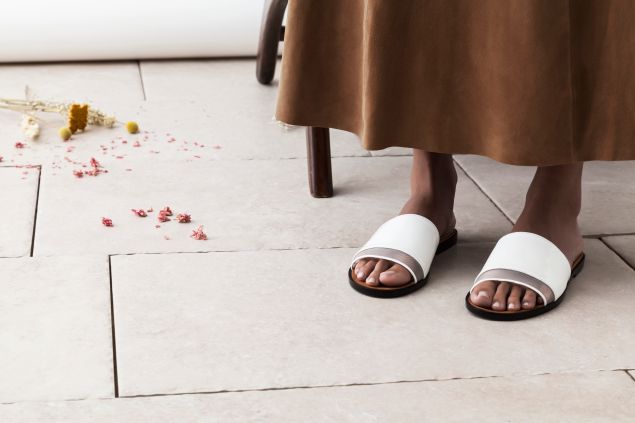 What does the future hold for Dear Frances? We have been overwhelmed by the early response to Dear Frances. The quality of our products and the integrity of the label remains our priority and we will look to expand our team and partner with strong retailers in key markets as we continue to grow. Aesthetically, we will continue to focus on our core styles and Timeless Edit, a selection of our most popular styles, available year round, as well as incorporating a range of exciting new textures and color ways each season.