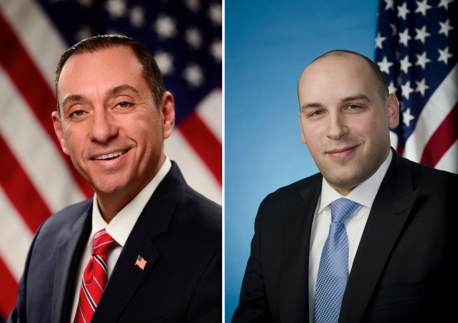 As late as Thursday, Essex County Democratic officials were attempting to negotiate with the two Democratic factions in Bloomfield in order to avoid a June 7 primary that is shaping up to be a bloody civil war, according to sources.
Despite attempts by Essex County Democratic Chairman Leroy Jones and Essex County Executive Joe DiVincenzo to forge a deal that would satisfy both Bloomfield Municipal Chairman Peter Strumolo and Mayor Michael Venezia, two full Democratic slates will still be facing off in June.
In October, sitting Mayor Venezia rejected the line due to a disagreement with his fellow Democrats about which candidates should get nominations for council seats. Venezia wanted incumbents Wartyna Davis and Carlos Pomares to get the line but municipal chairman  Strumolo wanted candidates who could balance board control rather than stack the board with Venezia allies and give the mayor control once again. That disagreement about who should run for council spawned a rift. Venezia put up his slate (which also included Ted Gamble) and Strumolo put up his own full slate, which included a candidate to oppose Venezia as mayor. Strumolo's slate was Councilman Joseph Lopez for Mayor and Kathy DeMarino, Jo Lewis and Yudi Sobharam for council.
But, as negativity has continued to bubble, sources say that Jones and DiVincenzo decided to set up eleventh hour meetings between Strumolo and Venezia in order to avert a full-blown conflagration.
The Essex County Democrats proposed the following deal: Venezia would run unopposed for mayor with the six council candidates competing for three seats all on the line. That would all but assure that Venezia was reelected as mayor. It would also put Strumolo allies on the line and allow the possibility for balance to the board that the chairman was seeking back in October. However, Strumolo rejected the offer and is instead continuing with Lopez, DeMarino, Lewis and Sobraharam off the line. Venezia's slate will get the line.
Originally, Venezia had been off the line because he rejected it in favor of running with his slate. Strumolo's decision to reject the late deal reversed that and now it is his candidates that are running off the line.
The decision made by Jones and DiVincenzo to step in likely comes in part from a desire to solidify the county party ahead of the 2017 gubernatorial race. Divisions in Bloomfield might mean a lack of unity in Essex County as a whole, something that becomes particularly relevant when considering that DiVincenzo may be a 2017 gubernatorial candidate.
Strumolo could not be reached for comment.