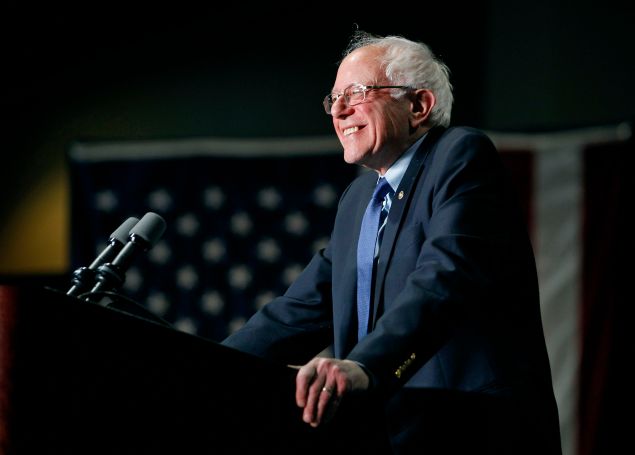 Despite losing four out of five crucial contests yesterday and slipping further behind in the delegate count, Sen. Bernie Sanders' campaign claimed this afternoon they still see a path to victory.
While their optimism came as no surprise, considering how pundits have counted out the self-described democratic socialist before, reality kept intruding: Mr. Sanders is further behind Hillary Clinton than she ever was when she lost to Barack Obama in 2008, and he would need to start winning at a much greater pace than he ever has to catch her.
"We see a lot of daylight ahead and, you know, green pastures," Tad Devine, Mr. Sanders' top strategist, told reporters on a conference call.
Mr. Sanders, a Vermont independent, suffered large losses in Ohio, Florida and North Carolina last night, and a brutally close defeat in Illinois. Ms. Clinton appeared to hold a narrow lead in Missouri, where Mr. Sanders hoped to win, but that race was too close to call. Overall, Ms. Clinton now leads Mr. Sanders 1,139 to 825 in the delegate count, and holds a lead of 467-26 among superdelegates, a select number of delegates who can vote however they want at the national convention. 2,383 delegates, a majority, are needed to clinch the nomination.
Even with an enthusiasm gap among young voters and a campaign that has scuffled at points, Ms. Clinton would have to struggle mightily in the Democratic primary over the next three months to give Mr. Sanders any kind of chance of catching her in the race for delegates. Mr. Sanders has been able to pull off his share of uplifting wins and shocking upsets, including his victory in Michigan last week, but Ms. Clinton's dominance in the South, particularly with nonwhite voters, has continued to stymie Mr. Sanders.
The good news for the Vermont senator, as Mr. Devine and Jeff Weaver, his campaign manager, pointed out today, is that the South is done voting. Mr. Weaver claimed the presidential primary calendar had been "front-loaded" with Clinton-friendly states and said upcoming primaries and caucuses in Arizona, Idaho, Washington State, Utah and Wisconsin would be much more fertile ground for Mr. Sanders. Both men also said Mr. Sanders intended to fight Ms. Clinton for delegates in New York, where she served as a senator and Mr. Sanders was born, in April, and contest California in June, the greatest delegate haul of them all.
"We believe voters should have a chance to vote," Mr. Weaver said, reacting to calls from some Clinton supporters for Mr. Sanders to drop out and allow her to prepare to face a Republican nominee like Donald Trump. "I think it is wrong to think that somehow it is healthy for this process to disenfranchise half the people who want to be part of the process."
Mr. Weaver said that if Mr. Sanders left the race now, Mr. Trump, an incendiary real estate developer who routinely launches ad hominem attacks at his opponents, would have even more time to degrade Ms. Clinton with "vicious" and "personal" insults.
There are definitely incentives for Mr. Sanders to stick around, as his campaign argued. Some caucus states have not finalized the number of delegates to the national convention, and in the complicated multi-tiered process, the fervid devotion some have shown for the Vermont senator may pay off in delegate selection. Thanks to a vast number of small donors, he has kept pace with Ms. Clinton's fundraising, and Mr. Weaver claimed their fundraising operation remains "strong." If Mr. Sanders can keep pulling in cash, he can at least pay for a viable campaign in the months to come. And, most importantly perhaps, if he wants to leave an imprint on the political system beyond the primary, he can use his leverage at the convention in July to tug the Democratic Party, and Ms. Clinton, leftward.
"We continue to have tremendous grassroots support out in the world," Mr. Weaver said. "People are continuing to support Bernie and his message and we are going to continue to carry on."
Disclosure: Donald Trump is the father-in-law of Jared Kushner, the publisher of Observer Media.