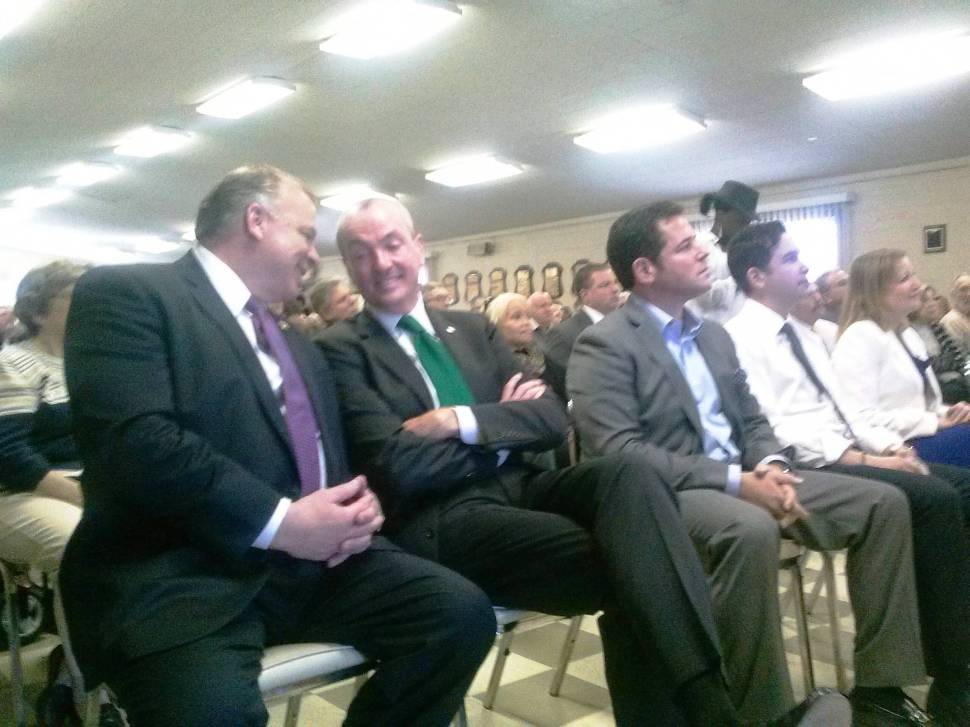 WALL – Cue the stampede of "WTF?" text messages from Monmouth Republicans furious over the appearance of Democrats in their county claiming relevance, as the GOP establishment dismisses last year's LD11 losses as a district-wide – not countywide –  phenomenon fueled by an incursion of dirty money, and claims Donald Trump will go over big in 2016 with an enraged McMansion electorate.
But however irritably the GOP here absorbs the presence of an energized party organization led by County Chairman Vin Gopal, those 2017 Democratic candidates for governor definitely see this county as a critical puzzle piece in their respective attempts to put together a statewide ground game to succeed Gov. Chris Christie.
"There's more of us than them, so why should they be in charge," Senate President Steve Sweeney (D-3) wondered aloud, referring to Republican control of the county courthouse.
All five guv hopefuls on the Democratic side – Sweeney, Jersey City Mayor Steven Fulop, former U.S. Ambassador to Germany Phil Murphy, state Senator Ray Lesniak (D-20) and Assemblyman John Wisniewski (D-19) – showed up this morning to Gopal's convention at the local IBEW Hall to generously lavish kisses on the chairman's ring and pay tribute to a respectable county slate led by sheriff's candidate Jeff Cantor.
Almost everyone tried to get a line in about how close he is to Monmouth.
"Best decision we ever made in our lives," Murphy said of his and his wife's purchase of a house in Monmouth, when he addressed the packed room of county committee members.
"I am not a resident," Lesniak admitted, "but I was smart enough to buy my parents a home in Monmouth Beach."
"I don't live in Monmouth," said Wisniewski. "My parents don't have a house in Monmouth. But I was smart enough to marry a girl from Monmouth County."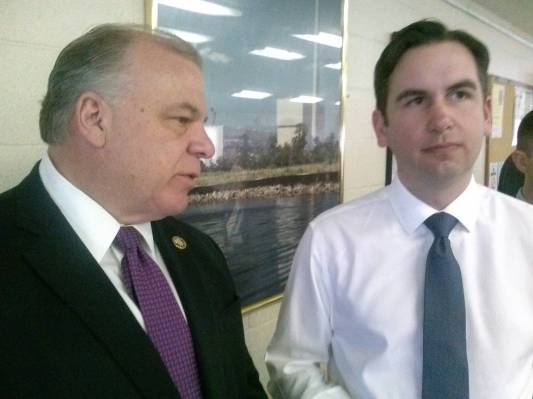 Cheers rained.
In a nod to the accelerating atmosphere around the governor's contest, Sweeney noted that this was probably the first time that all five Democratic candidates for governor had occupied the same room.
Fulop was the last of the candidates to speak, and he gently took the opportunity to body slam Murphy. The pair have Goldman Sachs professional backgrounds. But while Fulop put in just a handful of years before volunteering for the U.S. Marine Corps, Murphy did two decades at Goldman. Rather than suffer the narrative proximity to his rival without protest, the mayor seized on the chance to draw a hard line of demarcation between himself and Murphy.
"When I got to Goldman, they told me that if you stay here for 20 years you'll be filthy rich," the mayor recalled. But when terrorists leveled the Twin Towers on 9/11, he felt a debt of citizenship and went into the Marine Corps. Then he made local politics a near-full time career, a run culminating with his 2013 mayoral victory. He rattled off those progressive causes he's advanced while serving as mayor: paid sick leave, and $15 minimum wage for public employees. He even got a dig in on Christie, referring to the sitting Republican as an "abysmal governor." Occasionally criticized for lacking warmth, Fulop told a self-deprecating story about a woman who heaped praise upon him only to bristle when she found out that wasn't, in fact, speaking to Marlboro Mayor Jon Hornik.
"True story," said Fulop, giving a nod to Hornik, the hyperactive western county Democrat who last year crushed his Republican rival to win a third term. Still sporting a full-head of hair in his forties, Hornik has a Captain Kirk on the bridge of the Enterprise appeal that prompted several people to gush into the microphone that he absolutely owns the title of handsomest mayor in Monmouth County.
"If you've seen the other mayors, it's not really a compliment," Hornik cracked.
Belmar Mayor Matt Doherty – who today snagged the party's support for a freeholder bid – had to simultaneously live with the torment of being the only countywide Democratic candidate this year who doesn't have a military background.
"One colonel, two captains – and you," was how Doherty described Gopal's assessment of this year's slate.
PolitickerNJ later asked Murphy about Fulop's veiled slap at his time clocked at Goldman.
He took it in stride.
"If you don't like blood, stay out of the operating room," he said with a shrug as he galloped in the direction of another political event. He and his team felt they had a good couple of weeks, as the candidate most aggressively of the five criticized Christie, telling him to resign as governor if he continued to play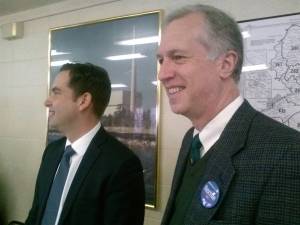 politics out of state as a Trump surrogate. Animated at the mircophone, Murphy referred to Trump and Christie as gifts that "keep on giving," and reiterated his directive to Cristie to "either govern this state or step aside and let someone else lead."
There were high fives in his vicinity among triumphant Democrats who noted the GOP's summoning of the usually silently bubble wrapped State Republican Chairman Sam Raia, who earlier this week met Murphy's public entreaty to Christie with a hard-edged public dismissal.
Accepting his party's nomination to lead the Monmouth County ticket this year, veteran U.S. Rep. Frank Pallone (D-6) used the occasion to deliver a stem-winder against the GOP, heavy on anti-Trump chords. "The issue is we are the party of ideas and they are the party of the past," Pallone said. "I have never seen such ugliness. Listen to the comments Trump made about Hispanics [and Muslims]." He noted, by contrast, the presence of a county party chairman – Gopal – who happens to be a Hindu.
Everyone loved Gopal today as that purveyor of party in a longtime typically Republican county where Dems, by virtue of demonstrable chairman-channeling energy, sense opportunity.