One of the most important facets of Doctor Who has always been the companion. Though the classic era ('63 to '89) saw its fair share of TARDIS travelers who didn't deserve to be there, the show since its 2005 relaunch has been better served.
So here, in all their glory, are all the 'New Who' companions ranked from worst to best.
10. Adam – Bruno Langley
If you don't remember this guy, we're not surprised. Back in 2005 he joined Christopher Eccleston and Billie Piper after beating off a Dalek in deep darkest Utah. But, because Adam was a rather selfish little boy, the Doctor—in true Willy Wonka style—dropped him off unceremoniously back in England.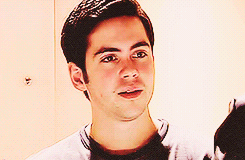 Though the character was there to prove that not everyone is good enough to travel with the Time Lord, Bruno Langley took it one step further by not being very good at acting.
9. Handles – Kayvan Novak
You might have also forgotten this guy, as he only made one appearance but, as it happens, he became the longest-serving companion ever (spending over 300 years with the Doctor).
Handles was the dismembered head of a Cyberman that Matt Smith's regeneration was seen hanging out with in the Eleventh Doctor finale, The Time of the Doctor. He was voiced by Kayvan Novak, who also provides the voice of Brains in Thunderbirds Are Go! (coming to Amazon later this year).
The couple made for a fun, if short-lived, watch.
8. Rory – Arthur Darvill
Poor Rory always played second fiddle to Amy Pond, the woman who would become his wife. Like a little lost puppy he scurried at her heels, dying numerous times in the process; Rory was a loyal, if somewhat bland, soul.
Oddly, Mr. Darvill can now be seen as "Time Master" Rip Hunter in DC's Legends of Tomorrow.
7. Mickey Smith – Noel Clarke
What a journey for "Mickey the Idiot," as he was titled by the Doctor. During the first season, Mr. Smith was merely the jealous boyfriend of Rose Tyler but as time went on he matured gaining computer skills and formidable bravery.
By the end of his second season, Mickey had let go of Rose and become a confident world-saver. The last time we saw him, the London lad was married to another companion—speaking of whom…
6. Martha Jones – Freema Agyeman
Likewise, the trainee Doctor went on a life-changing trip while traveling in the TARDIS. And, like the aforementioned Mickey Smith, Martha was always playing second-best to Rose, who had just been separated from the Tenth Doctor in the previous season.
After seeing her love for him was unrequited, Martha left to pursue her own life. She would go on to join spin-off show, Torchwood, and then return to the Doctor's side and once more help the save the world.
Controversially, Ms. Jones was married off to the aforementioned Mr Smith.
5. Clara Oswald – Jenna Coleman
She was once known as the "Impossible Girl" and stayed with Doctor longer than any of her other post-2005 companions—joining in 2012's Asylum of the Daleks and leaving in last year's Hell Bent.
During her time on the show, she met ALL the Doctors, died, helped ALL the Doctors, came back to life, and enjoyed a trio of Doctors in the 50th anniversary special, The Day of the Doctor. Ms. Coleman has become a hit on the fan circuit, attending conventions and always happy to pose for pics with Whovians.
4. Captain Jack Harkness – John Barrowman
Someone who would have loved to enjoy a trio of Doctors is the pan-sexual time agent, Captain Jack. Mr. Barrowman's fun and engaging character first appeared in a story written by Steven Moffat (who is now the current showrunner) in the first new era season.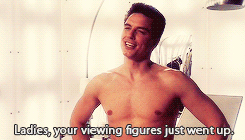 Jack stuck around for a few stories before being blasted in the face by a Dalek. Poor guy. Thankfully, for him and the audience, Rose Tyler brought him back to life. Harkness returned two years later to help the Doctor fight renegade Time Lord, The Master, and then again the following year to save the Earth from the Daleks.
Captain Jack also starred in his very own spin-off, Torchwood—which ran for four seasons on television. Actor John Barrowman is often very vocal about his desire to return to Doctor Who, something the fans also heartily desire.
3. Amy Pond – Karen Gillan
The Scottish actress, like Freema Agyeman before her, had already appeared in Doctor Who as another character before she began her stint as Amy Pond. By an odd coincidence that episode, The Fires of Pompeii, also featured current Doctor Peter Capaldi in another role. The casting gods were smiling that day.
Amy had a unique friendship with the Time Lord, played by Matt Smith. From their first unforgettable 'fish fingers and custard' scene together, she as a young girl, and moments later when he revisits after she has lived 12 years and become quite the scarred young woman.
Staying with the Eleventh Doctor for almost two and a half seasons, Amy formed a close bond with her Raggedy Man and even turned up for his finale, The Time of the Doctor (interesting note for fact fans—they were both wearing wigs in that scene).
2. Rose Tyler – Billie Piper
Former pop star Piper (youngest artist ever to debut at number one in the UK) took the world by storm with her portrayal of working-class companion Rose. As Steven Moffat himself as commented, Doctor Who was just as much about Miss Tyler as it was Mr Who.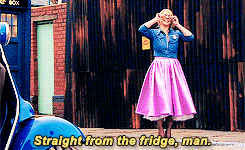 The young London's girl relationship with the Time Lord was fascinating to watch as it unfolded during their first year —where the two often did not see eye-to-eye, but respected one another deeply. But when David Tennant filled Christopher Eccleston's shoes, something else reared its head.
That's right, we're talking about FEELZ!
Never before had the Doctor/companion dynamic been so engaging and one so deeply discussed and debated—not to mention fanfic'd about. Their parting in the 2006 episode Doomsday broke the hearts of everyone who watched and became THE television moment of 2006.
1. Donna Noble – Catherine Tate
Talk about breaking hearts, former showrunner Russell T Davies displayed abject cruelty with how he disposed of Donna. In Season 4's finale, the secretary from Chiswick was elevated to the status of half Time Lord/half human—the DoctorDonna.  Sadly, for the ginger goddess, this was not good news and her memory of her time with the Gallifreyan had to be erased to save her. Noble was left at home, back with her rather abrasive personality and ignorance of the world around her, none the better for her experiences.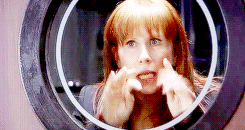 And what experiences! Miss Noble's journeys in space and time were extraordinary; from the planet of the Ood, to ancient Pompeii, to the futuristic Library. Best of all, though, was the episode Turn Left —a "Doctor lite" adventure which saw Donna change her time-line and create a parallel universe, a universe where the Doctor did not exist. It was a story which demonstrated just how far she'd come as a companion and just how brave she was. And just how much we loved her.