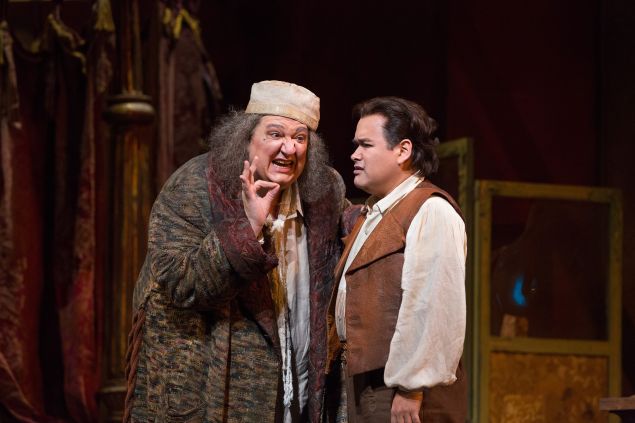 Looking back to various "golden ages" in the Metropolitan Opera's past—say, the 1950s when Richard Tucker, Zinka Milanov and Leonard Warren trod the boards; or period right around World War I when Enrico Caruso sang here two or three times a week—you get the sense that audiences and critics didn't know how good they had it. Tucker was no Caruso, after all, and Caruso was hardly worthy to shine the shoes of Jean de Reszke.
That's why we need to be cautious about dismissing what goes on at the Met today. Though admittedly the current season experienced in real time feels like a mixed bag, there are times here and there—such as last week, actually—that feel very golden indeed.
How long has it been, for example, since we last heard singing that so deftly combined virtuosity and tonal beauty as Javier Camarena's in Donizetti's Don Pasquale March 4? The Mexican tenor's performance of the long, difficult aria "Povero Ernesto!" spun out like unspooled silk. At the end of the scene, following Mr. Camarena's bravura high D-flat, the audience roared its approval, shouting not only the fairly standard praise "bravo!" but the more rarely heard "bis," or "encore."
Though Mr. Camarena did not choose to repeat the aria—as he did two seasons ago during performances of La Cenerentola—he gave his fans a further treat at the end of the second act when he took a long, brilliant high D, a note very few tenors attempt. (Though there's only a difference of a half tone between this note and the one he sang earlier in the performance, this high up in the tenor register such small differences in pitch are as significant as hundredths of a second in the 100-meter dash.)
Given how in Mr. Camarena superb singing is met with adoring audience response, it's easy to predict he's destined for A-list stardom. Further proof is that he was able to dominate this performance so completely in what is after all one of the comic opera's less showy roles. The nominal protagonist of the piece is Don Pasquale himself, an elderly bachelor who suddenly decides to marry a young girl. Fully capturing the character's absurdity and pathos was baritone Ambrogio Maestri. Unlike many Pasquales who mostly just talk and sputter the role, Mr. Maestri approached it as a bel canto part, finding a handsome legato even in the old fool's most befuddled protestations.
Opposite him was debuting soprano Eleonora Buratto as Ernesto's lively fiancée Norina. Had anyone but Mr. Camarena sung Ernesto, she could easily have stolen the show with her full, ripe lyric soprano and split-second comic timing.
Also strong, though rather in the background, was baritone Levente Molnár as the scheming Dr. Malatesta. Though his laid-back behavior made him seem an unlikely puppet master in the farcical plot, his buttery voice elevated his little first-act song "Bella siccome un angelo" into a highlight.
Once past a hectic overture, conductor Maurizio Benini settled into a bubbly take on the sophisticated score. Would that the heavy, literal production by Otto Schenk achieved even a fraction of that sophistication! The 2006 staging, the last gasp of Joseph Volpe's reactionary incumbency at the Met, relies almost exclusively on illogical sight gags. For instance, the corpulent Pasquale has installed a daybed in his parlor for no other reason than to send the thing crashing to the ground when he plops down on it.
After his triumph in Don Pasquale, Mr. Camarena should surely be a major focus of the Met's future planning. If this kind of artist is not the gateway to a new golden age, then we're doing this all wrong.