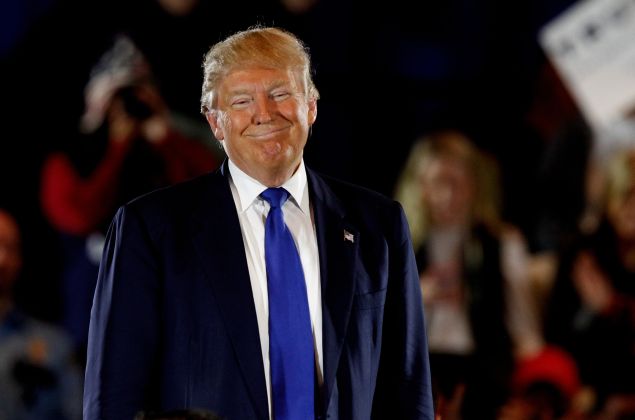 PALM BEACH, Fla.—Donald Trump took another huge stride toward the Republican nomination, easily winning Florida tonight and dealing a fatal blow to Marco Rubio, the state's Republican senator.
"The fact is, we have to bring our party together, we have to bring it together," Mr. Trump said inside his gilded ballroom at Mar-a-Lago. "We have something happening that actually makes the Republican Party probably the biggest political story anywhere in the world."
With 99 percent of precincts reporting, Mr. Trump led Mr. Rubio 47-26 percent. Sen. Ted Cruz of Texas, who helped foil Mr. Rubio, came away with 17 percent.
Mr. Trump went from shocking sideshow to heavy favorite in the Sunshine State, leading Mr. Rubio in every poll, even as violence engulfed his rallies in recent weeks and his campaign manager was accused of assaulting a reporter. Florida's Republican establishment never stood up to Mr. Trump: Gov. Rick Scott remained neutral and he won the endorsement of Attorney General Pam Bondi, who has a close relationship with the billionaire real estate developer.
During his brief, though rambling, remarks in the ballroom, he boasted about how an anti-Trump super PAC spent millions to defeat him in Florida and failed. He joked about the "mostly false" and "horrible" ads running during a recent golfing championship he hosted, and how they almost marred his hobnobbing with Adam Scott, one of the world's best golfers.
"Can you explain it to me because I can't. My numbers went up," he said of his showing in the polls.
Mr. Trump was less brash and a bit more subdued, by his standards anyway. He said he shared a "great" phone call with Senate Majority Leader Mitch McConnell and offered kind words for Mr. Rubio.
The Mar-a-Lago event, originally billed as a press conference, featured a different set of Trump supporters. Here were the moneyed backers, rather than the furious blue collar voters, arriving to cheer on their man and be seen. The applause was less raucous. No one booed when CNN, playing the ballroom, showed his opponents. The only low brow moment came when a man turned to the press section to show off a hat that read "DTF": Donald Trump Forever. Not the other thing.
Mr. Trump walked way with all 99 of Florida's delegates. There is still hope among anti-Trump forces that the incendiary candidate, who violates GOP orthodoxies on the economy, routinely insults Muslims and Latinos, and attracts the support of white supremacists, can be stopped at the national convention in July.
Time, however, is running out. Mr. Trump's delegate lead is only growing and there's no Republican candidate who is expected to surpass him in sheer number; Sen. Ted Cruz of Texas, a hardline conservative also hated by the establishment, is viable, but the best he or Ohio Gov. John Kasich may be able to do is keep Mr. Trump from winning a majority of delegates and contest him at the convention. There are larger states still on the calendar, including New York and California, that could help Mr. Trump deliver the knock out blow.
Florida was once viewed as Mr. Rubio's great hope and a chance for mainline Republicans, who had flocked to his candidacy, to derail Mr. Trump. Along with winner-take-all Ohio, the Sunshine State belonged to an equation that will have to be rewritten, or scrapped, altogether. It turned out Mr. Rubio, a first-term senator, had not cultivated deep ties in his own backyard. Republicans here grumbled that he did little for the state and spent most of his term running for president.
He failed to secure the endorsement of Jeb Bush, the former governor and presidential rival to Mr. Rubio. Mr. Bush was something to a mentor to Mr. Rubio when he was an obscure state representative, and his presidential candidacy was viewed as presumptuous in Bushworld.
Mr. Bush, who had been one of Mr. Trump's fiercest critics, was silent as the billionaire rolled to victory.
Disclosure: Donald Trump is the father-in-law of Jared Kushner, the publisher of Observer Media.