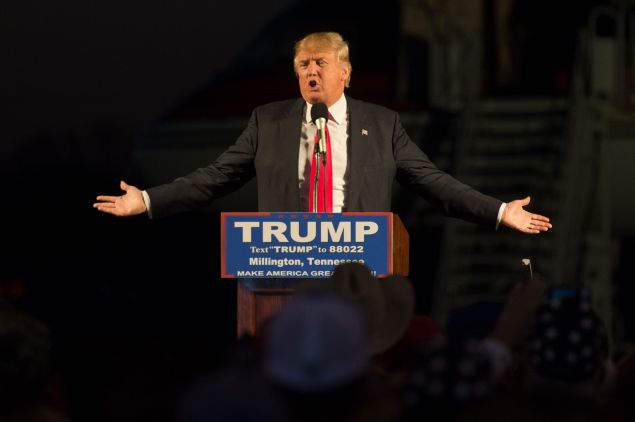 Donald Trump dominated his rivals across a wide swath of states on Super Tuesday, barreling ever closer to seizing the Republican nomination from a mortified political establishment.
Mr. Trump was projected in most polls to do very well in the South, and he did not disappoint. Alabama, Georgia, Virginia, Arkansas and Tennessee all went for the celebrity billionaire, who has been virtually unstoppable in the primary season so far. He added a convincing win in Massachusetts for good measure.
For his critics on the left and right, it's a frightening and unprecedented rise to power for a candidate once regarded as a summer sideshow. For his fervent backers, growing by the day, it's a punch in the mouth to the political system they revile.
It didn't seem to matter that Mr. Trump insulted multiple ethnic groups and faiths, peddled in conspiracy theories and initially refused to disavow an endorsement from a former KKK official. If Mr. Trump goes on to win the GOP nomination, which he is in position to do after tonight, it will mark a new era for American politics and the rare moment in modern history when an outsider completely bowled over the gatekeepers of a political party.
Sen. Marco Rubio of Florida will hang on to try to stop Mr. Trump, with the help of the many senators, congressmen, donors and lobbyists who want to see a traditional nominee: someone who is consistently conservative, decorous and somewhat predictable. If Mr. Rubio wins his home state on March 15, he will have a chance to stand up to Mr. Trump, but polls show him trailing there. Anything less than a win in the Sunshine State and his path to the nomination may be blocked for good.
Sen. Ted Cruz of Texas, once a favorite to win big in the South, won his home state and neighboring Oklahoma, but was otherwise overcome by Mr. Trump, an alarming sign for a campaign that may struggle to win elsewhere.
Disclosure: Donald Trump is the father-in-law of Jared Kushner, the publisher of Observer Media.