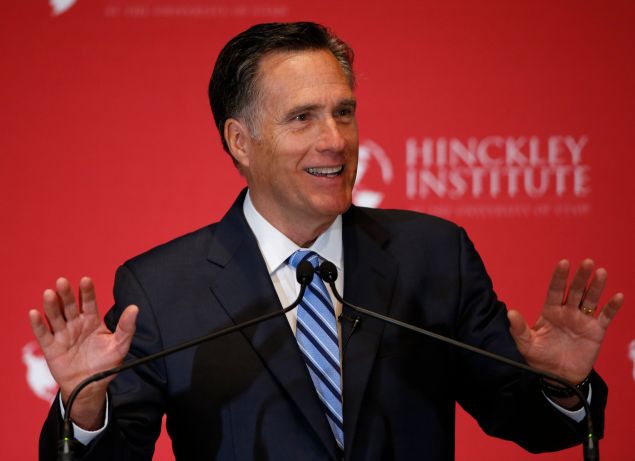 When Jeb Bush left the presidential race last month, deflated by Donald Trump's constant bullying, the celebrity billionaire had lost a near-perfect foil: a patrician, legacy candidate resented by the frothing voters now deciding the Republican primary.
Mitt Romney's entrance into the Trump-bashing sweepstakes is a new gift for Mr. Trump, who will have another prominent figure in the GOP to react to and belittle. Mr. Romney's blistering speech in Salt Lake City today may be heralded as the come-to-Jesus moment the Republican Party needs to slam the breaks on Mr. Trump, but the odds are it won't matter in the primary or it will end up as fodder for a man who once endorsed Mr. Romney for president, and will never rest reminding his 6.6 million Twitter followers that it happened.
"Trump is a phony and fraud," Mr. Romney, the former Massachusetts governor, declared. "He's playing members of the American public for suckers."
Mr. Trump had already teed off on Mr. Romney before the well-coiffed 2012 nominee took to the podium. "Failed candidate Mitt Romney, who ran one of the worst races in presidential history, is working with the establishment to bury a big "R" win!" he tweeted. Stand by for much more.
A lot has changed in the four years since the two Republicans were on the same side against President Barack Obama. Mr. Romney ran and lost, and flirted with a 2016 comeback before people like Mr. Bush forced him to stand down, locking up the megadonors Mr. Trump does not need. Mr. Trump has gone from a sideshow on the sidelines, a megadonor himself, to the front-runner for the Republican nomination. Mr. Romney has been recast as the elder statesman, one who probably wishes he had far more influence than he actually does.
Mr. Romney reminded everyone of all the ways Mr. Trump has offended Republicans and Democrats alike. Mr. Trump didn't disavow an endorsement from a former KKK leader. He mocked Sen. John McCain for getting captured in Vietnam, ridiculed the physical disability of a newspaper reporter, called for the banning of all Muslim immigrants and said he admired Vladimir Putin. Mr. Romney did not endorse any of Mr. Trump's rivals, but simply said he needed to be stopped, somehow.
Hillary Clinton, Mr. Romney warned, would have a field day.
"If we Republicans choose Donald Trump as our nominee, the prospects for a safe and prosperous future are greatly diminished," Mr. Romney said, lamenting "the bullying, the greed, the showing off, the misogyny." "If Donald Trump's plans were ever implemented, the country would sink into a prolonged recession."
Perhaps. What is far more clear is that Mr. Romney is the embodiment of all that is failing for the Republican Party in 2016 so far. For decades, the candidates like Mr. Romney—genteel, doctrinaire conservatives—were able to tamp down the angrier, uglier factions of the GOP where Mr. Trump now draws strength from. Equally offensive for Mr. Romney is how Mr. Trump, a former Democrat, flouts Republican orthodoxies whenever he feels like it, and pays no penalty. Though Mr. Trump and Mr. Romney both belong to the country club and owe plenty of their success to powerful fathers, it's only Mr. Trump who has leaped beyond the gates to direct the pitchfork-wielding mob against the gilded barricades.
It's only Mr. Trump who can channel the working class, and increasingly better-educated, rage that Mr. Romney, he of Harvard and the car elevators, never could. (Never mind Mr. Trump travels in his own gigantic airplane and is worth more money.) It's only Mr. Trump who could exploit Mr. Romney's speech as more grist for his long-running commentary against anyone standing in his way. If American voters have more authoritarian predilections than we thought, as some have argued, Mr. Romney lacks the aura to tap into that.
For a liberal exasperated with the rightward tilt of the GOP, or a classic conservative who maybe doesn't like the idea of heavyweight donors pulling the strings of the party, there's an especially surreal quality to the Trump vs. Republican Party fight, like watching King Kong battle Godzilla as the city crumbles below. One of the few things standing between Mr. Trump, a billionaire, and the Republican nomination are some desperate millionaires and billionaires who want to pay for a lot of better-late-than-never TV ads. For Sen. Marco Rubio, Sen. Ted Cruz and Gov. John Kasich, the spending can't come fast enough.
"There's plenty of evidence that Mr. Trump is a con man, a fake," Mr. Romney said.
Either way, he's winning at the Romney legacy's expense.
Disclosure: Donald Trump is the father-in-law of Jared Kushner, the publisher of Observer Media.