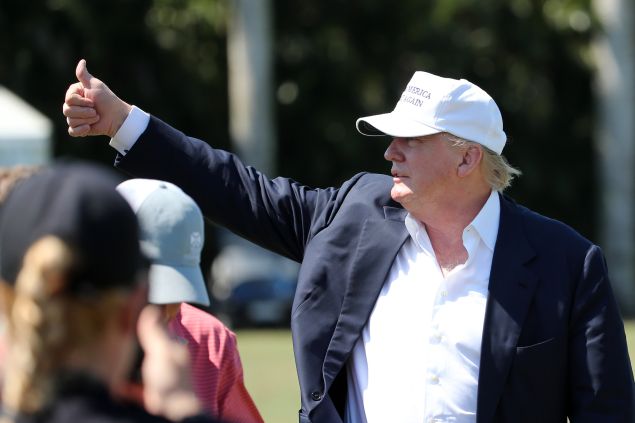 Donald Trump, the billionaire real estate developer, scored a decisive win in Michigan tonight, bouncing back from a spate of recent losses in smaller states.
With 99 percent of precincts reporting, Mr. Trump led with about 37 percent, according to the Associated Press.
Mr. Trump's victory in the large, blue collar state did not come as a surprise—he had led the Republican field in every poll—but it will only serve to energize his supporters and further unnerve the movement to stop him from seizing the nomination. A growing number of prominent Republicans, including Mitt Romney, whose father once governed Michigan, are vowing to derail Mr. Trump, and those efforts will now shift to Ohio and Florida, two influential states voting in one week. A Michigan win only reaffirms Mr. Trump's status as the unquestioned front-runner.
Michigan was viewed in the media as another test of Mr. Trump's electoral strength, though he has been tested plenty elsewhere, winning in states as diverse as Georgia and Massachusetts. Working class voters angry about a still-frail economic recovery were ripe for Mr. Trump's populism, which melds a hatred of immigrants with a criticism of unfettered capitalism. Like Sen. Bernie Sanders, the insurgent in the Democratic primary, Mr. Trump has been dismissive of free-trade agreements also hated by labor unions and the laid off factory workers who have watched their former employers leave the country.
Michigan had good news for some of his rivals as well. Sen. Ted Cruz appeared to finish just ahead of Ohio Gov. John Kasich, though Mr. Kasich outperformed polls that showed him mired in a distant third. Both men finished well ahead of Sen. Marco Rubio; the senator's dismal showing means he will be shut out from gaining any delegates, and his failures in Michigan and Mississippi tonight could presage the startling collapse of his once promising campaign.
Disclosure: Donald Trump is the father-in-law of Jared Kushner, the publisher of Observer Media.