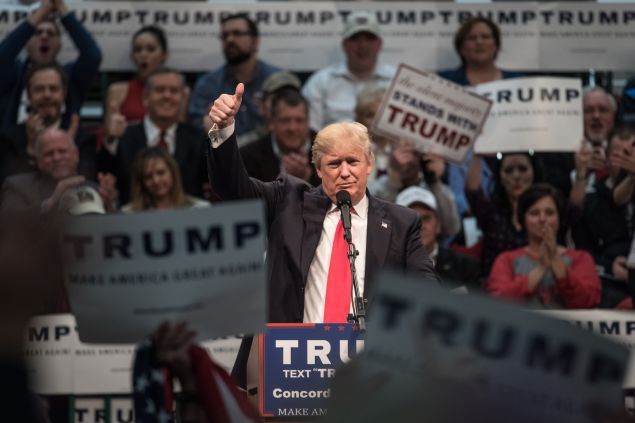 Mississippi showed its famous hospitality to Donald Trump—by awarding him nearly half its votes as of this writing.
"Thank you Mississippi!" Mr. Trump tweeted less than half an hour after the polls closed in the state.
The Manhattan real estate mogul outpaced his nearest rival, Texas Sen. Ted Cruz, by about 11 percent of the vote. Mr. Cruz came close to beating him in Louisiana and Kentucky on Saturday, and bested him in Kansas and Maine.
Mr. Trump trumpeted his win in a speech at one of his golf clubs in Florida, a winner-take-all state set to vote on March 15. Many believe Florida will prove crucial for him to seal the nomination and avoid a contested convention in Cleveland, Ohio.
"Only one person did well tonight: Donald Trump," Mr. Trump said, noting his twin victory in Michigan tonight, predicting he would triumph both at the convention in July and at the polls in November. "We're going to beat Hillary Clinton."
The Magnolia State victory is Mr. Trump's second-biggest of the primary season, following only Massachusetts. But the Queens-born billionaire fell a few points short of the crucial 50 percent mark, which would have let him take all 40 of Mississippi's delegates to the GOP convention in Cleveland.
Instead Mr. Trump will get just 20 delegates from Mississippi and 21 from Michigan—effectively securing his status as front-runner, but leaving him with a ways to climb to the 1,237 delegates needed to clinch the nomination.
Ohio Gov. John Kasich trailed far behind, with less than nine percent of the vote. Florida Sen. Marco Rubio pulled just over five percent.
Updated to reflect most recent results and Mr. Trump's comments.
Disclosure: Donald Trump is the father-in-law of Jared Kushner, the publisher of Observer Media.