Lululemon, the brand that made wearing athleisure the norm and enmeshed mesh cut-outs in leggings, is changing the story at it's latest lab. The Noho boutique, located at 50 Bond Street, is far more focused on commuter gear than yoga pants. In fact, if you're expecting to find work out gear, head to another one of their many locations; there are two styles of leggings in the lab (one in black, one in navy), but the rest of the gear is made for life in New York. At least those waking hours which are not spent at boutique fitness classes.
While there's already a lab in Lululemon's Vancouver hometown, this is the first time they've brought the experimental incubator space stateside. The hyper-local New York shop, which is stocked with black everything, crop tops and cold shoulders, allows designers to test fresh concepts and interact with customers for insight, made easy by the fact that the designer's quarters are stationed in the back of the shop, with no separation between the spaces. When you walk out of the fitting room, you walk directly into sewing machines and cutting tables, and can share your thoughts on what you're wearing and how it should be improved (maybe even immediately, as they'll be hemming, and later on, might offer more tailoring).
Head designer Marcus LeBlanc walked Observer through the conceptual retail space. A former seni0r designer at Theory, Mr. LeBlanc's background was apparent in the clean, crisp lines and focus on transitional, simple pieces. He is passionate about creating pieces that appeal directly to chic New Yorkers who favor simplicity (think black, streamlined and appropriate for bizarre spring weather conditions).
Many of the tailored slacks and tank tops look Theory-esque, but feel distinctly Lululemon, as they're made with the brand's leggings material. In the future, the store plans on hosting community events and partnering with local brands to bond even further with the city it's creating in. The curated collections currently include bags by IMAGO-A and sunglasses by Smoke X Mirrors.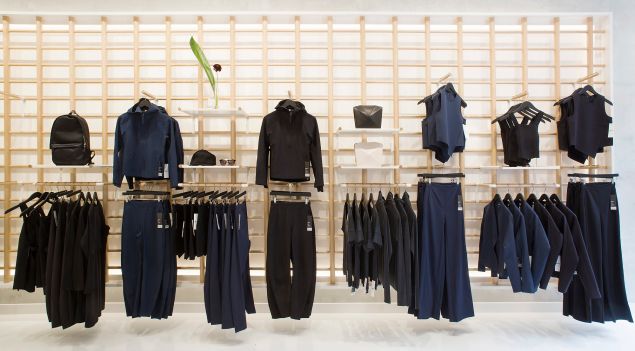 The lab contains a collection of tailored pieces meant for the commute, the workplace or comfort while picking up kids from class. A few leggings could be worn to yoga, but the rest of the collection was not made to sweat in; in fact, Mr. LeBlanc feels strongly that nothing in the store is athleisure, despite the obvious influence of sportswear.
Some newer brands, like ADAY, cater to a younger clientele and expect them to wear their luxe leather leggings to the office and a boutique fitness class at the end of their day. For the millennial generation, who view leggings as appropriate for everything from the workday to running errands, athleisure is both comfortable and easy, especially if they never know when they're working out next. Lululemon assumes customers want to be comfortable, weather-proof and tailored, even if their gear can't actually go to the gym. It's perfect for uptown moms who want to look chic and put-together during Pre-K pick-up, but don't have any plans to go spinning later in the day.
If the city's ever-changing weather has been driving you mad, head to the lab for suits you can bike in, jackets that will protect from even the windiest weather and comfortable slacks that feel like yoga pants without looking like athleisure. If you're hunting for your next favorite workout outfit, head to a different Lululemon store entirely.