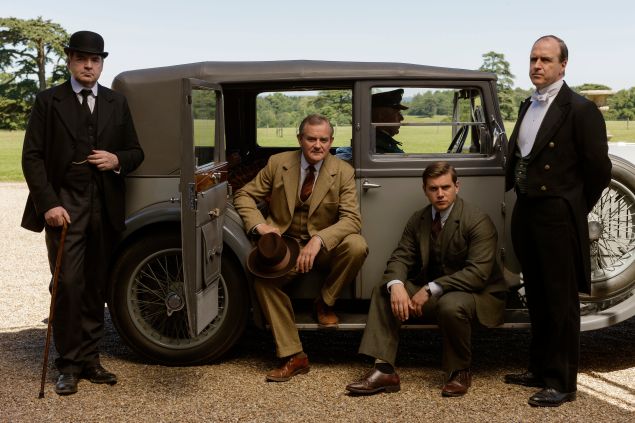 In Frank Miller's influential graphic novel The Dark Knight Returns, a lion-in-winter tale about an aging Batman's final hurrah (until the sequels came out, anyway), the Caped Crusader's trusty butler Alfred Pennyworth is faced with the grim task of destroying Wayne Manor and the Batcave so that the outlaw vigilante's enemies cannot exploit them. As the bombs detonate and the whole complex collapses into the earth, a stroke fells the faithful servant simultaneously. The narration spells out what passes through Pennyworth's mind in these final moments: "'Of course,' he thinks, as his head goes light. 'How utterly proper.'"
Any resemblance between Downton Abbey and the Dark Knight is almost certainly coincidental. But there was indeed something utterly proper about the downfall of another devoted butler, conveniently occurring just as the show, if not the estate itself, shuffled off this mortal coil. Carson, the captain of the upstairs/downstairs ship and a far more ferocious guardian of its class system even than those who truly benefited from it, suddenly developed a tremor in his hand and ended his days as the head of the household. As symbolism goes, it's a bit less brutal than Batman's manservant dropping dead in the middle of burning his mansion to the ground, but it's no less blunt. The old ways, those who practiced them, and the show that chronicled them, now must all step aside.
It did so with a resolutely humane episode. This has been Downton's modus operandi all along, of course, as it filtered the end of an epoch through the everyday interpersonal behavior of those living through it; luxury was its selling point but kindness was its soul. Whether handling a society as brutally unkind as aristocratically administered Britain in this way was an appropriate approach was a matter of fierce debate. But viewed on its own terms—and the show has given me little reason to do anything else, creator Julian Fellowes's Tory bonafides notwithstanding—its emphasis on the work required to accommodate the evolving emotional needs of those closest to us over time was welcome. Downton was an oasis of small (if sometimes soapy) moments amid the no-man's-land of prestige-drama power struggles. Its implicit argument was that love, family, friendship matter, regardless of the aggregate impact of societal shifts, and that their bonds are as fragile as they are universal, requiring care and forbearance to maintain but worth it in the end. That's a difficult argument to disagree with.
It's therefore fitting that those who struggled the most with these bonds fared best in this series finale. First and foremost was Thomas Barrow's long-awaited, deeply affecting goodbyes and unexpected return. Watching him bid farewell to his coworkers and employers one by one, the sense of relief he and they alike felt that his soul (sometimes tortured, sometimes tortuous) had survived miraculously intact was palpable. It was a personal tragedy turned into a minor triumph; all involved appeared to see it for what it was, and be grateful—a moving sight to see.
Edith and Mary, the perpetually warring surviving sisters, shared strong final moments as well. The latter seemed to be easing into her second act as a remarried widow, affording her the security required to go out on a limb and love her younger sibling in a proactive rather than pro forma fashion by effecting her re-engagement. For her part, Edith (and actor Laura Carmichael, a series MVP) had her scene of the series at dinner with Bertie Pelham, the newly high-ranking man she lied to and was jilted by in turn. The two of them choke back tears, then don't choke them back at all, as they verbally struggle to articulate whether the pain between them is or isn't an obstacle to future happiness. This being Downton Abbey, you know the answer to that question, but so what? The Edith/Bertie romance was a surprising highlight of the show's final season, and giving these well-matched characters a happy ending was a well-earned no-brainer.
Not every storyline's resolution felt quite so worked-through. Several of Downton's climactic dilemmas resolved by allowing everyone an easy way out. Thomas's new job makes returning to Downton to replace Carson impossible? No problem: His new boss is an asshole and the gig would slowly kill his soul with boredom, so jumping ship and heading back home is a-okay. Mary is married to a guy whose career as a race-car driver she finds traumatizing, but she can't bring herself to tell him to quit because it would break his heart? Relax: The death of his racing buddy in a car crash sucked the joy out of it for him, so he's free to find a new gig without Mary forcing the issue and without forgoing a job he loves. Isobel Crawley and Dickie Merton are still being kept apart by his classist son? Easy-peasy: Make the son and his wife such unmitigated monsters that neither Dickie nor Isobel will feel bad about blowing them off and following their bliss. Oh yeah, and toss in a fatal illness that's not fatal after all.
In each of these cases, Downton teases difficult moral and emotional choices, then lets the characters involved off the hook before they have to make them. It hasn't spared everyone this season, mind you—cf. predicating Edith's happiness with her secret daughter Marigold on the departure of the Drewe family, who raised her as a baby, from their ancestral home—but in that case, it was never quite clear the show understood how badly it was screwing the Drewes over. That said, this has always been its tendency, embodied primarily by Lord Robert: Sure, he'd fuss and fidget and occasionally fight about the future, but he rarely spouted any ideas too toxic for us to swallow, at least not for very long. He'd come around in the end, every time. and our faith in the House of Crawley was never too deeply challenged.
Oddly (or tellingly?), given the series' generation-gap story engine, the older characters dominated its final 90 minutes. As we've noted before, part of this is down to the disappearance of much of the show's youthful energy in the form of Matthew and Sybil; their non-starter of a replacement in two-dimensional Cousin Rose; and the sidelining of Tom Branson, especially inexcusable given what could have been a series-defining romance with Mary every bit the equal of Matthew's. (In terms of Carson-style symbolism, is there a better indicator of Tom's also-ran status than his pseudo-replacement Henry Talbot's surname getting top billing at their joint-venture auto dealership?) Another part is that the end of the Carson era, or Molesley's heartwarming success as a teacher (his slow smile when Baxter encourages him to be proud of what he accomplished was such a lovely moment), or Isobel's duel for Dickie were simply more watchable than, say, Andy and Daisy's sudden and forced romance, or Cousin Rose's return. But we got more Robert than Mary, really, and more Carson than Anna, and of course the final words were given to Isobel and the Dowager Countess herself: "We're going forward into the future, not bak into the past." "If only we had the choice!"
But those lines aren't as regressive as they sound. To Downton Abbey, the past is a pool of still water, upon which we can reflect not just on how clothes used to look or how great houses were run or how women or the working class fought (ever so gently, in the Downtonverse) for their rights, but on how we interact with each other, moment by moment, morning noon and night, with friends and coworkers, siblings and children, parents and lovers. The canvas of history was, as it is for many of us, just a place to paint. I'll miss the pictures that resulted.