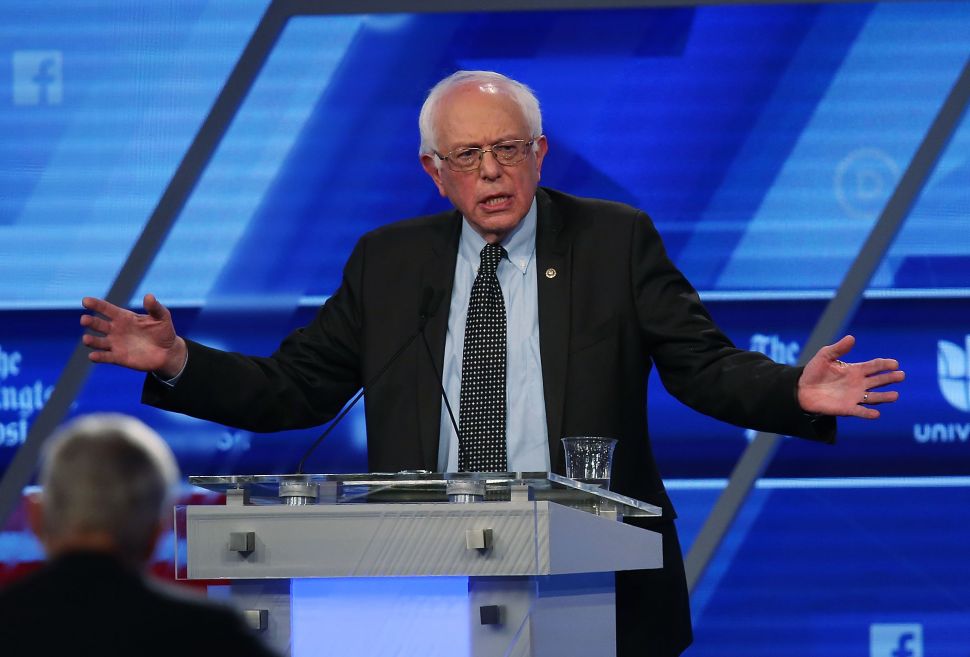 Univision, which hosted the debate, seemed out for blood during Wednesday night's debate, asking tough questions and bringing up the candidates' past statements to accuse them of flip-flopping. And when the candidates dodged the questions, the hosts pushed back.
One of the most fiery exchanges of the night—which were too numerous to include in the categories below—came when the two candidates exchanged barbs about accepting money from special interests. As the hosts tried to move on, each candidate spoke over the other to try and respond and wedge in their own attacks.
Other than that, most of the debate was pretty tame, so let's take a look at how each candidate did.
Hillary Clinton
Where she floundered: Her email controversy is leading to high unfavorable ratings and being labeled "untrustworthy," yet she dodged tough questions about the scandal. It took much prodding from the hosts for her to finally say she did not get permission to use a private email server – because it had been done before so she didn't need permission. She also got testy when pressed about whether she would drop out of the race if she were indicted over the scandal.
"Oh, for goodness — that's not going to happen," Ms. Clinton said. "I'm not even answering that question."
She also ran into trouble when she was asked about urging then-New York Gov. Eliot Spitzer not to give driver's licenses to undocumented immigrants, yet supporting those licenses now. It appears she is yet again changing her tune on an issue when it is convenient for her campaign to do so.
Ms. Clinton continued to appear weak on immigration – from a liberal perspective – when she kept avoiding a direct question about deporting children, until finally promising that she would not deport children or law-abiding immigrants even if they are in this country illegally.
Where she excelled: Pointing out that President Obama took money from Wall Street yet still signed a law pushing more regulation on the industry helps her image. She has routinely been accused by Vermont Sen. Bernie Sanders of being bought and paid for by Wall Street, so noting Mr. Obama's own support from Wall Street didn't change his stance can only help her.
She also gained applause when she said she would nominate a Supreme Court judge who "believes Roe v. Wade is the law." This will play well with Democrats, but it's actually a dumb statement. Republicans believe Roe v. Wade is the law, they just don't like it and they want to change it. Also, it's funny that in the same debate, Ms. Clinton said Citizens United – also a Supreme Court ruling – should be overturned, but that Roe is settled law.
But Democrats don't seem to mind the double standard in those statements, so each gained applause.
Bernie Sanders
Where he floundered: When asked by an audience member how he would reunite the woman and her husband, who had been deported three years earlier, Mr. Sanders just said he wanted to reunite family. He didn't give one iota of information to the woman about how he would actually reunite her and her husband.
Mr. Sanders also praised Dictator Fidel Castro in Cuba for providing his people health care. That's some Michael Moore-level absurdity right there. "Sure, his people live in poverty, are imprisoned for dissenting and are oppressed, but hey, look at the health care!"
Where he excelled: Mr. Sanders new line of attack about Ms. Clinton speaking to Wall Street was brilliant.
"I would think that a speech so great that you got paid so much money for, you would like to share it with the American people," Mr. Sanders said. "So I think she should release the transcript."
He added after applause that he would release his transcripts, since Ms. Clinton said she would release hers when others do, because he didn't give any speeches to Wall Street.