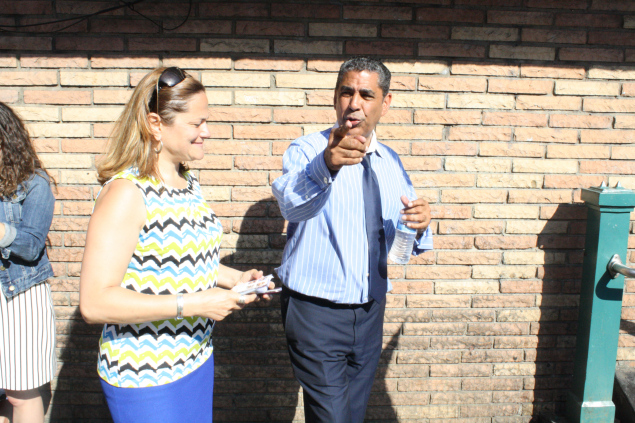 State Senator Adriano Espaillat, one of several aspiring successors to retiring Congressman Charles Rangel, took money from his re-election account to finance a trip to Washington, D.C., and for ads and petitioning from political clubs located outside his current district—but within the boundaries of the House seat he is seeking.
The Upper Manhattan lawmaker's most recent filings with the State Board of Elections show more than $1,500 in expenditures apparently related to his bid to replace Mr. Rangel on the Hill. The records show Mr. Espaillat, who ran unsuccessfully against Mr. Rangel in 2012 and 2014, spent roughly $400 on cabs, food and a hotel in the Capitol last October, just weeks before he announced he would run for the seat a third time.
The financial documents also show he paid $1,000 last year to the Democratic Club of El Barrio, with an explanatory note of "East Harlem Partitioners." John Ruiz, a district leader for the club, told the Observer the note likely meant "petitioners"—people working to get Mr. Espaillat on the ballot.
But Mr. Espaillat's district, which encompasses Washington Heights and Inwood and snakes down the West Side, does not include East Harlem. The 13th Congressional District, however, does. Mr. Ruiz was unable to say which office his club's members had carried petitions for.
The Democratic Club of El Barrio is affiliated with Council Speaker Melissa Mark-Viverito, who backed Mr. Espaillat against Mr. Rangel in 2014.
Mr. Espaillat also gave the Bronx-based Benjamin Franklin Democratic Club $150 for a "Journal Ad." The Ben Franklin Club, again, sits inside the congressional district but outside the state senator's current turf. Assemblyman Jeffrey Dinowitz, one of the group's leaders, said the payment was for a space in the yearbook it distributes at its annual dinner.
The Ben Franklin Club endorsed Mr. Espaillat in his 2012 bid against Mr. Rangel
The state senator's staff defended the expenditures, and said he was in D.C. to attend the National Hispanic Caucus Institute gala on October 8.
"As a progressive leader in the Senate, Senator Espaillat worked with many Democratic clubs, including those to which he gave donations," said spokeswoman Katharine Pichardo-Erskine.
Ms. Pichardo-Erskine did not explain how attending the gala comported with his duties as a state senator, or why the records show he was still spending money in the Capitol two days afterward.
New York State campaign finance laws are notoriously lax, and grant politicians broad latitude in dispensing of their donors' cash.
Mr. Espaillat is just one candidate in a wide field, a field that also includes Harlem Assemblyman Keith Wright, former East Harlem Assemblyman Adam Clayton Powell IV, former Ambassador Suzan Johnson Cook, former White House aide Clyde Williams, Upper Manhattan Assemblyman Guillermo Linares and stay-at-home-dad Mike Gallagher.
Updated to include comment from Mr. Dinowitz.