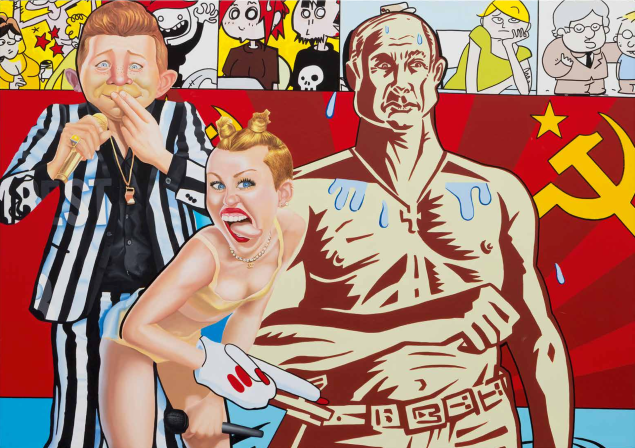 Just when I met Erro I don't remember. I know only that it was in Paris, that it was way back and that we were introduced by Jean-Jacques Lebel, a mutual friend. An artist and the son of a Duchamp intimate, Mr. Lebel is a man of resilient bonhomie, who had been a key player in the events of May 1968. It was he who had led the posse which occupied the Paris Opera, providing an appropriately operatic signature event for that movement, which was cresting, and which would shortly undergo an eclipse as unexpected, baffling and as total as that of Occupy Wall Street forty something years later.
Our second meeting was earlier this week at the Perrotin Gallery, where Erro, who is quite underknown in the U.S., has a riproaring show. The artist, now 84 and as energetic as ever, said he had first come to New York City in 1962 at the urging of Ivan Karp, a former Leo Castelli lieutenant, then at the helm of his own gallery, OK Harris. In Paris Erro was associated with a group of artists who—this still being very much the Era of the Isms—had taken the label Narrative Figuration. These were otherwise dissimilar artists who were putting figuration back into paintng, thus taking a swipe at the then dominant european movement, art informel, which was essentially a european equivalent of abstract expressionism, of which leaders included jean fautrier, pierre soulages and alberto burri.
Did Erro meet the Pop artists on that visit to New York City? He did. The art world did not resemble a gated community back then.
"Oyvind Fahlstron, the Swedish artist, was a good friend," says Erro, who is himself Icelandic, born Gumundur Gumundsson. "He took me to all of the Pop artists. Jim Dine also. I was very impressed that everybody was friendly. It was wonderful. Because in Paris everybody kept the paintings in their studios turned against the walls. But there everything was open."
Paintings were turned against the wall inn Paris studios? "So that you couldn't cheat or copy. People would steal the images. Strange things," Erro said.
Erro's own work shared much with Pop in its use of popular source materials, though there were clear distinctions. Lichtenstein, Warhol, Oldenburg, Rosenquist abstracted rigorously from Low culture, making it abundantly plain that they were producing fine art, not comics. This is not Erro's way. Erro would collect visual raw materials on a chosen subject – the atom bomb, say – over months and sometimes years then bombard the picture surface, creating a multiple collage, using a slew of cartoon styles, and mixing in borrowings from Middle and High cultural sources, such as décor magazines, appropriations from Picasso's Blue Period and Weeping Woman, Fernand Leger, Japanese prints, Warhol's Marilyn, and much, much else. Then he gets down to the meticulous after-painting. Less was never more for Erro.
"I admired Pop art for the beauty of the image," he said. "It's very simple. If you look at the Pop art, you need about six minutes.  Pop! But my paintings are composed with a lot of details."
And you do not make paintings it takes six minutes to take in, I observed.
"No. It takes one and a half to two months."
There's another significant difference between Erro and the Popsters, and this is a distinction which can also be drawn between American and Euro-Pop generally. The Americans very seldom made overtly political work. In 1972 Warhol did a Richard Nixon with a creepy-crawly blue-green skin and Vote McGovern hand-scrawled beneath. Warhol was audited by the IRS, perhaps a coincidence, but thereafter kept well clear of the fray.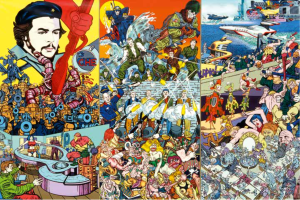 But in Post-war Europe the (many) artists who were drawing on U.S. consumer culture imagery would routinely politicize their material. One strategy of the Situationist International, for instance, the hugely influential arts group founded in 1957, was Detournement. This involved taking Low culture ready-mades, such as U.S. comic strips, and repurposing the speech bubbles to carry deadpan sloganeering with a surreal effect.
Erro exemplifies that jaunty pop revoltionism. "There is a lot of political environment," he said. "I think we need some memory. Very often my paintings are used in schoolbooks, which for me is a big pleasure."
Erro ends by saluting one of the last survivors of that great U.S. Pop generation, who, as it happens, was also the only one to deal with the issues that occupy Erro. "The only one left is Rosenquist," he said. "He is a great man. He makes political environments. He is a wonderful person. And we are still in contact."
As for the future, Erro hopes for more of the same.
"I work a lot," he said. "And when I don't work I get very tired. So the only way for me to go on is to work."