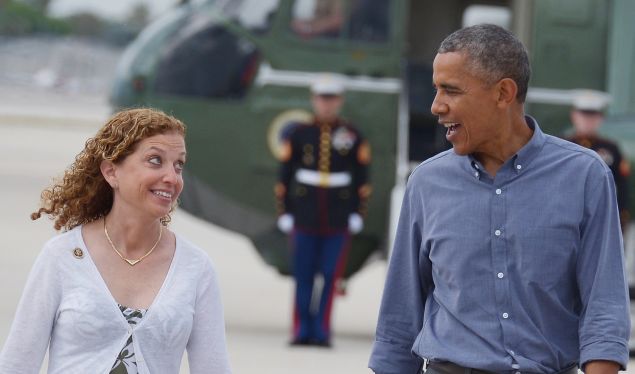 DNC Chair and Congresswoman Debbie Wasserman Schultz is one of the least liked politicians in the country. Her favoritism for Hillary Clinton has disenfranchised thousands of Bernie Sanders' supporters and her media gaffes and courtship of special interests have disintegrated her favorability ratings among the rest of the Democratic Party. None of this has helped her reputation with Republicans, either.
Ms. Wasserman Schultz's plummeting public image inspired Tim Canova—her first challenger since she entered Congress in 2004—to run against her, and she has been desperately trying to obstruct his growing support. A few weeks ago, the Florida Democratic Party informed Mr. Canova they would not allow him access to voter database files in order to protect Democratic incumbents—namely, Ms. Wasserman Schultz—from being challenged in a primary. The wildly undemocratic move ignited backlash from progressives across the country, eventually forcing the Florida Democratic Party to rescind the rule and allow Mr. Canova access to the database.
Now it appears Ms. Wasserman Schultz ran to President Obama for help. Through an insincere statement, Mr. Obama endorsed Ms. Wasserman Schultz for Congress—a rare occurrence from a president who does not typically get involved in House primaries.
"Debbie has been a strong, progressive leader in Congress and a hardworking, committed chair of our national Party since I proudly nominated her to the role in 2011," Mr. Obama said in the statement released through Ms. Wasserman Schultz's campaign. "She always stands up and fights for what is right for her district while passionately supporting middle-class families."
Although Mr. Obama appointed Ms. Wasserman Schultz as DNC chair in 2011, her poor leadership and performance have strained their relationship. A 2014 article in Politico alleged the pair "have rarely even talked since 2011. They don't meet about strategy or messaging. They don't talk much on the phone." The article compared Ms. Wasserman Schultz to her predecessor, Tim Kaine, who was so close with the president that they had lunch on a monthly basis.
Once Ms. Wasserman Schultz was appointed DNC chair in 2011, the relationship began to sour. "Shortly after becoming chairwoman, she pushed hard for a meeting with the president that she kicked off by complaining that she had been blocked from hiring the daughter of a donor—who'd been on staff in her congressional office—as a junior staffer to be the DNC's Jewish community liaison," wrote Edward-Isaac Dovere for Politico. "Obama summed up his reaction to staff afterward: 'Really?' "
Ms. Wasserman Schultz's endorsement by Mr. Obama was most likely the result of a direct request by Ms. Wasserman Schultz, who is in danger of not having a job next year in Congress or with the DNC. To maintain an image of unity within the Democratic Party, Mr. Obama had to make it appear as though he is behind Ms. Wasserman Schultz—but, based on her performance and reports of their relationship, the opposite likely holds true.
Given the surging anti-establishment sentiments in the country's current political climate, Ms. Wasserman Schultz is going to need a lot more than an endorsement from Mr. Obama if she hopes to keep her job in Congress next year.