One diamond-loving jeweler sure is making his mark on 432 Park.
It was just earlier this month that Angela Arabov, the wife of celebrity-adored jeweler Jacob Arabov, inked her name on the deed for a two-bedroom, 3.5-bath unit on the fifty-fourth floor of Macklowe Properties supertall 432 Park. Now, it looks like Mr. Arabov is adding to the couple's holdings within the sleek tower.
Per public record, Mr. Arabov, under the limited liability company Park View 49A LLC, is now also the owner of, you guessed it, a unit on the forty-ninth floor of the building.
From what we can tell, it doesn't seem possible to connect the $16.68 million unit Ms. Arabov bought a few weeks ago with the two-bedroom, 2.5-bath unit Mr. Arabov has paid $7.3 million for, but perhaps they wanted an ultra-luxe staff suite, or just some more room to move around within the building.
Of course, we suppose it's not that surprising that Mr. Arabov, who is renowned for his extravagant and over-the-top jewelry designs would opt to pick not one, but two separate units in glitzy 432 Park.
Douglas Elliman is handling sales for the building, though this particular listing doesn't appear to have ever been put on the market. Still, we imagine that it'll definitely be more spacious than the lodgings Mr. Arabov had during his 2008 to 2010 jail stint from those charges related to lying to investigators and falsifying records.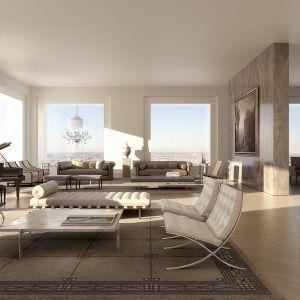 Mr. Arabov's new 1,789-square-foot abode is a bit smaller than the higher-floor pad, but we can't imagine it being any less glitzy—it'll also have a private elevator landing and windowed eat-in kitchen.
Perhaps Mr. Arabov is planning on using this particular unit simply for the loads of diamond-encrusted jewels that he's known for creating, and that have adorned the likes of Pharrell Williams, Rihanna, Jennifer Lawrence, and Jay-Z. That said, we do imagine he's investing in quite an extensive security system.