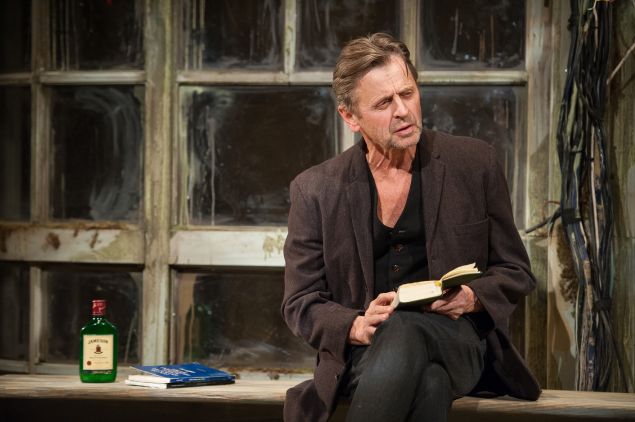 There has been a genius among us since 1974, when Mikhail Baryshnikov defected from the Kirov Ballet and located himself in New York. The level of his dancing was then, and remained, above anything I had ever seen (and I go back to the '40s) in its astounding technical virtuosity, certainly, but also in his absorption in roles, the seriousness, the intensity, the intelligence he brought to whatever he danced, from La Bayadère to Push Comes to Shove. And when he retired from ballet—refusing to go on and on, inevitably eroding, the way Nureyev did—he applied his huge talents to modern dance, to film, to theater. Artistically, he looks resolutely forward, not backward. He created an arts center in Manhattan that is growing more and more influential. And as far as we know, he has lived a wholesome and generous private life.
His latest venture (he's now in his mid-60s) is a one-man performance at the Baryshnikov Arts Center, Brodsky/Baryshnikov, of the poetry of his great friend the late Russian poet Joseph Brodsky. Or rather it is a two-man performance, with one of the two not present—Baryshnikov's readings of Brodsky's poems are not only a tribute to another great artist and close friend but an engagement with him: Brodsky is there but not there. (And occasionally there literally, when his voice is heard reading his work.)
The setting is a glass-enclosed gazebo—the action takes place both inside and out. Baryshnikov sits on a bench, lies down on it, putters around, sips from a bottle of whiskey, takes off his glasses and puts them back on, takes off his outer clothes and puts them back on. And reads aloud from volumes of Brodsky's poetry. Since he reads in Russian, non-Russian speakers like myself are at a disadvantage, not only because we cannot grasp the greatness of the language but because the translation that unfurls above the action distracts the eye from the performer—you don't want to miss the meaning of what's being spoken, but you also can't bear to miss the slightest gesture or expression from this supreme artist.
Baryshnikov's voice is beautiful, and he deploys it both fully and subtly. And as we've known from the start of his American career, he's an actor of tremendous depth. In this piece he's also a brilliant mime—now a fluttering butterfly, now a Kabuki actor, now a man in the frightful grip of death. I can't judge his delivery of Brodsky's Russian, but I can confidently place the performer in the highest regions of his art, up there with Charlie Chaplin—who was also an actor, a dancer and a mime. Martha Graham had the same total command of her art; so did Maria Callas; so did Lillian Gish. These are immortals.
It's unfair to compare any dancer of today with Baryshnikov, but comparisons are inevitable. Alessandra Ferri, a popular ballerina here and in Europe, best known for her Juliet, is now in her 50s, and although she's "retired," she goes on dancing—frequently now with Herman Cornejo, a beloved star of ABT, in his mid-30s. A few years ago they performed together in Martha Clarke's puerile and reductive version of Colette's Chéri—if you know the book, you can see why the idea appealed.
Recently at the Joyce the two dancers presented a program of bits and pieces called TRIO ConcertDance, the third member of the trio being the pianist Bruce Levingston. And what a pianist! His hands danced, pranced, swooped over the keys—talk about distracting! But his music-making was worse. Everything was played in the same swoony, soupy style—you couldn't tell his Scarlatti from his Philip Glass, and there hasn't been so much pedaling since the Tour de France.
Just about all the dances were in ultra-romantic ecstasy mode. And everything was practically in the dark. Ferri still has her beautiful legs, beautiful feet, beautiful torso, and she's supple. She doesn't need much technique for this program since mostly she's being lifted, swirled around, turned upside down, responding to her partner's ardent embraces. It's a love-fest, complete with hugs, kisses and gropings—at times you're embarrassed to be watching, particularly when he swings her around and around and around with their lips glued together. The slate of choreographers includes Stanton Welch, Fang-Yi Sheu, Russell Maliphant and Angelin Preljocaj (an excerpt from his Le Parc), but they're all in the same key—the key of exhibitionism. Why am I not surprised that the retired Ferri will be back at ABT this spring as—surprise!—Juliet, and that her Romeo will be—surprise!—Cornejo? Their fans will be delirious.