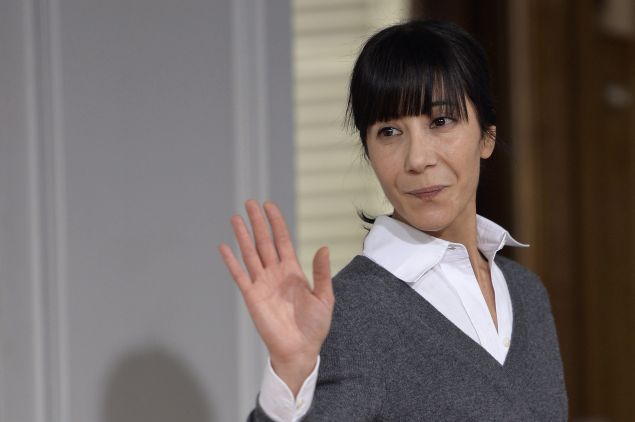 After much speculation and a Fall 2016 collection that was uniformly panned by critics, a successor to Alber Elbaz has been named at the French house of Lanvin. While the industry awaits Mr. Elbaz's next move, the time is ripe to get to know Bouchra Jarrar, the new artistic director of the label.
Bouchra Jarrar is a couturier of Raf Simons' ilk.
When Raf Simons began showing haute couture at Christian Dior, some christened it as the beginning of an era centered around wearable couture. But the Belgian designer was just picking up on a strand that others, Ms. Jarrar in particular, had already been working on for years.
Having served as the manager of the Christian Lacroix haute couture atelier before, Ms. Jarrar opened her own shop in 2010. Since then she's been selling her handmade wares mostly to America and the Middle East; she gained a haute couture appellation in 2013.
Her atelier is in the same neighborhood as Chanel and Schiaparelli.
Born in Cannes (she really was made for the world of couture) Ms. Jarrar now calls the eighth arrondissement of Paris her home. What other ateliers are there? Elsa Schiaparelli, currently being manned by Bertrand Guyon and Chanel, still being helmed by Karl Lagerfeld. Tall shoulders to stand next to, indeed.
Ms. Jarrar doesn't actually design a ton of evening wear.
Though Mr. Elbaz was known for his cocktail dresses and flirty frocks, his 44-year-old successor is known for her tailoring. Her Spring 2016 couture collection shown in January includes only five dresses of the 21 looks, a stand out of which was a floor length slip dress rendered in an ivory panne silk. Without the mohair houndstooth coat it was shown with on the runway, it actually looks quite perfect for a Cannes moment.
In fact, Ms. Jarrar is so focused on tailoring and separates that it wasn't until January of 2015 that she finally put an evening dress on her runway, following five years of showing on the official couture calendar — the first three years as a guest member.
But her experience is varied.
Working for Mr. Lacroix isn't the only notch on Ms. Jarrar's resume. After studying at École Supérieure des Arts Appliqués de Duperré in Paris, the creative dabbled in lingerie and jewelry design for Jean Paul Gaultier and then went on to work for Balenciaga for a decade. Most of this time was served under Nicolas Ghesquière as studio director. She will likely be drawing on all of this experience to turn out the work needed for her new role at Lanvin.
The road hasn't been entirely bump free.
Though Ms. Jarrar stumbled with Bergdorf Goodman (the company stocked her label and then dropped it) the designer herself told WWD that "American stores were the first to believe in me." In the same interview though, she also admitted that she slightly regrets her one time attempt at expanding into bags.
"I feel like erasing that episode," she said, explaining that she didn't feel the company was ready. Instead she hopes to develop an in-house fragrance but undoubtedly, with her new Lanvin gig we'll see some bags with Ms. Jarrar's touch before long.