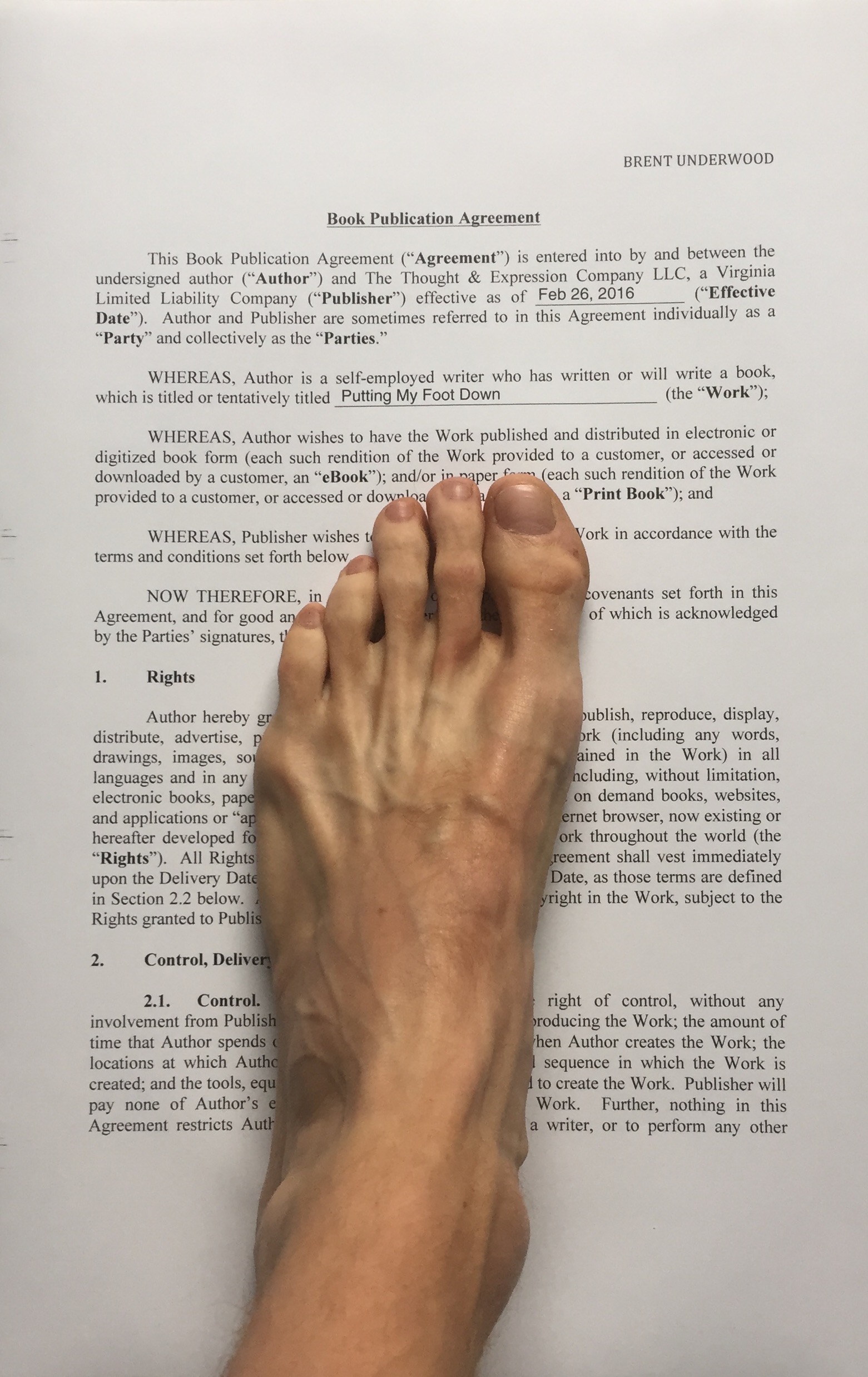 I hope you weren't fooled by the screaming "exclusive" tag on this article. Because that's the oldest trick in the book. Though in this case, it really is an exclusive—and perhaps the strangest of all the interviews I've done with media manipulators for the Observer.
Why? Because the stunt we're examining was revealed by the Observer…and the person behind the stunt is not only my business partner in the creative advisory I run called Brass Check, but he is someone I discovered, mentored and trained. And here he is—on his own—doing a stunt so funny and clever that even if I hadn't known him, I would have reached out for an interview.
I'm talking about Brent Underwood, who last week called me and told me that he'd been fooling around on Amazon, uploaded a satirical book and turned it into a "No. 1 best seller" in several categories…with a grand total of three copies sold (the intention: to reveal how hollow the claim "best seller" is by 90 percent of all the gurus and experts). As we talked on the phone I told him that it would make for a hilarious first-person story on the Observer and that he should write about it. Just a few days later, that story was picked up by everyone from Publisher's Weekly to BoingBoing to The Wall Street Journal and did more than 300,000 pageviews on the Observer alone. The Paris Review actually wrote, "Brent Underwood's foot, a more accomplished author than you or I."
And then the story took a very strange twist. After Amazon banned Brent's book Putting My Foot Down on the grounds that it was not a real book, the indie publisher Thought Catalog (also a client and friends) reached out to him to ask if he wanted to turn this whole project into an actual book. As in, a full-fledged, physical (and digital) book with a publishing contract—the whole thing.
It's meta on top of meta on top of meta. I couldn't be prouder and more impressed. In fact, I'm a little jealous of it all. But even so, I decided to get Brent to tell you a little bit more about how it all happened and what it reveals about book publishing, the best-seller lists and of course, how the media works.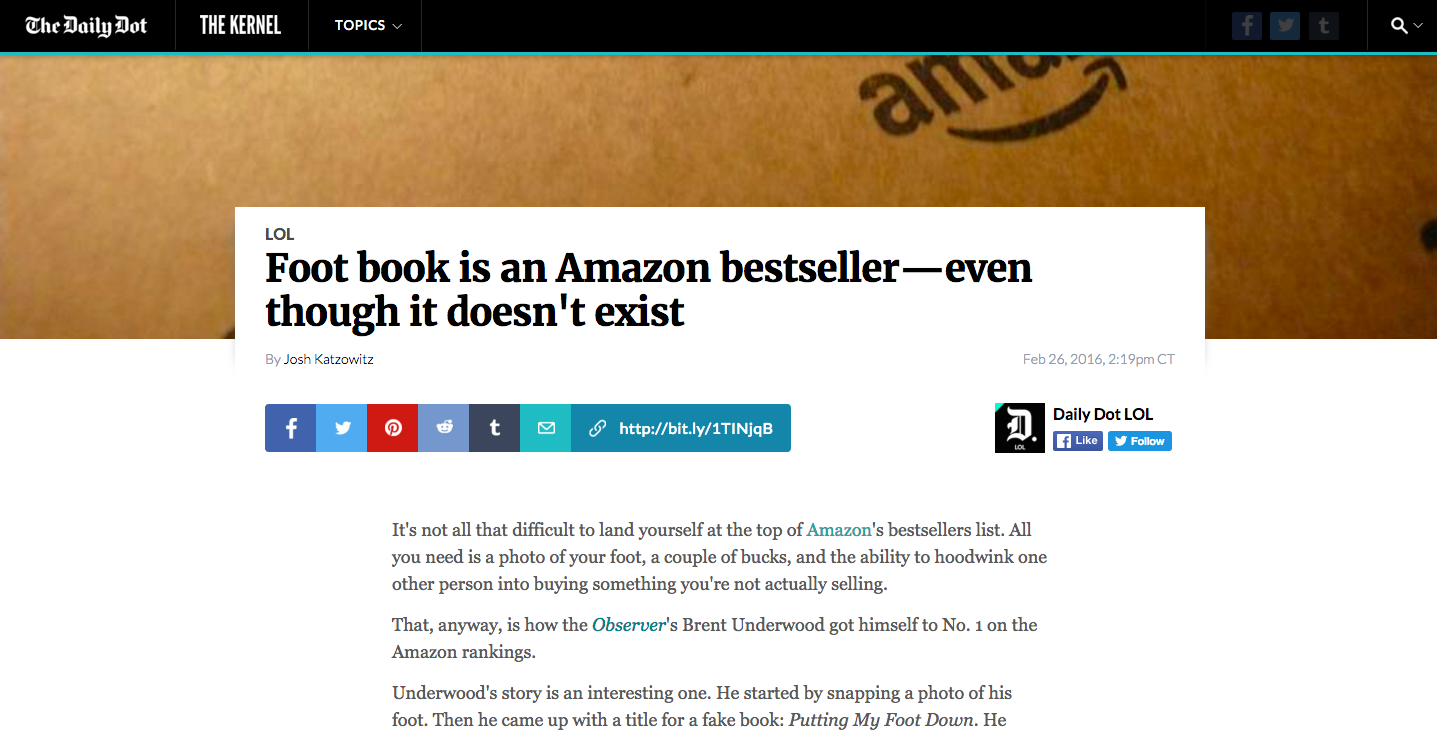 O.K., so first off, how the hell did you come up with this idea? Were you being a troll or what were you trying to say?
Originally the article was going to just be about Amazon rankings. Because I work to position and market lots of books, I see even the most established and savvy authors confused by how their Amazon rankings change hour by hour. It's probably safe to say that all authors obsess at one point or another over their Amazon rankings, but I'm also not sure they know what the ranking means as far as actual book sales. Originally, I was just thinking about getting a better idea of how many books you needed to be selling per week to be in the top 10,000, top 1,000, top 100, etc.
But then, in my heart of hearts, I was also exhausted by all the bogus work in the book marketing space. There are all sorts of cringy infomercial-like sites that promise secrets, hacks, summits and webinars to make you an overnight "best seller." I found that, more often than not, the people running these sites have no clue when it comes to creating or marketing books. Because they know they can crank out a best seller by way of gimmicks, they do it, and they prey on an aspiring author's desires for status and success. They make it seem like an Amazon best seller is an actual achievement, because they stand to benefit in financially and professionally. Authors aren't exempt from guilt, by the way. They are the ones paying these people to do this, but in some important ways I think the pusher is worse than the user.
I believe books are important. I know authors work like hell to get their books out there and sold. I see it every day with our clients and friends. It's dishonest and annoying for people who phone in a book, throw it up just because they can self-publish, and top an Amazon category for an hour to go around calling themselves a bestseller. It devalues the term and disrespects generations of authors. It's about as far as you can get from someone who does this work for real, like, say, Robert Caro, who slaves away for decades on each book he writes. Creating books is a craft, and the phoniness in the industry erodes people's respect for it. 
So to prove my point, reveal what was at work in the industry, and to get a window into Amazon's backend analytics, I needed a "book." Having a "book" would allow me to see how sales affect ranking and show with screenshots exactly what all the scammers were offering as a service. I wasn't going to write 50,000-word book just to prove this point, so I just thought of the quickest way to produce something. Ergo, I took a photo of my foot.
I wanted it to hit the top of a category so I could call out their nonsense and knew it wouldn't take that many sales depending on the category. The fact it took a mere three books was a little surprising, but looking back I think I could have picked an even more obscure category and gotten to the "No. 1 Best Seller" spot with just a single sale. Maybe I'll do that later today.
However much you actually cared about the point you were trying to make, what would possess you to go through with it when the likely reaction was either pissing potential clients off or making "success" harder for the authors you do work with?
Let's be clear: Anyone who would think that what I did should be considered "success" is not someone I would want to work with. This was a stunt, pure and simple. As I said in the original article, I don't work with authors whose books I wouldn't read myself. We try to set up books and campaigns that help authors to sell over the course of years, not hours. We don't work with authors who are looking for a quick status grab or want to have a book just for the sake of having a book. We work hard on our book launches and only want to work with authors that will put in an equivalent amount of work. If authors are looking for a quick hit, there are plenty of guys with 800 numbers on the top of their web pages they can call.
What was Amazon's reaction? Did you sell any copies?
I sold a total of 14 copies before Amazon pulled it down (including the original three copies that I bought to kick off my best seller run). The problem is that the book was taken down before the majority of the attention hit the article. Before it hit No. 1 on HackerNews, before it was on Fark.com, and before the majority of the press came in. So if it had remained up, I suppose it could have sold many multiples of that, but we'll never know.
Maybe I should have anticipated this, but Amazon wasn't a fan of Putting My Foot Down. They removed the book from their website citing "quality" issues. Let's keep in mind this is the same Amazon that is filled with obscene, stupid, poorly written, derivative, or otherwise awful books. Or books with even less content than a photo of a foot. For the past four years, for instance, you could purchase the book "What Every Man Thinks About Apart From Sex", which is 200 pages of completely blank paper. It's a hilarious idea, and I'm glad Amazon has it, but if that is a book, why wasn't mine? Why does that joke get to remain in the catalogue, but my joke, which criticizes certain shady marketing practices, doesn't? In my view, people were buying it on the same platform as all other "books," knowing exactly what they were purchasing—a book with a photo of a foot in it. I wasn't pulling the wool over people's eyes. I said what the book actually was in both the title and the subtitle (A Book Featuring My Foot).
The bigger question that brings up is how many pictures does a picture book need to have to be considered a real book? If one is not enough, is two? Is it 20? One hundred? I'm not sure Amazon has a strict guideline on this (yet). Perhaps unsurprisingly, Jeff Bezos hasn't been returning my emails. C'mon Jeff, help an author out.
How has the media reaction unfolded? Tell us how you publicized this "book launch" and how the narrative began to take off. Was there anything you did to increase its exposure?
Just like a traditional book or anything really, the best "launch" starts before the product is finished. You try to "bake in" marketing and reasons why people would want to share with their friends. I knew by creating an interesting story with a hint of controversy within the article itself I wouldn't need to use brute force or a huge Facebook spend to make it popular. Creating something that generates strong opinions is the best way to help something spread. I knew the "best seller" debate would resonate with all authors, that the low number of copies needed would be surprising to intrigue people who were not authors, and the fact I used my foot was funny or trollish enough to make bloggers laugh and write about it.
That said, I didn't take the "field of dreams" approach and wait for everyone to come. I knew that certain author groups on Facebook were particularly primed for this debate. I also had a few friends with big followings post on Twitter once the post was live.
Facebook and Twitter alone would create a small spark, but relying on that is leaving too much on the table. Another way to fan the flame on articles is StumbleUpon's "Paid Discovery." It is basically a way to pay StumbleUpon to put your content in front of readers quickly (depending on budget). I put $50 in the Paid Discovery and combined with the Facebook and Twitter traffic, the post quickly appeared at the top of the "Most Read" section on Observer (where it stayed for over a week).
Then Fark.com and HackerNews got ahold of it. On HackerNews the post hit No. 1 on the site and sent a tidal wave of traffic. Web aggregators like Fark, HackerNews and reddit are great because of the multiplier effect: you not only benefit from the direct traffic from the sites, but all the people exposed to the article then share it as well. On Twitter the post started being shared every few seconds, including from a bunch of industry outlets—Publisher's Marketplace, Publisher's Weekly, The Paris Review, etc. Then the readers of those sites started tweeting it out, including book critics from The New York Times, The Wall Street Journal, The Guardian, The Washington Post, The Los Angeles Times, and a bunch of others. Similarly a handful of influential authors shared the article, including Neil Gaiman, which was personally very meaningful.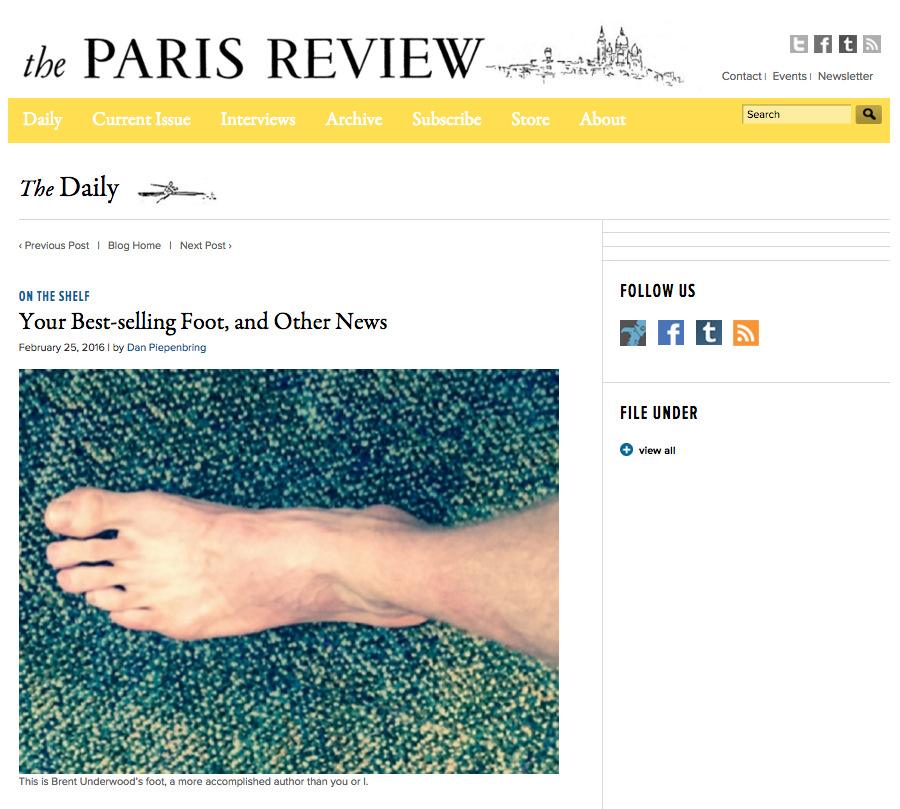 The final thing that kept the article humming for days to come was all the other press outlets that wrote about the article. The Washington Post, BoingBoing, DailyDot, Gothamist, NextShark, Teleread, The Digital Reader, and even The Paris Review all wrote about it and linked back to it. The Paris Review threw in the hilarious comment: "Brent Underwood's foot, a more accomplished author than you or I," which made my mother very proud.
What was the most surreal or surprising part of the reaction?
The most surprising was the almost unanimous positive feedback from bigger authors, publishers and industry people. I knew the piece would create a conversation and I guess I was anticipating a negative reaction. There were some grumblings, but overall the response was largely positive. The piece seemed to really strike a chord with the publishing world, at almost every level. I received notes from a few New York Times best-selling authors I've always looked up to, as well as dozens of editors, publishers, agents and other industry people who were glad someone had finally said what they'd all been thinking.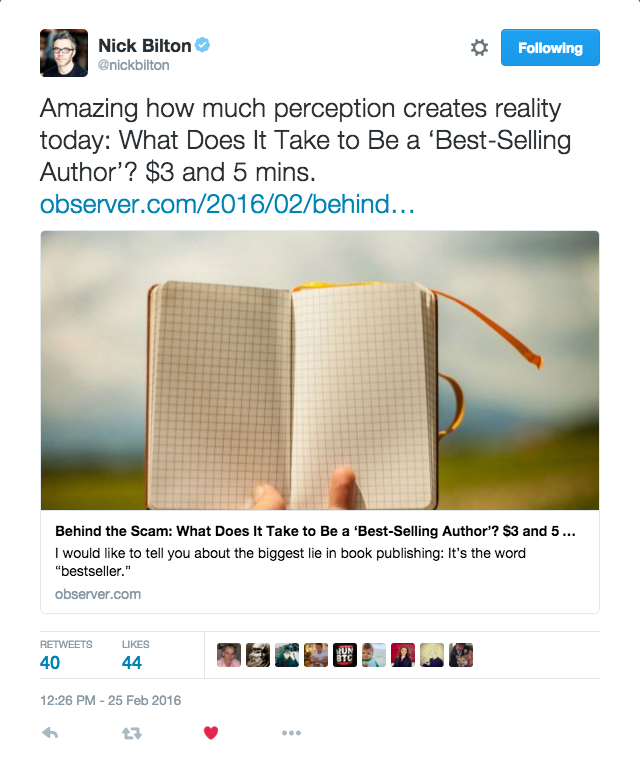 So the book started as a fake book—or it started as a means to prove a point at least. But now, now it's a real physical book with a real publishing deal. How did that happen? What does it mean for this?
A few days after Amazon pulled the book, Chris Lavergne, a friend and founder of Thought Catalog, reached out about the possibility of turning this into a "real" book. I've always admired what Thought Catalog has done, so it didn't take much arm-twisting to say yes. They're also a lean publishing outlet so they were able to move fast and get this out the door quickly.
My intention with the original project was to make a point. It just happened that I felt that one page was all that I required to make that point. But it was still a book. The package—the container we call "a book"—was necessary for the statement. Certainly, my criticism of best-seller lists would have made less sense as a paper pamphlet or an anonymously published PDF.
Obviously Amazon didn't agree. So, since one foot photo wasn't enough for them to deem the project a "book," I decided in the "expanded and revised" version to include 35 photos of my (left) foot. Surely that is enough? Half of them are my foot on top of printouts of the initial round of press and tweets, and half are all new foot photos from exotic locations like the grocery store parking lot. The point of publishing it as a physical book was a small statement on Amazon's decision to take the book down. I don't think Amazon should be the one deciding what is or isn't a book. Particularly given the plenty of other ridiculous things that are allowed to remain in their book catalogue.
I'm excited that we now have a physical print book to offer. It's a fun way to memorialize the project. That said, on the off chance that there are any royalties from the book—which began as, and still is, a piece of satire—I am donating all of them to 826 National, a nonprofit organization founded by Dave Eggers that helps kids from disadvantaged backgrounds develop their writing skills. My intention was never to profit from this whole experiment. If it does sell any copies, then the proceeds will hopefully help a future generation of authors train themselves in the best marketing tactic there is: writing a worthwhile book.
Also, I am happy to sign anyone's copy with my footprint. We have a foot-sized inkpad ready to go.
Any other stunts planned?
I'm currently working on a project with the rapper 2 Chainz. I doubt that the project will involve his foot, but hey, you never know.
He's also put together this list of 15 books that you've probably never heard of that will alter your worldview, help you excel at your career and teach you how to live a better life.
See also:
How Rumblr's Marketing Agency Gamed the Media for $100k in Business
EXCLUSIVE: Meet the Social Media Genius Behind Dan Bilzerian and Verne Troyer
This Restaurant Made Fools of Hipsters Everywhere (Or Did They?)
Meet the Genius Whose Chrome Extension Bans All Kardashian Content From Your Computer
EXCLUSIVE: Author of New Zealand's First Banned Book in 22 Years Speaks Out
An Interview With the 16-Year-Old Media Manipulator Who Deceived The New York Times
Exclusive Interview: Meet Maddox, Owner of the Internet's 'Best Page in the Universe'
EXCLUSIVE: Behind the Facebook Prank That Gamed Reddit And Reached 1M Pageviews
EXCLUSIVE: How This Left-Wing Activist Manipulates the Media to Spread His Message
EXCLUSIVE: 'Digital Darth Vader' Charles C. Johnson On Manipulating Politics and Media
Meet the Journalist Who Fooled Millions About Chocolate and Weight Loss