Vogue may be considered today's "fashion bible," but Harper's Bazaar not only preceded Vogue by 30 years (Vogue was founded in 1892, Harper's Bazaar in 1862), but during the pre- and post-World War II period under the helm of Carmel Snow, Harper's Bazaar became the most fashion-forward fashion magazine, consistently creating eclectic and avant garde editorials, taking risks and venturing into realms that previously weren't explored by a fashion magazine.
The Museum at FIT's latest exhibition, "The Women of Harper's Bazaar: 1936-1958," organized and curated by the graduate students at FIT's Fashion and Textiles Studies program and which opens today, explores this unique time period at Harper's Bazaar and the the relationship between the three women who brought about its revolutionary imagery.
Carmel Snow, Diana Vreeland and Louise Dahl-Wolfe were the holy trinity of fashion at that time. Long before the phrases "girl power" and "girl boss" became a part of the feminist lexicon, these women were publishing powerhouses. As Editor-in-Chief, Carmel Snow the "Queen Mother of Fashion," often launching careers through her innate knack for finding creative geniuses. As the legend goes, Ms. Snow attended a ball at the St. Regis hotel. Across the room she spotted a young socialite with jet-black hair and patrician features wearing Chanel gliding across the grand ballroom. Her name was Diana Vreeland and Ms. Snow was captivated. On the spot, Ms. Snow offered her a job writing for the magazine.
The resulting column, "Why Don't You?" was fun and irreverent; an epigrammatic exhortation to women to do something different and try new things. Soon after the success of Ms. Vreeland's column, she became the magazine's fashion editor, conceptualizing and styling editorials.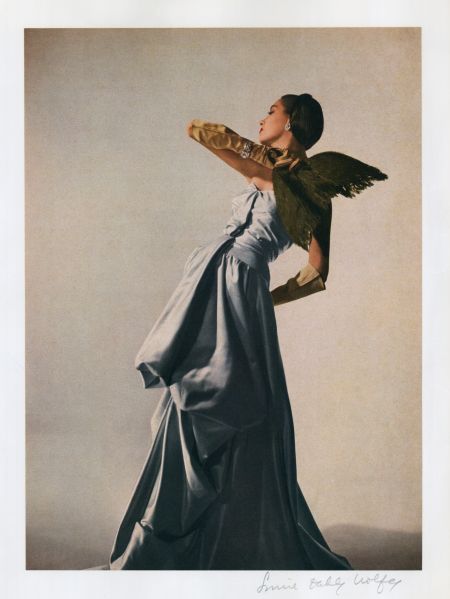 These editorials sought to give the public, according to Ms. Vreeland herself, "what they never knew they wanted." Her vision expressed itself best in Ms. Dahl-Wolfe's bold and compelling imagery. Known for her brilliant use of color, Ms. Dahl-Wolfe's use of cacophonous hues and vibrant imagery meshed well with Ms. Vreeland's fantastical style and love for the exotic.
It was a symbiotic relationship. Each woman's talents fed into and strengthened the other: Carmel Snow had a knack for finding and commissioning talent and she encouraged creativity; this gave Diana Vreeland the freedom to indulge in her flights of fancy; Ms. Vreeland's vision flourished under Louise Dahl-Wolfe's exacting eye. And so it went.
The collaborative effort of these women is evident in one of the exhibition photographs: all three women in Carmel Snow's bedroom, sheets of paper strewn across Ms. Snow's wrinkled sheets as she lays in bed, flanked on either side by the seated Ms. Vreeland and Ms. Dahl-Wolfe, hunched over deep in conversation. It is just one of the many behind-the-scenes looks into the creation of the magazine displayed in the exhibition. These visual peeks into their world makes for a compelling story that, with every photo, every garment, every piece of ephemera, makes you wish for a return to those days when making a fashion magazine was still fun and it was about the art, not about its commercial viability where publications are required to have bland, pretty young things grace the cover to sell magazines.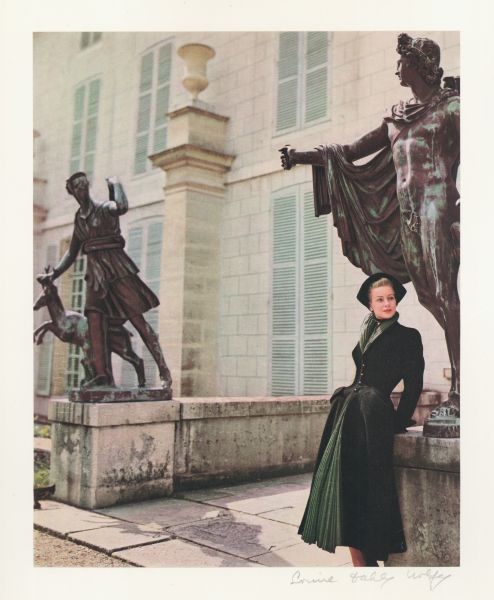 At times, the exhibition felt a bit colorless, with the masses of ephemera and black and white photos diluting the effect of the brilliantly hued Louise Dahl-Wolfe photographs. That feeling was compounded by the long, sinuous corridor that serves as its exhibition space, and I sometimes got the feeling that I was viewing an art gallery as opposed to a curated exhibition (which isn't surprising considering that the exhibition is housed in the museum's Gallery space). But overall, it is an enlightening exhibition, where you are given visual insight into an important time in the development of modern fashion history.
The best part of the exhibition was at the end of the hallway, when you reached the small room at the back. There, Harper's Bazaar editorials shot by Ms. Dahl-Wolfe have been blown up, becoming a backdrop to the magnificent gowns and bathing suits and coats displayed on mannequins that match each corresponding photograph. It is a visual delight. And, if you look hard enough, you may find yourself imagining how Snow, Vreeland and Dahl-Wolfe brainstormed, conceptualized and created the final, arresting images as they stand together – 3 powerful women – huddled over the proofs.
The Women of Harper's Bazaar: 1936-1958 will be on view at the Museum at FIT from March 1-April 2, 2016. The Museum at FIT is open Tuesday-Friday from Noon-8 p.m., and Saturday from 10 a.m. – 5 p.m. and is located at: Seventh Avenue at 27th Street, New York City, 10001-5992