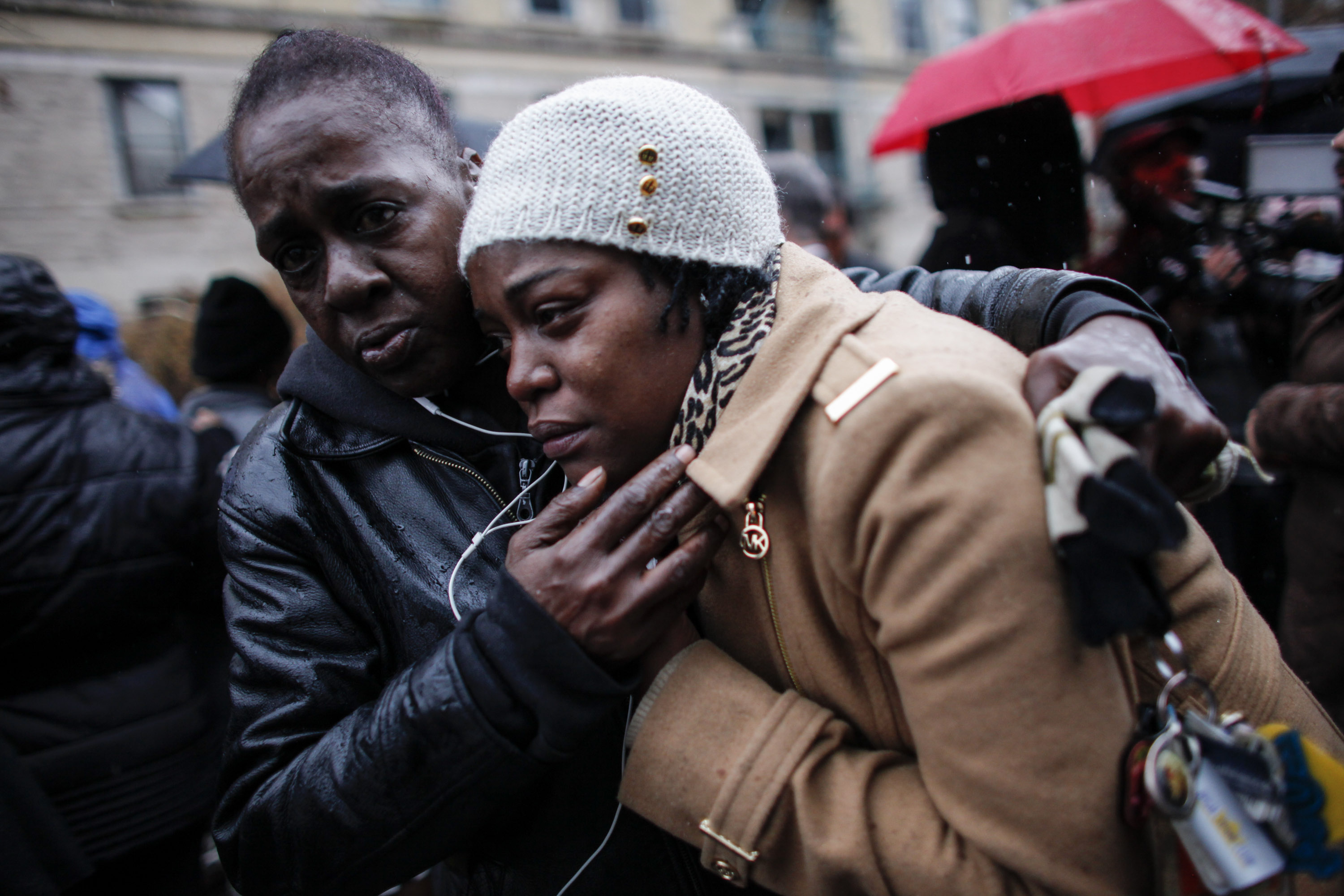 The family of the unarmed Brooklyn man killed by an NYPD officer in a public housing development in November 2014 responded with sorrow and anger at the news that District Attorney Kenneth Thompson would not seek jail time for the cop involved.
Mr. Thompson recommended to Brooklyn Supreme Court Judge Danny Chun this evening that Officer Peter Liang serve five years probation and no hard time for killing Akai Gurley. The news prompted an immediate statement of protest from the victim's mother, father and aunt, who warned that the prosecutor was setting a dangerous precedent.
"This sentencing recommendation sends the message that police officers who kill people should not face serious consequences. It is this on-going pattern of a severe lack of accountability for officers that unjustly kill and brutalize New Yorkers that allows the violence to continue," they said in the release, which the group Communities United for Police Reform circulated to the press.
Mr. Liang was on a "vertical patrol" in a darkened stairwell of the Pink Houses in the East New York section of Brooklyn, walking with his gun drawn against NYPD protocol. Gurley, a 28-year-old African-American father of one, entered the hallway and apparently startled him. The policeman fired his weapon, then fled, without performing CPR or calling for medical assistance.
Mr. Thompson, Brooklyn's first black district attorney, appeared to break with a national trend when he secured an indictment against Mr. Liang in February 2015. A grand jury convicted the officer of manslaughter last month.
"District Attorney Thompson was elected on the promise that he would not allow officers to act as if they are above the law and that he would help restore confidence in the justice system," the family's statement continues. "The district attorney's inadequate recommendation diminishes what Peter Liang did. It diminishes Akai's death."
The family called upon the judge to ignore the prosecutor's recommendations and to send Mr. Liang to prison.
"Peter Liang has not served a single day in jail, and he must be held accountable," they said. "In spite of District Attorney Thompson's failure to aggressively pursue justice for Akai, we hope that Judge Chun will take seriously the crimes for which Peter Liang was convicted, and appropriately sentence Liang to serve time in prison."
Mr. Thompson has sought from the outset to divorce the case from its apparent national context: the police killings of black men like Staten Islander Eric Garner and Ferguson, Mo. teen Michael Brown, among others. He noted in his recommendation that Mr. Liang had no criminal history, and claimed that the cop had been "reckless" but not murderous.
"The sentence that I have requested is just and fair under the circumstances of this case. From the beginning, this tragic case has always been about justice and not about revenge," the prosecutor, himself the son of a police officer, said in a statement. "There is no evidence, however, that he intended to kill or injure Akai Gurley. When Mr. Liang went into that building that night, he did so as part of his job and to keep the people of Brooklyn and our city safe."