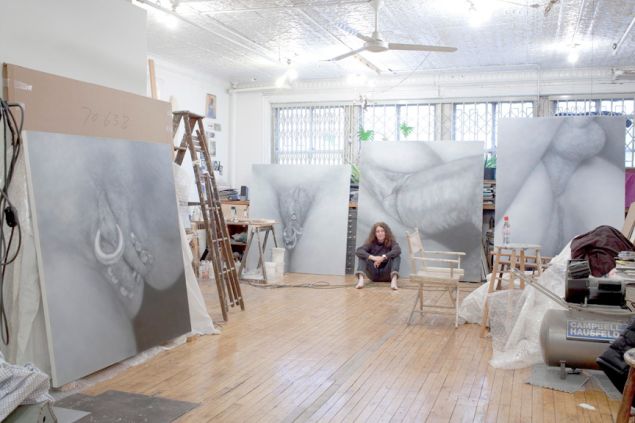 With long-running Chelsea gallery PPOW's addition of artist Betty Tompkins to its roster, the feminist trailblazer is having a huge year.
The gallery plans to organize a retrospective of the artist's work in 2017, which will include a range of early text pieces, collages made from 1950s pornography and a version of her most recent paintings made from stamped imagery of words used to describe women.
That's right on the heels of her major group exhibition "Black Sheep Feminism"  currently on view at the Dallas Contemporary, and her newest work, a series of text-based paintings, which can be seen at the Flag Art Foundation in Chelsea in "WOMEN Words, Phrases, and Stories: 1,000 Paintings by Betty Tompkins."
It seems the time has finally come for the controversial artist. Speaking to the Observer by phone on Tuesday morning, she said with excitement, "it's pouring!"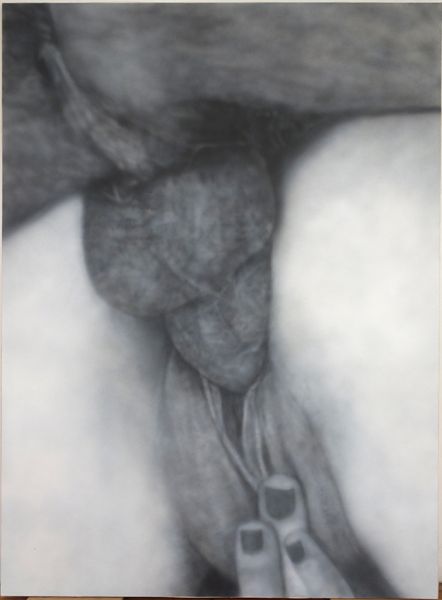 Art world recognition has come late for Ms. Tompkins, whose graphic and photorealistic "Fuck Paintings," an ongoing series she started in 1969 that features tightly cropped views of heterosexual intercourse and genitalia, is her most widely known body of work. While some might dismiss the images as exhibitionist, Ms. Tompkins strategically appropriates the male-centric gaze that dominates pornography by focusing the compositions and softly rendering jarring views of sex acts, as she explained during her talk with artist Marilyn Minter at the Bruce High Quality Foundation in 2015.
But while she may be finally getting the recognition she deserves—she is also represented by Los Angeles' Gavlak Gallery and Brussels' Galerie Rodolphe Janssen, who showcased her at Art Basel in Switzerland in 2014—that doesn't mean that much has changed for women artists in the time she's been working.
"Anecdotally, things are vastly improved; they're much better because there are many more galleries," she told us. "But statistically, things haven't changed. A 2015 Artnews article by National Academy Museum chief curator Maura Reilly revealed that women artists made up only 20-30 percent of solo exhibitions at U.S. museums since 2007, and a recent count of the permanent exhibition displays at MoMA counted 7 percent of works on view were by women.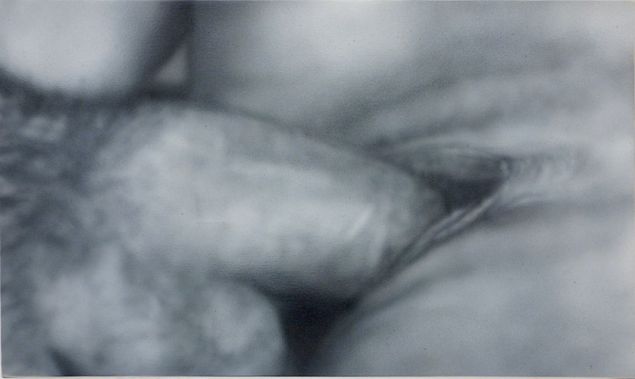 Her explicit paintings have been censored and labeled as pornography over the years. In 1973, she was barred from entering France, and in 2006 her paintings were held at customs in Japan. Most recently, she said, she has had imagery removed from Twitter and Instagram.
So her feminist viewpoint is as relevant as ever, according to PPOW co-founders Wendy Olsoff and Penny Pilkington. "Women having ownership and autonomy of their bodies and their sexuality is a major part of the evolving women's rights movement that is now coming to the forefront. Betty tackles this head on," the gallerists told the Observer by email. "Younger woman are grasping to convey this issue in every art form and Betty leads the way fearlessly."
The gallery is well known for showing artists whose work is political or socially oriented, as well for its early representation of women and LGBTQ artists. Ms. Olsoff and Ms. Pilkington work with Martha Wilson and Carolee Schneemann and represent the estates of David Wojnarowicz and Martin Wong.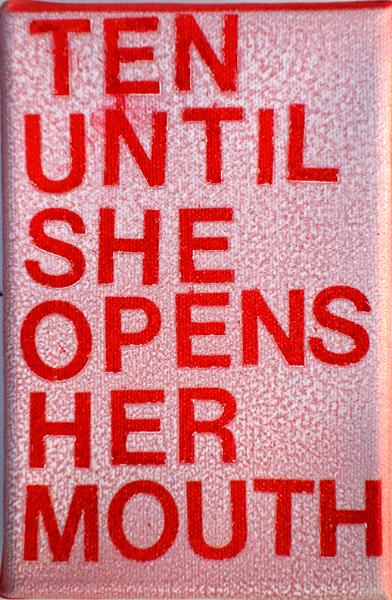 Next on the horizon, Ms. Tompkins' is organizing a performance on March 23 at the Flag Art Foundation in Chelsea inviting 50 participants to read aloud 1,000 words from her paintings. The works are based on an email she sent to friends and associates in 2002, in which she asked people to send her words used to describe women, both positive and negative. This will be the fifth time the performance has been done, and the largest, but this time she's asking participants to choose from the 1,000 words or contribute their own.
"What I learned was that the less input I have the better the performance," she said. "I want to get the words to talk to each other—to make a conversation," she told us.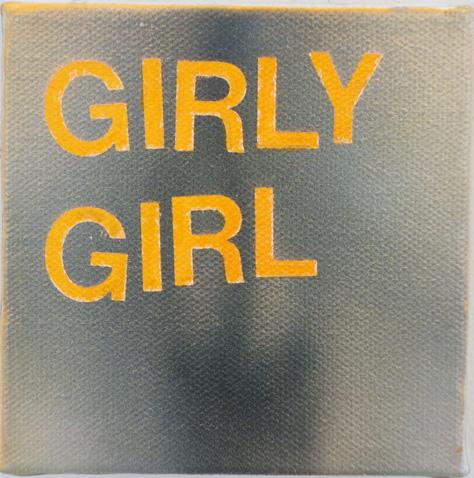 Among the 3,500 words she received in response, the most widely suggested were "mother," "slut," "bitch" and "cunt," she told us. She sent the email out again widely in 2013, to "see if the language had changed." Sadly, it had not.
Which words that resonate with the artist the most? Among her favorites were, "really good artist," "your truly badass bitch," "aching to touch her," "feisty," "intelligent," "member of the airhead queen of the clit society," "with her, you never know if you are going to get a 'fuck you' or a chicken dinner and "maybe tonight, i think better about women with the lights out."