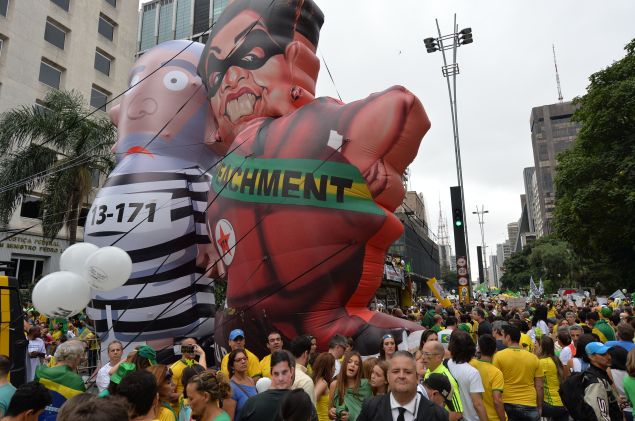 A glimpse of the Brazilian political scene could impress even those already numbed by the belligerence in the U.S. presidential race. From Amazonian towns through the capital Brasília to the biggest cities of São Paulo and Rio de Janeiro, an unprecedented wave of mass protests swept Brazil yesterday to deliver a blunt message to President Dilma Rousseff.
"Down with Dilma. Impeachment now!" chanted the crowds mostly dressed in Brazil's national colors green and yellow. It was the largest national day of protest on record, including over 400 cities and gathering some 3.6 million people, according to G1 news portal. According to Datafolha pollster, a half million people attended the São Paulo City parade.
The biggest rallies were accompanied by gigantic inflated dolls depicting Ms. Rousseff either as a masked gangster or a female Pinocchio, and former president Luiz Inácio Lula da Silva, her political mentor, as an inmate.
According to Eurasia, a political risk consultancy, the odds that Ms. Rousseff will be unseated stand now at 65 percent.
Following the protests, the besieged Ms. Rousseff faces a growing risk of impeachment. According to Eurasia, a political risk consultancy, the odds that Ms. Rousseff will be unseated stand now at 65 percent, a level raised twice in the last three weeks.
Annoyed by the combination of the largest political scandal in history and the worst economic crisis since the 1930s, protesters in São Paulo also booed two prominent opposition leaders: Senator Aécio Neves, former Rousseff's presidential contender in 2014 and chief of PSDB, and his colleague Geraldo Alckmin, the São Paulo state governor.
The events also lauded judge Sergio Moro as a national hero. He heads the "Car Wash Operation," a task force that includes the Judiciary Branch, the Federal Police and the Federal Prosecution Office. The investigation, which has revealed an astounding web of crimes involving a significant portion of the political and corporate class, is compared to the 1980s Italian Clean Hands Operation, an anti-mafia campaign.
Overwhelmed by the crowds, President Rousseff did not immediately react. Her spokesperson released a statement praising "the pacific character of manifestations." Her Labor's Party and leftist organizations, such as unions and student associations, scheduled a national counter-rally to support the administration on March 18.
During a recent interview, she said that "no one has the right to ask for the resignation of a legitimately elected president without showing proof that I violated the Constitution to warrant my impeachment."
Still, popular pressure could accelerate the push for impeachment, a highly politicized process that requires approval from both the House and the Senate, whose speaker, Renan Calheiros, is also being investigated. (Out of the 594 Congress members, Cunha and 98 of his colleagues face some kind of investigation.)
Given the daily flow of new developments, a great deal of political uncertainty fogs a post-Rousseff scenario.
Given the daily flow of new developments, a great deal of political uncertainty fogs a post-Rousseff scenario. Whereas the Labor's Party—including Ms. Rousseff—would clearly lose the most with the impeachment, its coalition partner PMDB, could also be seriously damaged.  If impeached, Ms. Rousseff would be replaced by vice-president Michel Temer of the PMDB. During the recent PMDB convention that re-elected him as president, the party made it clear that it will leave the administration within 30 days.
But again, Mr. Temer, who has called for "national unity," has seen his name increasingly surfacing in new leaks about alleged criminal behavior. He also denies any wrongdoing.
Although there are no personal charges as of yet against Ms. Rousseff, the Car Wash Operation and the country's court are carrying out separate probes about illegal funding of her 2010 and 2014 presidential campaigns. According to press accounts, Ms. Rousseff could soon receive another blow.
New evidence could prove money laundering involving her campaign strategist João Santana, who is already in jail on charges for allegedly receiving $ 7.5 million in illegal payments abroad related to the Petrobras scandal.
There is also the plea bargain of Delcídio do Amaral, her former Senate leader. According to Istoé magazine, Mr. Amaral, accused Lula of having full knowledge of the scheme and worked actively to obstruct justice.
Lula was recently taken into custody to testify about allegedly receiving undue perks from construction companies. The former president has repeatedly denied any crimes and accuses the Car Wash Operation and the media of a politically motivated prosecution.
Meanwhile, the markets are openly betting against Ms. Rousseff. According to Bloomberg, investors hope the crisis will usher a new government able to reignite the flagging economy.
Even stuck in its worst crisis since dictatorship ended in 1985, Brazil has shown a great deal of institutional strength for a young democracy. But popular patience is growing thin. So far, the political establishment has not shown that it is up to the task to find a solution.