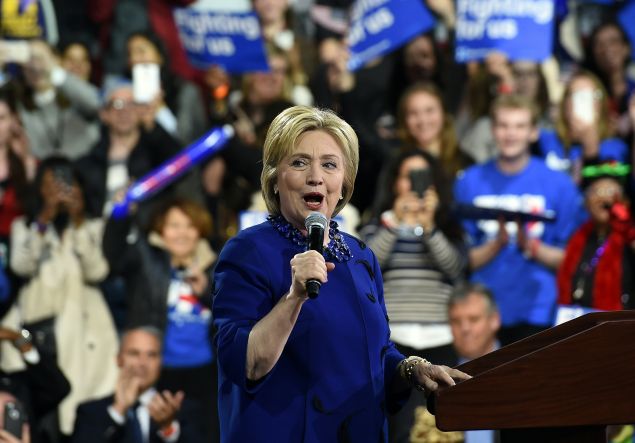 Following a string of resounding victories on Super Tuesday, Hillary Clinton returned to New York City tonight, aiming her fire squarely at the Republican Party and their bomb-throwing front-runner, Donald Trump.
Speaking in Manhattan's Javits Center in front of a crowd of union supporters, Ms. Clinton all but ignored her primary opponent, Sen. Bernie Sanders, focusing on the GOP and Mr. Trump, who she strongly alluded to but did not mention by name.
"You know the stakes in this election have never been higher and the rhetoric from the other side has never been lower," Ms. Clinton said. "So we've got work to do my friends. But not to make America great again. America never stopped being great. We have to make America whole. Instead of building walls, we need to break down barriers that are holding back families and our country."
Ms. Clinton, the former secretary of state and senator from New York, had scheduled the rally long before she knew her fate on Super Tuesday. But as she pointed out, her voice a bit hoarse, it all worked out. She routed Mr. Sanders, a Vermont independent and self-described democratic socialist, across the South and eked out a win in Massachusetts, reaffirming her position as the unquestioned front-runner for the Democratic nomination. Her win was reflected in the rhetoric of the various New York labor leaders and elected officials who introduced her; none bothered to take jabs at Mr. Sanders, instead focusing solely on Mr. Trump, a billionaire real estate developer and a big winner on Super Tuesday.
Randi Weingarten, the president of the American Federation of Teachers, seemed to question if Mr. Trump, a Jamaica Estates native, was really from Queens. Mayor Bill de Blasio, back in Ms. Clinton's good graces after delaying his endorsement for many months, eviscerated Mr. Trump once more for failing to quickly denounce an endorsement from a former KKK official. And Gov. Andrew Cuomo, firing up the occasionally subdued union crowd, mocked the billionaire's call to build an ever-larger wall along the Mexican border to block illegal immigrants.
"We make a long list. We write down all the immigrants on the list and then we kick them all out," Mr. Cuomo said, mimicking Mr. Trump's rallying cries. "And then to make sure they don't come back, we build a wall. The wall. The big wall, a long wall, a thousand mile wall, like a China wall but wider but higher but nicer. A good-looking wall."
Ms. Clinton otherwise cycled through her typical progressive stump speech, offering praise for the labor movement and promising to fight for higher tipped wages and prevailing wages at construction sites. She took a subtle shot at Mr. Sanders, who wants to raise taxes to pay for an unprecedented expansion of the social safety net, by telling the crowd she is the only candidate who does not want to raise taxes on the middle class. She did not mention her past support for free-trade deals, which are disdained by the labor movement and constantly denounced by Mr. Sanders.
Ms. Clinton, who is backed by most leading labor unions, challenged Republican elected officials across America who have strenuously tried, with much success, to weaken organized labor.
"I will say this loudly enough so every Republican candidate and Republican governor across our country can hear it. We will fight back against attacks on workers," she said. "You deserve to be supported, not scape-goated. And supporting workers means supporting unions."