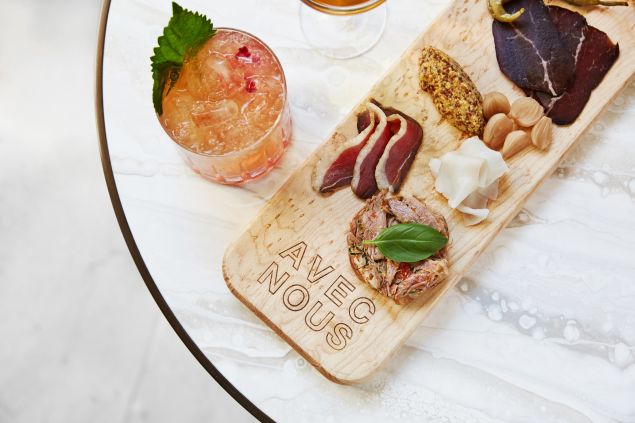 Add Olivier Quignon to the list of prominent New Yorkers who've made their way to Los Angeles. The former Bar Boulud executive chef just unveiled the stunning Avec Nous at L'Ermitage Beverly Hills.
Mr. Quignon, a longtime Daniel Boulud lieutenant who previously cooked at DBGB and Daniel, has created a menu inspired by the French Riviera because he understands that L.A. is an easy-breezy dining city. He worked in Paris and remembers how guests at restaurants there felt like they'd have to take a nap after eating. He'd rather serve food that energizes you.
Avec Nous keeps it light and bright in dishes like tuna crudo with avocado mousse, watermelon radish, cacao nibs and passionfruit dressing. You can choose between an heirloom beet soup with goat cheese foam and a chilled carrot soup with jumbo lump crab. The Saint-Tropez salad Mr. Quignon is making has Castelfranco radicchio, fennel, celery, Jerusalem artichoke chips and a lemon balsamic dressing. He's oven-roasting a whole cauliflower as an entree for two.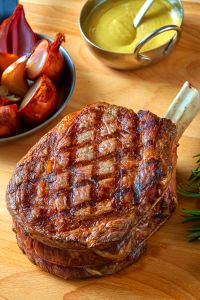 All that said, Mr. Quignon is a French chef in a grand hotel restaurant with a bright neon sign outside, so he's got charcuterie and spectacle to spare. Avec Nous serves pork-shank rillettes, foie gras and escargot. There's a cote du bouef cart for tableside steak carving. The champagne cart and the Sugarfina candy cart add to the festive vibe in a dining room with a pewter bar, majestic modern fireplaces, vintage light fixtures, antique mirrors and classic black and white finishes.
This restaurant is part of Viceroy Hotel Group's revamp of L'Ermitage Beverly Hills, with its luxurious new suites and a dazzling rooftop that might turn into a new hot spot of its own in the not-so-distant future.
Mr. Quignon and L'Ermitage are leading a trend of Beverly Hills hotels adding sizzle with chefs known for rarefied dining in New York. Geoffrey Zakarian is working to open Georgie and The Garden Bar at Montage Beverly Hills this summer. Jean-Georges Vongerichten plans to open his first L.A. restaurant next year at Waldorf Astoria Beverly Hills.
But this is L.A. dining, where trend-chasing is beside the point, where duck prosciutto and local produce followed by candy for dessert can be your chill weekday night on the patio. Are you with us?