Who would have thought that John F. Kennedy Jr. and Russell Simmons would have paired up in 1997 to make one man's Noho dreams come true?
The Silk Building loft owned by Matt Berman, the former creative director of John F. Kennedy Jr.'s George magazine, is back on the market, asking $1.89 million.
Mr. Berman was able to acquire the unit through what appears to be some really good luck, when JFK Jr. invited him to a celebrity-filled dinner in Los Angeles.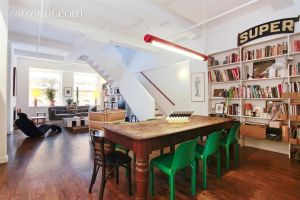 "I ended up sitting next to rap impresario Russell Simmons," Mr. Berman wrote in Elle Décor. "When I told him I was looking for an apartment, he mentioned he was selling one in NoHo. After a little negotiating, and a phone call from John, it was mine."
And so, per public record, Mr. Berman bought the duplex loft from Mr. Simmons for just $310,000 in 1997, which, at the time, Mr. Simmons had apparently chosen some rather interesting decorative accents for, including dark woods and "frosted-glass panels."
This wasn't the only unit Mr. Simmons owned in the building, and he didn't use it for his actual living purposes.
"Russell Simmons used it as a movie screening place," Corcoran broker Glenn Schiller, who has the listing, informed us. "He used it as an alternative office because Def Jam was in the building on the commercial floor."
The 1,200-square-foot loft at 14 East 4th Street includes a wood-burning fireplace and chef's kitchen. Per an Elle Décor article circa 2011, Mr. Berman (who also penned the book 'JFK Jr., George, & Me: A Memoir') made some changes to the space when he returned to the city from Paris around 2005, including carving out an extra bedroom and bathroom in the downstairs living area.
"This building is one of the originals," Mr. Schiller opined. "The fact that it is an older loft conversion—one of the first condo conversions around—and the fact that they gave it a doorman, makes it really stand out."
The current set-up of the condo includes a bedroom and a sleep/work space upstairs, and two bathrooms. Mr. Berman wrote in Elle Décor that he often redecorates his homes, but that he had a few pieces he didn't plan on ever removing, including a "Weegee photograph of a stripper that Carolyn Bessette gave me for Christmas one year with the warning, 'You better like it, Matt. We almost had to mortgage the loft for that!'"