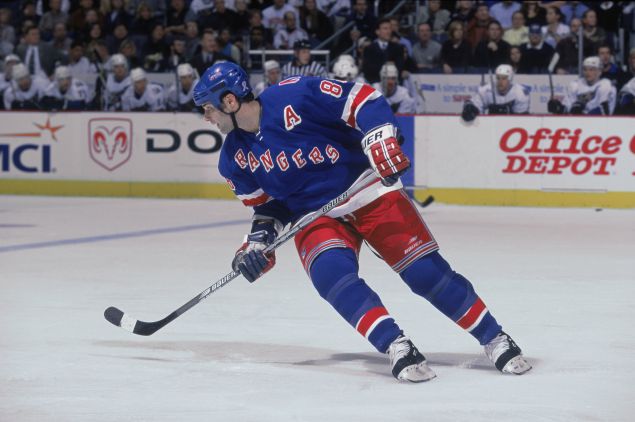 After twelve years and three hockey trams, former NHL player Eric Lindros is leaving behind his West Village condo.
The Canadian-born retired hockey player has finally found a buyer for his three-bedroom, 3.5-bath condo, but it wasn't exactly an easy ride.
Mr. Lindros purchased the 2,191-square-foot unit at 1 Morton Square for $2.54 million in 2004, when he was signed with the New York Rangers—he signed with the Toronto Maple Leafs shortly thereafter, but held on to the condo anyway, even after he announced he was retiring in 2007.
He married fellow Canadian Kina Lamarchein 2012, and the two apparently reside in Ontario, so by 2014, Mr. Lindros must have grown tired of his West Village home, or perhaps for some reason he's just a bigger fan of Canada and endless winters.
"The seller is relocating," Brown Harris Stevens broker Juliana Frei, who is sharing the listing with Drew Glick, told the Observer. "They had it rented out for the last few years, but were tired of being landlords."
Sadly for Mr. Lindros, he had a rather difficult time finding someone to take the Morton Square pad off his hands. He first listed it for $6.45 million in March 2014, and by that August he put it on the market as a $22,500 a month rental.
Two years and quite a few price cuts later, the loft, last listed for $5.55 million, has now gone into contract.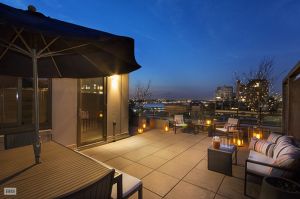 The place doesn't look so bad—it has 11-foot ceilings and a 479-square-foot terrace, which can be reached by way of a staircase that leads up to a "cabana room" that services said terrace.
"There are excellent views—this is only a sixth floor apartment," Ms. Frei informed us, "but it is in the low-rise penthouse section of Morton Square. It has full-on water views."
"It was on [the market] a long time," she conceded. "We had some trouble finding someone," she said, because of the nearby projects at 160 Leroy and the Shephard. "I think everyone who came to see our listing found they could get it brand-new for another $400,000 or $500,000."
"I think it's a terrific apartment at a very good price," Ms. Frei declared. "I was shocked someone didn't try and buy it sooner—I think those two buildings were sort of stealing buyers," she laughed.
Mr. Lindros is the latest in a number of high-profile names that have fled from 1 Morton Square, including Oliver Stone, the Olsen twins, and Amy Poehler and Will Arnett.
Of course, there is one resident who has chosen to keep a place in the building–Harry Potter himself, also known as Daniel Radcliffe. If it's good enough for a wizard…