It was a bleak, snowy Presidents' Day in New York, with a dangerous wintry slush that appeared to have been piped directly into the vents for the annual Grammy Awards, held in Los Angeles' Staples Center, where the chill was felt all the way from the other coast. CBS' All Access streaming service—the only place where cord-cutters could view the ceremony—crashed before the show even began; if that wasn't ominous enough, both Rihanna and Lauryn Hill bailed, Kanye West boycotted, and Lady Gaga, so effervescent and winning at the Oscars a few weeks later, gave a nauseatingly hallucinatory tribute to David Bowie.
There were a few high moments, however. Everyone could agree that Adele killed it, despite mic problems, as did Kendrick Lamar—no surprise. And then there was Hamilton.
For most of America, the Grammys' telecast of the opening number from Lin-Manuel Miranda's hit Broadway musical, performed live at the Richard Rodgers Theatre, was as close as they would ever get to seeing the show with its original cast. From its debut off-Broadway at the Public Theater one year prior to its transfer last August to a larger and more established venue, the "hip-hopera" about America's founding fathers, with its racially diverse ensemble (only three actors in the show are white and just one—King George III—has solo billing), has captured the country's consciousness in a way few musicals can. On soundtrack alone, released digitally in September, Hamilton skyrocketed into uncharted territory: It was the first Broadway cast album to ever hit No. 1 on the Billboard Rap Album chart; the first to ever receive a five-star rating on Billboard.com; the highest-debuting cast album on the Billboard 200 in over 50 years; and boasted the highest debut sales for a digital casting album ever.
To put it in perspective for millennials: Hamilton was streamed 16 million times in its first three weeks.
The show's box-office numbers are no less daunting, as anyone who has tried to get a ticket will attest. Hamilton has broken some of the biggest records in Broadway history, reportedly selling $30 million in ticket sales even before opening. It's one of the few shows able to pull down nearly $2 million per week, and not even a Halloween scalper's up-charge of $1,000 for two tickets dissuaded this writer from securing her seats for the most exciting show in town…or anywhere else.
The accolades almost seem secondary at this point, but if you must know: Creator and star Mr. Miranda—who previously won a Tony for his score of In the Heights in 2008—has already been declared a MacArthur Fellow. The Tonys voting board, in preparation for this year's Hamilton hurricane, already convened a separate subcommittee to determine which cast members can compete for Lead Actor. (Mr. Miranda, 36, seems a shoo-in, but he might face competition from Leslie Odom Jr. as the show's antihero and narrator, Aaron Burr.) As the titular figure, Mr. Miranda seems to have typecast himself in the role of the hyper young immigrant who refuses to let anyone "say no to this": After all, few composers can trace the origins of their work to the White House, where in 2009 Mr. Miranda performed a rough version of the opening number for the Obamas during their "Evening of Poetry, Music, and the Spoken Word" event. The song—"The Hamilton Mixtape"—is the basis of the number performed at the Grammys, and took Mr. Miranda a year to write. Considering that another one of the ribbons tied to Hamilton is its length—46 songs, with an album that clocks in at two hours, 22 minutes—it seems a small miracle that the show ever got produced at all.
Rewind: "He told me, 'It's this rap musical about Alexander Hamilton.' I told him it was a terrible idea," recalled Daveed Diggs, the handsome, Afro'd 34-year-old MC of the Los Angeles experimental hip-hop collective clipping. the morning of the Grammys. Mr. Diggs first heard about the show in 2013 when he was in New Orleans for the Super Bowl, where he had been hired to perform on ESPN's SportsNation with another one of his music collectives, Freestyle Love Supreme, a hip-hop improv comedy group whose founding member happened to be Lin-Manuel Miranda. "And then I said, 'Please send it to me, of course I want to be a part of it.' " This is how Mr. Diggs, a nasally, sibilant and extremely fast rapper—imagine Eminem high on Adderall and elocution classes—stumbled onto the path that would eventually lead him to Broadway. Later that evening in New Orleans, he and the rest of Freestyle Love Supreme would make up funny, impromptu raps about Eli Manning, or Hall of Fame wide receiver Chris Carter. "If anyone here could be a soldier, it would be an eight-time Pro Bowler," Mr. Diggs spat onstage, unaware of how prescient that rhyme would seem several years later.
Mr. Diggs and I were sitting in the upstairs museum section of Fraunces Tavern on Pearl Street, a historically landmarked alehouse where George Washington set up headquarters before the Revolutionary War. Surrounding Mr. Diggs was the museum's exhibit: portraits of a man with a young, aristocratic nose and a duckbill part astride a horse, the 19-year-old Marquis de Lafayette, the French hero of the American Revolutionary War. Mr. Diggs doubles the already considerable swagger quotient of Hamilton with his portrayal of Lafayette in the show's first act and Thomas Jefferson in the second. As Lafayette, Mr. Diggs has broken a record himself already: in the number "Guns and Ships" he barrels through the fastest-paced lyrics in musical history, averaging 6.3 words a second with tongue twisters like:
I'm takin this horse by the reins makin'
Redcoats redder with bloodstains
And I'm never gonna stop until I make 'em
Drop and burn 'em up and scatter their remains
And to Washington about reinstating his friend and fellow immigrant Alexander Hamilton in time for the battle of Yorktown:
Sir, he knows what to do in a trench
Ingenuitive and fluent in French, I mean—
Sir, you're gonna have to use him eventually.
What's he gonna do on the bench? I mean—
No one has more resilience
Or matches my practical, tactical brilliance—
Only Sondheim's "Getting Married Today" from Company comes close—6.2 words a second—but then again, the character in that song didn't have to make her words comprehensible through a heavy French accent while leaping off tables.
Soon after the Super Bowl, Mr. Diggs received a demo version of Hamilton, in which Mr. Miranda had performed all the songs himself and recorded beats on GarageBand. "It was immediately the best thing I've ever heard," he told me. "I just told them, 'What do I have to do to be a part of this? Do I need to learn how to sing? Never done that. What do you want from me?' " But he already knew the answer.
"I have this thing. I can rap really fast. I can rap really, really fast. It's a thing I'm good at and I've trained myself to do; it's a thing I do in the Bay Area. Lin likes writing for me because I can do things he can't. He can write these things he can't do, but which I find technically pretty easy."
Few of the rappers Mr. Diggs grew up admiring, however—3 Stacks, Twista, E-40 and Ace Rock—had ever spoken about a secret ambition to one day perform one block up from the cast of Les Miserables. Mr. Diggs grew up in Oakland, Calif., the son of a Jewish mother and a black father. Unlike founding father Jefferson, Mr. Diggs got himself an Ivy League education at Brown, where he was recruited for track and broke the school's 110-meter hurdle record as a sophomore (which came in handy when it was time to perform those high jumps in Hamilton) and majored in theater. His stage career, however, was divorced from his musical ambition: he only appeared in "straight" plays, and had his sights more on clipping.'s record deal with Sub Pop than striding across the stages of the world's most famous theater district. The closest he used to come to Broadway in his early years in New York, more than a decade ago, was passing underneath Times Square on the IRT, where, as a recent graduate with a $100 a week in unemployment benefits, he would sometimes ride the 2 train at night instead of crashing at a friend's pad.
But then came clipping. and a modicum of success on the West Coast, and, of course, being close enough to Mr. Miranda that he was in "the room where it happened" that night in New Orleans when he found out about the tapes and knew that he had to be a part of Hamilton.
He was offered to come and perform an early trial run of the show—a staged reading at Vassar, and then periodic callings after that for other workshops of the production. At any moment, he assumed, he would be dropped for someone who knew what he was doing. "I always assumed I was just a placeholder," Mr. Diggs recalled. He was on tour with Marc Bamuthi Joseph's choreopoem Word Become Flesh when the call came to do the production off-Broadway at the Public. "I was like, 'That's awesome, I'm finally going to be able to do this thing…and then they'll find somebody else for Broadway,' " Mr. Diggs remembered.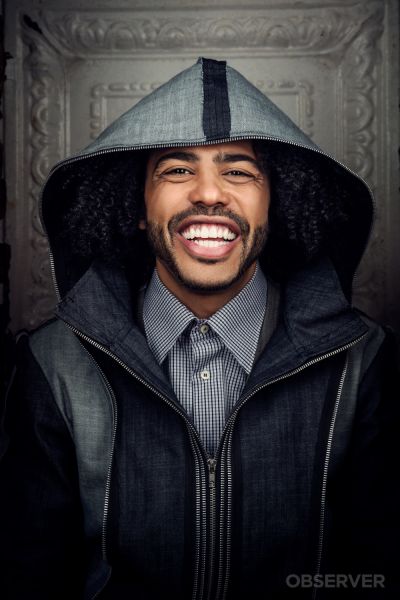 Mr. Diggs counts the opening night of Hamilton at Richard Rodgers as one of the most surreal experiences of his life. "I had never done Broadway before and I didn't really think I was doing Broadway. I didn't aspire to be on Broadway." It was time for places, and Mr. Diggs' thoughts turned to his family and friends, who had all turned out for his Great White Way premiere; a dream, certainly, but someone else's, not his. "I started choking up and crying a little bit, I was really emotional. And then I had to walk onstage, and it probably took me all the way through the first number until I calmed down and could do the show." 
It's the second act, however, where Mr. Diggs blows us all away as Thomas Jefferson, the arrogant but irresistible Francophile looking to take the wind out of Hamilton's sails during their cabinet rap battles—which are exactly like they sound. "Life, liberty and the pursuit of happiness, we fought for these ideals we shouldn't settle for less," Mr. Diggs-as-Jefferson slams into his mic while gesturing and advancing on his opponent, Secretary of the Treasury Alexander Hamilton. "These are wise words, enterprising men quote them, don't be surprised, you guys, cuz I wrote them." Behind him, James Madison acts as Jefferson's hype man.
Asked how he was able to find an "in" to such an alpha character, Mr. Diggs discussed his process. "I think by trying to figure out how we can make him an appropriate foil to Hamilton, when Hamilton always wins in our show and he's always a couple steps ahead, and he throws Jefferson off his game. But there has to be some tension there, so we decided that Jefferson wins via charisma. He can be the dude you want to hang out with, even if after you're done hanging out you feel a little gross about it. That was part of it." If you're not convinced, do a Google image search for "What did I miss, Hamilton" to see a GIF of Mr. Diggs as Jefferson, doing an updated version of John Travolta's signature booty-shake in Pulp Fiction.
"I just tried to find people I could mimic. So I stole that walk from my grandfather. I thought about friends of mine, who—you always want to be around them, but they're just a little bit dangerous. You know, also they sell guns. So you have to pick your times when you're around them. But there's a lot of my grandfather in Thomas Jefferson, actually."
In person, Mr. Diggs displays none of that braggart sensibility he brings to both Jefferson and Lafayette. He's quiet, with a shy laugh and a tendency to cough politely before answering a question. He claimed his favorite song to perform in the whole show is "Wait For It," in which he merely sings backup for Leslie Odom Jr.'s show-stopping number. "He sings the hell out of the song, and I just love listening to it every night, and I love being up there," Mr. Diggs said. "And it's a moment where all of us—the whole cast—is onstage, creating a dramatic tension for this one man's song. And when it works, it's kind of the most beautiful thing."
When I asked him about the grueling nature of a Broadway schedule, Mr. Diggs shook his head. "The two hours and 40 minutes we're on stage makes the most sense. It's everything else in my life that doesn't make sense. Like this, sitting right here—no one has ever wanted to talk to me before."
He better get used to it. He's already been featured on Law & Order: SVU this season, as clear an indicator as any that he's now a New Yorker.
Of course, there was one other performance that stuck out in his mind: the afternoon there was a special audience member watching with his children. "We were singing 'One Last Time,' which is George Washington's resignation speech in the show," Mr. Diggs recalled. "Chris Jackson [Washington] is singing, and we're all surrounding him." And though try as they might not to think about it, everyone in the cast knew President Barack Obama was in attendance that day; they even knew where he was sitting. "And it's this president, our first black president in his final term, watching a black man play the first president in his final term, basically creating the idea that presidents have final terms, that presidents are different than kings and that it's not forever. It was a very surreal moment and the energy was crazy. All of us were singing like crazy just like chest-out, weeping. So that was a very surreal moment."
After Mr. Diggs and I had parted ways, I turned on the TV later that night in time to catch part of the Grammys, where Mr. Miranda ushered his cast onstage to accept their Best Musical Theater Album—and then gave his speech in verse.
Behind him, behind almost everyone, you can just make out the figure of sheepish Daveed Diggs, goofily smiling in the back while raising the peace sign; just happy, it seems, to once again be in the room where it's all happening.
SEE ALSO: Celebrities Can't Get Enough of Broadway's 'Hamilton'