When it comes to cool French girls, Camille Seydoux hits all the inevitable marks: She's got a certain nonchalant style with just the right amount of feminine charm, she also maintains a sense of irreverence, while still being totally relevant. As a stylist to the stars, she works with an equally enviable client list, which includes her sister, Léa Seydoux (yes, the Bond girl) and Adèle Exarchopoulos.
So it makes perfect sense why Roger Vivier handpicked the stylist for a purse and shoe collaboration, entirely decked out in patchwork denim and lined in hot pink leather. "It is a color that makes me happy," she explained. "It's so feminine and it's really the color for girls."
Last week, Ms. Seydoux celebrated the Prismick Jeans collaboration with a lunch at Maman, a rustic Tribeca eatery that is famous for its Americanized French fare. A slew of New York girls, including Leandra Medine, Mia Moretti and Garance Doré, who turned up in their best denim and contrasted it with with these Vivier pieces.
A day after her lunch, the Observer met up with Ms. Seydoux at the Roger Vivier boutique on the Upper East Side to discuss her newfound design prowess, how hands on she was with these creations and where in the world she buys her own pieces of denim.
How did you first align with Roger Vivier?
It started after the Cannes Film Festival last year, when I met the team in Paris. I met Bruno Frisoni, the actual designer and the studio, and they told me they wanted to work with me on a little collaboration. I was so excited and of course so willing to do it.
What type of parameters did they give you regarding the collection?
I was completely free to do things my own way. It's the first time they did something [like that] with someone outside the team.
How did you land on the idea to do bags and shoes in denim?
I was free to do anything, but I also needed to respect the house, the codes and their heritage. One of my favorites from Roger Vivier is the Prismick line. I looked at what they had done in the past with the Prismick and they had never done denim. It was something they wanted to do before and they thought this was a great idea!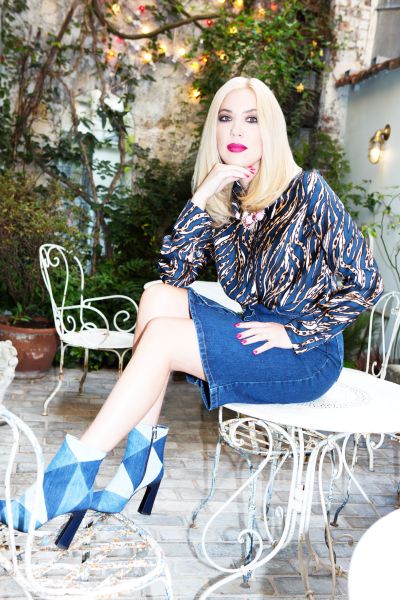 What was the first Roger Vivier piece you owned?
It was a Prismick bag, a grey one that I got three years ago. But even before this collaboration, I've had all these books on Roger Vivier in my place, I love fashion books and I collect them. I would say my favorite design by him were the Mondrian shoe he did with Saint Laurent.
Who was the first person to wear a piece from your collaboration?
My sister [Léa Seydoux] for the first James Bond photo call back in November. She wore the platform shoes, but you couldn't see them because she wore a long dress. But I was the first to carry the bag!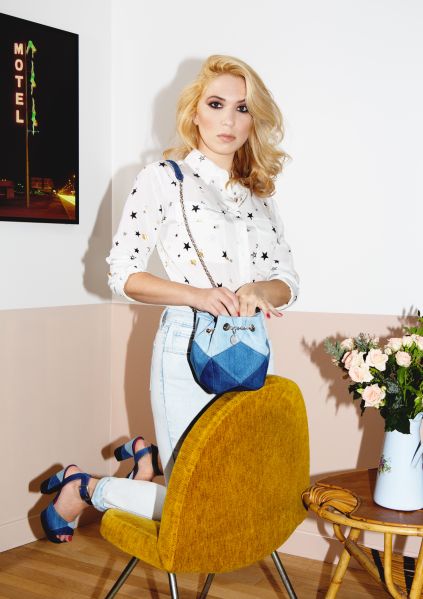 Is this denim the same kind used for jeans?
No it's a special denim, the really strong stuff. You can't use regular denim when you want to do accessories, especially when you want to do leather details.
How do you think girls in Paris will wear this collection, versus New York?
French girls will wear it very chic, with black and a white shirt. I think American girls are going to be more maybe creative and they are going to mix it with other pieces of denim. They won't be afraid to do crazier things.
Where do you go to buy jeans?
When I'm in Paris I go to APC and when I'm in London, I love Topshop. In New York, I go to Barneys when I'm uptown. They have a great denim floor.