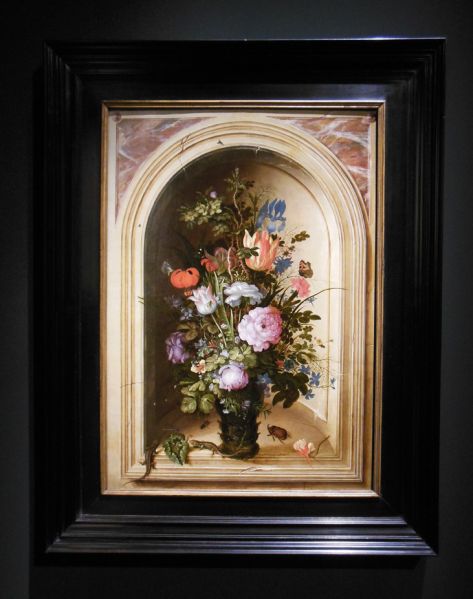 Touting itself as "the world's leading art and antiques fair," the European Fine Art Fair, popularly known as TEFAF, provides what other fairs only dream of delivering: one-stop shopping for the cultural elite.
Featuring antiques, Old Master works, Modern and Contemporary art, jewelry and design, the 29th edition of the fair is on view through March 20 at the Maastricht Exhibition & Congress Centre in Maastricht, Netherlands. It offers more than 30,000 works from 270 exhibitors from 21 countries.
"TEFAF is one of the only art fairs that is truly and completely vetted for history and provenance, and in most cases that tends to lead to a more distilled quality of the works that are on view," art advisor Todd Levin of Levin Art Group told the Observer on opening day.
High quality Old Master paintings is usually the first thing you think of when you think of TEFAF, and this year there's no shortage of great ones. London's Johnny van Haeften has a stunning canvas of a palatial garden scene by Dutch painter Jan van der Hayden; Richard Green, also of London, has an exquisite painting by Aert van der Neer of people at play on a frozen Dutch river at sunset; and the venerable London firm Colaghi has a striking still life of a vase of flowers in a stone niche by Flemish painter Roelant Savery that sold to the Mauritshuis (a museum for famous paintings by Dutch and Flemish masters in The Hague) for $7.2 million at the preview.
"It took me 18 years to get this painting from the collector, but only one week to sell it," Colnaghi's chairman Konrad Bernheimer told us. "It's probably the best Dutch still life of the Golden Age that we have seen on the market in the past 20 years. I'm very proud of the fact that it's going to the Mauritshuis; it's the best place for this painting."
But there's also Modern art at TEFAF–Alexej von Jawlensky's colorful 1913 canvas Head of a Woman, painted in a colorful expressionistic style, was on offer for $3.4 million at Galerie Thomas, from Munich; Surrealist Paul Delvaux's erotic rendition of female nudes in a dreamlike setting is at Salzburg's Thomas Salis Art & Design; Piet Mondrian's landscape painting of a house surrounded by trees from 1902, before the Dutch modernist discovered his signature style of geometric abstraction, is at Düsseldorf 's Beck & Eggeling; and Impressionist painter Pierre-Auguste Renoir's enchanting 1885 canvas Au Bord de L'eau (At the Water's Edge), which beautifully captures a woman rowing a boat on a rural lake, is priced at $12 million at Dickinson, of London and New York.
"In recent years Renoir has fallen a bit out of fashion," Dickinson partner James Roundell told us during the preview. "A lot of the paintings that you see on the market are from his later period, which is much less interesting. To have a large-scale painting from the mid-'1880s, when Renoir was moving away from Impressionism and looking at such French Rococo masters as Watteau and Fragonard, while still portraying typical Impressionist subject matter, is quite unusual. This painting is also important because—you could say—it's a museum painting. It had been in the collection of the Philadelphia Museum of Art for 25 years, and this is the first time it's been for sale since then."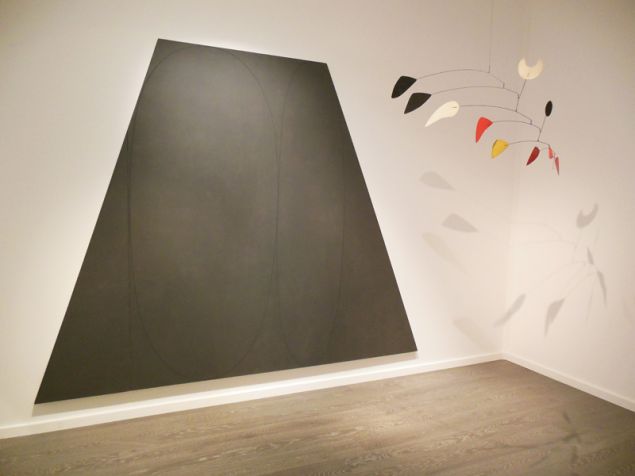 Contemporary art continues to play an increasingly important role at the fair. A small canvas of a running dog, realized with just a few masterful brushstrokes by Francis Bacon in 1967, caught our eye at London's Richard Nagy Ltd., as did an intimate 1967 self-portrait—rendered in red, black and blue—by Andy Warhol at Brussels' Galerie Odermatt-Vedovi. Other modernist standouts at the fair include a colorful Alexander Calder mobile from 1967 (priced at around $3 million) and a shaped, 1992 monochromatic canvas by American minimalist master Robert Mangold, which sold within the first hour of the preview for $850,000, at New York's Van der Weghe Fine Art, and a pairing at Munich's Daniel Blau of black-and-white Weegee photographs of New Yorkers celebrating life in the 1940s with chilling color prints of atomic bomb tests in the 1950s from the archive of the U.S. Army.
A rare 1966 sculpture by Dutch artist Karel Appel, one of the founders of the avant-garde Cobra art movement, is on view at Amsterdam's Jaski Gallery. The two-sided, painted wood piece, titled La Vierge Noire (The Black Virgin), is one of ten such works that the artist made between 1966 and 1968. "It's a totemic piece that looks back to primitive art, which is what Cobra was all about," Jaski owner Robbert van Ham stated. "It's on the market for the first time in 30 years." For sale at $317,000, it's a bargain price for such an astonishing work from a seminal art movement, which is currently having market resurgence.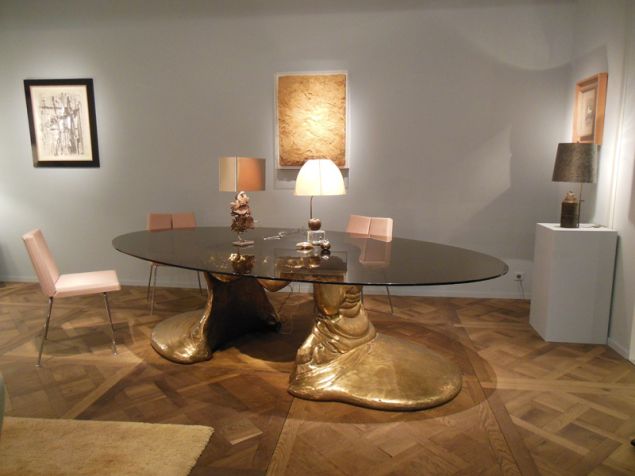 TEFAF Design, featuring vintage 20th-century design and applied arts, was introduced in 2009 and continues to function as the sort of icing on the cake of the fair. Demisch Denant, of New York and Paris, is presenting an exhibition of furniture and functional objects commissioned by collectors that features a rare, 1977 table in bronze and glass by the French Nouveau Réalist artist César and a stunning 1972 sculpture of stainless steel rods displaying exotic rock specimens by the celebrated 86-year-old designer Maria Pergay. Berlin's Galerie Ulrich Fiedler filled his booth with vintage furniture that was handcrafted in the early-1900s for the summer home of Danish designer Alfred Grenander, while London's Didier Ltd (a dealer of jewelry by post-war painters and sculptors) has colorful, attention-grabbing pieces from the Swiss surrealist Meret Oppenheim and French Pop Art sensation Niki de Saint Phalle.
Two curated exhibitions make the trip to this year's fair a unique experience. In TEFAF's Works on Paper section, Rotterdam's Museum Boijmans Van Beuningen presents "Collecting Collectors," a survey of drawings and prints ranging from works by artists Albrecht Durer to Yayoi Kusama that have been donated to the institution by private collectors over the past 167 years. Meanwhile, in the contemporary section of the fair, "Show your Wound," organized by independent curator Mark Kremer, offers recent work by seven living artists, including William Tucker, Helmut Federle, Pedro Cabrita Reis and Folkert de Jong, who share an affinity with the legendary German artist and social activist Joseph Beuys, who died in 1986.
We ran into Pablo Picasso's grandson, Bernard Ruiz-Picasso, at the fair, who was strolling the aisles with his wife the art dealer Almine Rech, who is opening a New York-branch of her Paris, Brussels and London-based gallery on the Upper East Side in the fall. We asked him what makes TEFAF special. "The dealers take several months to prepare the selections they show at the fair, and you can see and feel it when you visit their booths. I've been coming to TEFAF for the past 10 years, both for the pleasure of looking at art and to buy it."
TEFAF, which declared the U.S. art market to be the global market leader in sales in its just released 2016 TEFAF Art Market Report, will launch a much-anticipated American version of the exclusive art and antiques fair at the Park Avenue Armory in October.