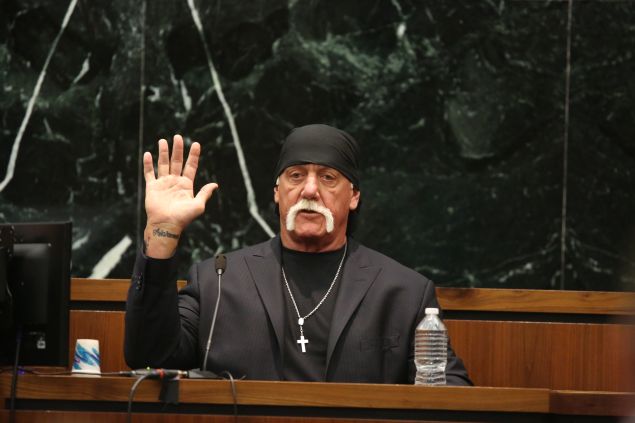 ST PETERSBURG, FL—A lawyer for the website Gawker hammered a journalism professor today in a Florida courtroom.
Mike Foley, a University of Florida journalism professor and St. Petersburg Times newsroom veteran, took the stand for the second day in the Hulk Hogan lawsuit. Mr. Foley is a witness for Mr. Hogan, who is suing the New York-based website Gawker for $100 million over a 2012 post that showed an edited video of  the wrestler having sex with the wife of his former best friend, the local radio shock jock who legally changed his name to Bubba the Love Sponge Clem.
Mr. Hogan, who in court goes by his given name Terry Bollea, claims that posting the sex tape, which he says was filmed without his knowledge by Mr. Clem, violated his privacy and caused undue emotional distress. Gawker's position is that Mr. Hogan is a public figure, and the tape, which had been written about by other outlets but not shown prior to Gawker's publication, was newsworthy and protected under the First Amendment.
During tense cross examination, Michael J. Sullivan, a lawyer for Gawker, mentioned several celebrity sex scandals or examples of celebrities who have posed naked or had seemingly intimate details of their lives made public in an effort to establish a precedence for posting photos and videos of public figures. The seemingly mild-mannered Mr. Sullivan brought out the big guns as he sought to
depict Mr. Foley as an out-of-touch former print reporter and editor:
He cited examples of publications that have printed and posted salacious content that is, nevertheless, protected under the First Amendment, despite violating the Society of Professional Journalists code of ethics, a set of non-enforceable principles meant to establish guidelines for the ethical practice of the trade.
Yesterday, Mr. Foley testified that Gawker had violated the SPJ Code of Ethics. He also read from a blown-up printout of the rules.
"Would you say that the sex video is failing the SPJ code of ethics?" Mr. Hogan's attorney asked Mr. Foley yesterday. "No question," he replied, highlighting the section of the guidelines that calls for journalists to "minimize harm."
During Mr. Foley's testimony, Mr. Hogan's attorney replayed scenes that they introduced earlier in the day from video depositions of Gawker owner and CEO Nick Denton and former Gawker editor and the author of the 2012 post AJ Daulerio, who is named along with Gawker Media and Mr. Denton in the lawsuit.
In the excerpt of Mr. Daulerio's deposition, a lawyer for Mr. Hogan asked why he didn't seek comment or reaction from any of the parties involved in the sex tape—a standard journalistic practice.
"It was more just my commentary," Mr. Daulerio, whose disheveled appearance in his video deposition represented a departure from the clean shaven man in a suit who has sat in the courtroom.