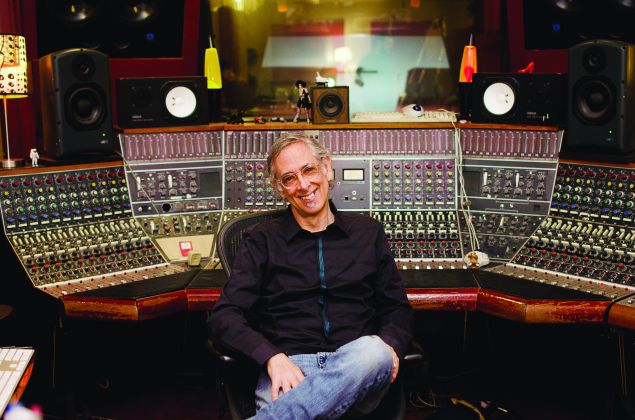 The entrance to the Magic Shop Recording Studio is easy to miss. Its gray, graffitied door, which sits to the right of the main entrance at 49 Crosby Street in Soho, is made from non-descript metal. There's no sign or window to indicate what lies beyond, only a small label beneath a bell that reads, in block capital letters, MAGIC SHOP.
Of course, it isn't that kind of magic shop. For the past 28 years, the studio—founded by producer/engineer/sound mixer Steve Rosenthal in 1988—has been a staple of the New York music scene. As soon as you step through the door you're surrounded by musical history. Hanging behind the front desk is an array of discs, platinum or otherwise, for albums that were recorded, mixed, mastered or remastered in the studio, from Fun Lovin' Criminals' 100% Columbian to Coldplay's Viva La Vida, to the O Brother, Where Art Thou? soundtrack to the Rolling Stones' 40 Licks compilation.
Across the room is a wall covered in CDs that were recorded, tracked or mixed there, an impressive patchwork quilt of artists: Lou Reed, Arcade Fire, Blonde Redhead, The Ramones, Suzanne Vega, The Cribs, Natalie Merchant, She & Him, Nada Surf, The Gaslight Anthem, Warren Zevon, The Hold Steady, Green Day's Billie Joe Armstrong and Norah Jones and Kurt Vile. And then there's David Bowie, who recorded both 2013's The Next Day and his swansong, Blackstar, in secret at the Magic Shop.
But despite this rich history, and despite the fact that Blackstar—arguably the most important album of 2016—was recorded here, the Magic Shop is reaching the end of its run. On March 16, that gray, graffitied metal door will shut for the final time.
"There's been such an incredible outpouring of love and respect," says Mr. Rosenthal, sitting downstairs in the studio's rest area. "People have been asking 'How can we save it?' but the barn door is shut."
The news of the studio's closure was announced on its Facebook page on February 26, but it has been struggling for some time now. Opened when Soho was more of a desolate wasteland, gentrification has vastly altered the landscape of the neighborhood, driving rent sky high. It's not the first time Mr. Rosenthal has suffered as a result of the city's rising rents, either. For over 16 years, he and his wife, Jennifer Gilson, ran iconic singer-songwriter venue The Living Room. That closed last December.
"I've grown up in the city," says acclaimed engineer/producer John Agnello, who's been using Magic Shop since 1990 and who recorded the last-ever session there with L.A. trio Alyeska last week. "I've seen neighborhoods change. I get why Steve can't keep open anymore. I remember, in 1995, playing stickball out front on breaks, or playing handball against the wall across the street. There was nobody around. Now there's a Bloomingdale's across the street."
The studio's plight, then, is neither a new thing nor a surprise. In fact, it's been public knowledge for a couple of years—Magic Shop was featured in the final episode of Dave Grohl's 2014 HBO documentary Sonic Highways, where the Foo Fighters travelled to different cities to record its album of the same name. The former Nirvana drummer even tried to buy the studio, but that, sadly, didn't work.
"I'm not allowed to talk about it anymore for legal reasons," says Mr. Rosenthal, "but that was the way to save the studio, and when that failed, we all did our best to keep it going the way it's constituted now, and it just doesn't work. And I don't want to sell stuff month by month to keep it going. I did that for a few months and it just seems wrong. It feels like I'm just avoiding the inevitable."
Indeed, the Magic Shop is a treasure trove of "stuff"—centered around a huge 1970 Neve recording console that used to be in the BBC's Maida Vale studios in London, which Mr. Rosenthal had shipped over in 1987, its two floors are crammed full of vintage equipment and instruments. There's also an entire room downstairs that caters to the restoration and the archiving branch of the business, where Mr. Rosenthal and his loyal team preserve old recordings of huge cultural significance. Mr. Rosenthal has won four Grammys for his preservation work, which includes the restoration of the only known live recording of Woody Guthrie in existence, transferred from a wire recording made in 1949.
Once Magic Shop closes, he'll continue that side of things—somewhere, when he finds a suitable space—after Mr. Agnello and Alyeska finish up their work and the studio shuts down. They'll be joining a long list of people who will fondly remember 49 Crosby Street.
'People have been asking "How can we save it?" but the barn door is shut.'
"It was this place that it didn't matter if you were David Bowie…" says Brian Fallon from The Gaslight Anthem, who recorded 2010's American Slang LP there, as well as the b-sides to 2014's Get Hurt, "because you were always kind of on a level. Everybody knew that if you were in that studio, there was a reason you were in there. You earned it. And I'm so bummed that place is going, because it was the only studio left in New York that I felt had that dirty, cool New York vibe, but dirty in a good way, like the Velvet Underground. It's the coolest room in the world."
Ryan Jarman from The Cribs, who recorded last year's For All My Sisters there, concurs.
"It's a particularly bitter pill to swallow," he says. "I was really hoping to be going back in there before it closed. My plan was to get back in there again, but it wasn't to be."
The Magic Shop and its legacy will live on, of course, in the memories of many musicians, and every time somebody plays one of those albums lining the wall.
"Obviously, I'm incredibly upset," says Mr. Rosenthal, "but at least it was here. At least it was here."