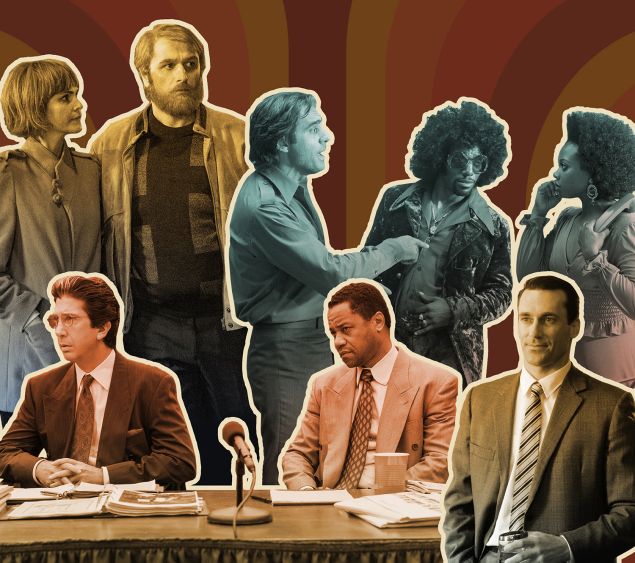 EST—that creepy, smart people's human-potential program of the late 1970s and early '80s, complete with smarmy confession-inducing guru: There it was, in the Season Four opener of The Americans (almost wresting an early murder admission out of momentarily vulnerable Soviet-spy-in-mild-mannered-American-travel-agent-mufti Philip). The scene—along with the bad clothes, uglier-than-remembered cars, boxy outdoor phone booths, and startling recollection that we were ever afraid of the soon-to-be-defunct Soviet Union—caused smug ripples of validation among those of us who'd once resisted the entreaties of otherwise sensible friends to try Werner Erhard's self-improvement program.
Max's Kansas City! (Those graphics on the restaurant's exterior were so authentic, you could almost taste the rock-hard chick peas in the cups on the tables inside.) And coked-up, flamboyantly self-destructing record executive Richie Finestra shouting, "You're over!" when he was denied entry to the hip-hangout-to-end-all-hip-hangouts—led acolytes on the other side of the screen to concede that, in 1973, Max's was a few years past its sell-by date. Max's and its louche twin, the Hotel Chelsea, plus pointy shirt collars, jaw-scraping sideburns, half-foot-in-circumference Afros, vulgar A&R men (class acts Ahmet Ertegun and Jerry Wexler must be rolling in their graves), bubble-gum radio drek like Tony Orlando & Dawn's "Candida"—all were on gaudy display on a recent Vinyl. As for The People v. O.J. Simpson, there, for the last seven weeks, has been 1995 L.A.: Spago, Sue Mengers, toxic racism resonating from four syllables ("Si-mi Val-ley"), one celebrity lawyer's eye-roll at another's brag of defending Patty Hearst (a waste of macho posturing, since that was before Court TV deluded criminal defense lawyers into believing they were rock stars), and—what a treat!—a sexy slow-dance by prosecutors Marcia Clark and Chris Darden to the Isley Brothers' delicious "That Lady." 
Recent nostalgia in high-quality television, with winks tucked into the menace and highjinks, is the new bespoke. This season seems happily clogged with series set in eras that hit a certain oh-yeah-I-sorta-remember-it "sweet spot for storytelling," as novelist and TV writer (Law & Order, now Blue Bloods) Peter Blauner calls it. And there's more to come: Kerry Washington will play Anita Hill and Wendell Pierce (The Wire, Treme), her nemesis Clarence Thomas, within weeks in the HBO film Confirmation; Marisa Tomei is set to portray Gloria Steinem in an HBO drama on the founding of Ms. magazine; Michael Douglas is producing a nostalgia-drama about 1967 Haight-Ashbury, with (lest you imagine it's all peace and love) a VD clinic doctor as its hero.
'[The eras] are close enough for the writers to remember how they were formed by the music, the language, the attitudes. But they're just far enough away that you can define them and be ever-so-ironic about how things used to be.'—novelist and TV writer Peter Blauner
And opening soon on Broadway is a musical adaptation of Bret Easton Ellis' controversial (feminists wrote letters protesting its misogynistic violence) early-'90s best seller American Psycho, with music and lyrics by Duncan Sheik. Its locales include a virtual index of the then-newly hip, Wall Street-glutted Manhattan clubs and restaurants, as well as a song, "You Are What You Wear," name-checking every then-trendy designer of female garb: Calvin Klein, Comme des Garçons, Norma Kamali, Fiorucci, etc., and (in case you never watched Sex and the City) a double dose of Manolo Blahnik. For those bemoaning the current warp-speed wealthification of funky Manhattan, American Psycho might be seen as a creation narrative.
Explaining all of this, Mr. Blauner continues, "On the one hand, [the eras] are close enough for the writers to remember how they were formed by the music, the language, the attitudes. But they're just far enough away that you can define them and be ever-so-ironic about how things used to be. And, best of all, [for most of them] there are no cellphones or computers, which kill traditional narrative because they can make it all seem like a contrivance just to have people in a room together."
Rich Cohen, the author and Vanity Fair writer who is the creator of Vinyl, agrees that modern digital life is a death for narrative. In fact, he goes further by saying that the pronounced trend to recent-nostalgia settings helps counteract, as he hyperbolically puts it, "the biggest calamity for the human race since the loss of Eden: social media." Mr. Cohen thinks that "even people too young to remember [the pre-Internet days] long for an earlier, less fraught time," like the quaint unwired eras depicted in these three shows, when flawed heroes flee Pentagon sleuths, paparazzi and pissed-off rappers without fingering any devices.
Diane Sokolow, executive producer with Sony Pictures (and a producer who gave us Nora Ephron's You've Got Mail and Sleepless In Seattle), believes that the romanticization of a past era you personally lived through is a compelling part of the reason for this trend. "I remember as a little girl in the '40s, my mother having to read anything she could get her hands on about the Roaring '20s; she had lived through that era and was nostalgic for it. This was the recent past to her, just as Mad Men, Vinyl, O.J. and The Americans are to us. There is, I feel, a perfect storm occurring between the appetite for great storytelling in a longer form on TV (10 hours for O.J., for example) and the 'narrowing' of the market for old-fashioned [theatrical] movies. Lack of surprise at an ending is not buzzkill. I can't get enough of O.J. and I knew the outcome before watching the first frame," Ms. Sokolow says.
Hit historical TV dramas educate those too young to remember. No matter how many boomer women lectured their protégées about what life was like before second-wave feminism, the reality wasn't driven home until, on Mad Men's first season, working-class secretary Peggy Olson and upper-class junior exec Pete Campbell did the deed one drunken night on the office couch, and he totally ignored her the next morning. Peggy's servile abashment, her lack of feeling entitled to any indignation at such treatment—she would later outgrow both postures—was shocking to supporters of Columbia University's Mattress Girl, who had no idea how common (and unaddressable) that reaction really was back then.
Vinyl's treatment of the record label's enterprising "sandwich girl" turned hot band signer (the hot band is led by Mick Jagger's son James, in case the viewer doubted her gift for talent spotting)—she's pretty much treated like shit by her bloviating immediate boss (who, today, 'would be in the crosshairs of a possible sexual harassment suit)—is similarly instructive to millennials who, per Beyoncé and Rihanna and Taylor Swift, may not know that young women in music were never pitiably far from power, even when they'd earned it.
'We see all these stories with fresh eyes now. A new lens of opened and saddened eyes.'—producer Lynda Obst
Sometimes parties on both painful sides of a historic case's divide can be united in the 20-plus-years-later re-creation. Shelley Ross, a longtime and award-winning TV producer who oversaw coverage of the Simpson case in 1994-5 for ABC, says, "When well done"—and the FX series definitely is—"these 'ripped from the headlines' narratives," years later, can "create a communal viewing experience and allow us to binge together and share an experience," Ross says. "The Simpson case created that sense of community, however divided, back in 1995. Now it's creating a new sense of outrage, togetherness and bonding for a new generation," one for whom the name "Kardashian" has far more weight than it did back then, and one for whom recent police killings of African-Americans, and the Black Lives Matter movement, have stirred many of the feelings that only black viewers felt in the case's highly racially divided real-time. Even though the production makes pains to start with the assumption of Simpson's guilt, such events make veteran producer Lynda Obst, who is white, say, "O.J.! Now I feel like a black person watching it!" Ms. Obst elaborates: "We see all these stories with fresh eyes now. A new lens of opened and saddened eyes."
Ms. Obst, whose career spanned everything from Flashdance to Interstellar, recently produced, for Amazon, a set-in-the-early-'70s series, The Good Girls Revolt, based on the Lynn Povich book about the women of Newsweek's feminist battle and triumph. She thinks it served a dual purpose. "Women are losing their rights"—such as some red states' abortion restrictions—"and the backlash against feminism among young women is coming to an end and they are suddenly interested in their rights and what we fought for. So there is an irony that we are fighting now for what we earned back then." Thus, recent-history dramas show us "how far we have come and not come. And of course style eats and recycles itself, and that's part of why we loved Mad Men, which is a big part of what set this fuse."
Also, reminds Philadelphia Inquirer critic Carrie Rickey, ruminating on the past is what many of today's thought leaders are doing. As she puts it, "In my corner of the pop-culture world, Patti Smith, James Wolcott and Owen Gleiberman have all recently written I-was-a-teenage-culture-vulture memoirs of coming to New York and finding him/herself in music and movies. Now in their late 50s or early 60s, they look back on their youth with deeper understanding." As well as amusement, a hint of self-congratulations and a certain relief that those days—especially the saccharin pop hits, the rampant sexism and the sideburns—are over.