The stoic original tower of Ashford Castle in County Mayo, Ireland, dates back as far as the Anglo-Normans, who settled in the area in 1228. Transformed in the 17th century into a handsome hunting lodge, the more stylized middle section, modeled after a French chateau, appears a little lighter, and its neo-gothic Victorian portion, built under the tutelage of the Guinnesses, most notably Lord and Lady Ardilaun, is the most ornate.
Inside though, the ancient spaces come alive with design details that echo the eras when building commenced. High ceilings are warmed by intricate décor and sumptuous soft furnishings. This is thanks to the castle's current owners, the Tollmans, a family of hoteliers from South Africa. Mother Beatrice chairs the company while daughter Toni is in charge of  design. "The infrastructure of the building required a complete overhaul when we bought," Toni Tollman told the Observer. "We had to replace 800 windows, re-lead the roof, move the kitchens, and more—and being a listed building, we had to get permission to touch even one wire," she recalled.
An oak-panelled reception with coffered ceilings, original to the Guinness house has been fully restored and varnished. In one corner stands a full set of armor in the German 16th-century black-and-white style, attributed almost certainly to the atelier Ernst Schmidt from Munich. Apparently it is still fully functional (you know, in case a malicious dragon emerged from the moat). Overhead, a soaring Belgian Val Saint Lambert chandelier presides over an oak balcony housing a collection of antique books and quaint reading nooks. Incidentally, curated libraries are a huge interior trend for 2016.
High tea is served in the Connaught room, a handsome space adorned in original oak panelling with a roaring fireplace, and delicate mint green Zoffany wallpaper.  The hall showcasing an impressive silverware set of over 1,000 pieces from the Roebling family, who built the Brooklyn Bridge—everything from large meat platters to asparagus tongs were remarkable. All the pieces were fully intact and engraved with dates ranging from 1865 to 1889. Historical cutlery collections and silverware are an instant way to bring heritage into a home.
Bedrooms at the castle are laid out over two wings and each has a theme, an easy way to create atmosphere in any home. The original (and, according to some accounts, haunted) historical wing features more classical interiors and the contemporary wing features rooms with a lighter décor. Toni Tollman admits her favorite room is the Kennedy suite in the historical wing. "It embodies all that we have achieved in terms of luxury and attention to detail."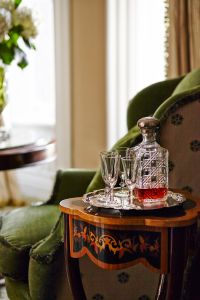 Drinks (including Guinness, of course) can be had at the Prince of Wales bar, which is largely true to the Guinness era of the castle, with their coat of arms displayed over the fireplace and a bar made of locally sourced Connemara marble. 
Steeped in history, full of opulent design details from silk wallpapers to hand-cut crystal chandeliers, even the hotel's spa has a peaceful, storied feel. The castle's endearing owner left me with these lasting words: "If you stay in a castle, I believe you want to feel like you're staying in a castle—we had a responsibility to do it right, not just for us and for our guests, but for the Irish people for whom this is an important and cherished building. Ashford Castle belongs to everybody—we are merely the custodians who have restored and preserved it for generations to come."