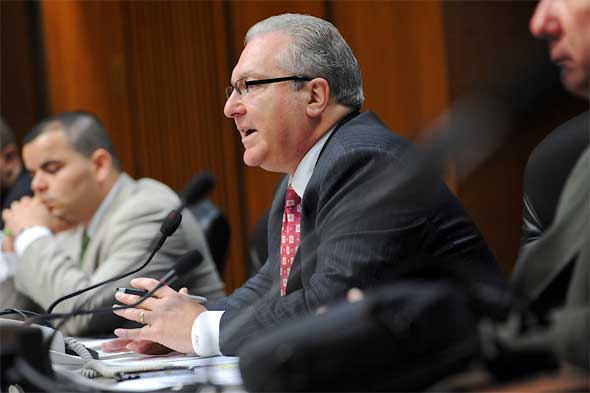 Brooklyn Assemblyman Steven Cymbrowitz—who the Observer caught using donor cash to finance trips to Germany and Spain in 2014—spent more than $2,500 out of his campaign account to travel to Greece last year, and brought an upstate colleague along with him on the inexplicable voyage.
Mr. Cymbrowitz's most recent filings with the New York State Campaign Finance Board show he took $2,145 from his re-election coffers to pay for airline tickets to and from the ailing Balkan state. The records show he gave an additional $425 to Cloud Tours in Astoria, Queens, a Greek-American-owned company that specializes in curating excursions to the Cradle of Western Civilization.
The Brooklyn Democrat, who represents a largely Russian-Jewish and Asian tract of the borough with few Greek residents, defended the excursion as a "goodwill trip" that included stops in Turkey and at the site of the Auschwitz concentration camp in Poland. He also highlighted that Kingston Assemblyman Kevin Cahill accompanied him on the journey.
"I am proud of the work that I, my colleagues and community activist associates do to keep the horrors of the Holocaust front and center in our memories and to lend support to Jewish communities around the world, particularly in the face of the turmoil in Greece and Turkey," Mr. Cymbrowitz said in a statement, suggesting it was magnanimous of him to pay for the trip out of his campaign funds. "Though it would have been possible to have outside interests legally pay for certain expenses, I chose to pay for them myself and, in small part, through my campaign. Any and all expenses are related to the carrying out of the duties of my office."
The duties of an assemblyman include passing legislation related to New York State, and handling constituent services.
Mr. Cymbrowitz claimed that his "community activist affiliates" recommended Cloud Tours—and, when asked who those "community activist affiliates" were, gave the name of the American Forum on Russian Jewry.
Cloud Tours bookkeeper Fay Gambino told the Observer that her company has had no business or personal relationship with the American Forum on Russian Jewry, and that she had never heard of the group. The Forum did not respond to repeated requests for comment, and its website makes no mention of Greece and appears mostly devoted to promoting travel to Israel. Greece's Jewish population is extremely small, totaling just a few thousand individuals.
Mr. Cahill's recent filings also show several expenses in Greece, but neither lawmaker's records reflect stops in any other nation outside the United States. The upstate legislator said that the Jewish Community Center of Krakow had underwritten the Polish portion of the tour, while the Turkish-American Peace Islands Institute helped pay for the stay in Istanbul. Neither organization could be reached to confirm this information.
The Kingston assemblyman praised Mr. Cymbrowitz as "an individual who has taken a leading role in our state to assure Holocaust Remembrance and cross-cultural fellowship." He added that the two met with Syrian refugees in Greece and Turkey.
"Since returning, I have met with several Turkish Americans and individuals of Greek descent to discuss the plight of refugees and the economic situation in that country and to let them know that we were assured that the kind of Jewish oppression that has been experienced in the past is largely absent during this upheaval," Mr. Cahill wrote in an email.
In 2014, the Observer uncovered that Mr. Cymbrowitz had spent some $1,300 from his campaign fund on restaurants and a hotel in Barcelona, and at a gift shop in Munich. The Democrat defended the trip by saying he had stopped at the site of the Dachau concentration camp, and insisted he had made the trip to combat rising European anti-Semitism—on behalf of his mother and father, and of the elderly Holocaust survivors residing in his district.
"As the child of Holocaust survivors, I promised my parents I would do everything in my power to help other survivors and to not let our world fall into the destructive grips of fascism ever again," the assemblyman said at the time.
New York State campaign spending rules are notoriously lax, granting officials broad latitude and permitting their expenditures as long as they in some way connect with their election bids or with the duties of their offices. Both men said they had cleared the travel expenses with the State Board of Elections, which did not respond to requests for comment.
Susan Lerner, executive director of good government group Common Cause/NY, noted that similar trips by former State Senator Greg Ball triggered a Justice Department probe, and suggested an official investigation might be appropriate. She also reiterated calls for the state to require lawmakers to keep separate "officeholders' accounts" that would finance activities related to their official duties, separate from their campaign funds.
"There are always questions when elected officials take long trips to Europe with campaign money," Ms. Lerner said.