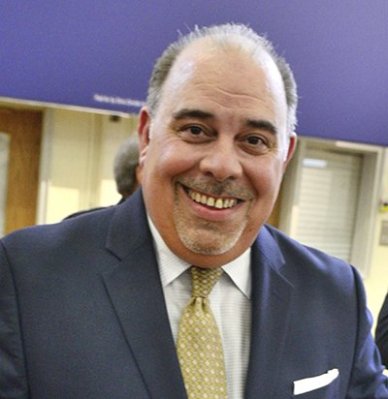 To paraphrase Dick Nixon, Gov. Chris Christie won't have the county GOP chairs to push around any more. That will be the job of the national primary process, in which, of course, New Jersey plays little or no role.
The Republican chairs exited the Hyatt in New Brunswick committed to unity.
"We just aren't ready to back a presidential candidate quite yet," Hudson County GOP Chairman Jose Arango (pictured), the chair of the county Republican chairs, told PolitickerNJ.
He was joking, a little. Chatting politics around the table, the chairs see Christie's candidate – billionaire real estate tycoon Donald Trump – getting the nomination. He won Mississippi and Michigan pretty easily tonight and appears essentially to be in cruise control.
But they're going to wait until after March 15th – next Tuesday and the crucial primary states of Florida and Ohio – before rendering a decision, and it won't come in blanket fashion either.
Each county organization has a process.
But barring a catastrophic Trump meltdown between now and next Tuesday, that's where they're going. The long and the short of it is they want to let the primary process – not a press release fashioned by the shop of those most stubborn Christie allies – to issue a verdict.
"We're all unified – God bless America," said Arango. "We all agree that the chairman's association will be the organization we will use to keep the party united. We should respect the governor and work with him, but we also have a county process and conventions. Going forward, the only way we are going to be productive is if we unite the counties."