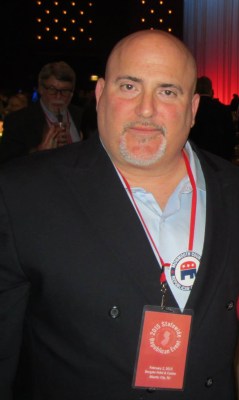 Last night clearly belonged to Hillary Clinton and Donald Trump. But if you're looking for a New Jersey angle, a good one can be found in Adam Geller, the GOP pollster who runs National Research, Inc.
Geller is best known for polling for Chris Christie and his personal Facebook page is given to occasional expressions of fanatical devotion to the governor. Geller helped pull Christie across the finish line in a tight race in 2009 and again when the governor ran up the score in his re-election in 2013. But when Christie's presidential bid ended after a disappointing showing in New Hampshire, Geller found himself without a candidate and with a lot of time on his hands.
He decided to conduct some polls in Florida, basically just for the hell of it. He posted the results on social media, with the kind of explanation and context that political junkies lap up. And he pretty much nailed it.
On Monday, Geller posted his Florida poll that showed the candidates coming in as follows:
Trump 43%
Rubio 23%
Cruz 19%
Kasich 7%
The final results look to be this:
Trump 46%
Rubio 27%
Cruz 17%
Kasich 7%
All predictions were within the margin of error of the actual results. As Geller wrote on his Facebook page, he was "really happy with how our poll accurately reflected voter sentiment in Florida. Even spotted (and tweeted about) the fact that Cruz lost some juice after his response to Chicago. We saw Rubio doing better each night of dialing due to ground game in his home state, but we concluded it would not be nearly enough. We also clearly saw and called the big Trump victory."
Geller sensed another interesting trend at work and polled for it. Often, pollsters stick with those defined as "likely voters" and screen out those who are unlikely to show up. That makes sense – you're not looking for sentiment, you're looking for results. That's especially true in a "closed primary" state like Florida – meaning, only registered Republicans can pull a Republican ballot. For his model here, Geller included 15% of Florida Republicans who had voted neither in the presidential primary in 2012 nor the congressional primaries in 2014. That's an unusually high number, but Geller told PolitickerNJ it was justified by the large numbers of new voters Trump was attracting to the process plus the way Florida, with its large population of newcomers to the state, has high numbers of voters who aren't caught by most pollsters.
Geller told PolitickerNJ, "One of the approaches we took was to make sure we cast a wide net. Turnout records are being set around the country because people who don't normally vote in primaries are turning out in droves this year. So as a pollster, I have to account for that, by making sure to include these people in the stew."
Another interesting finding came from a clever question Geller asked.
"Former Massachusetts Governor Mitt Romney is sending out automated calls in support of Marco Rubio. Do Romney's phone calls make you more likely to support Marco Rubio, less likely to support Marco Rubio, or does it have no impact on your voting decision?
According to Geller, "The Romney robo calls either had no impact or made voters less likely to support Rubio. Less than 20% of Rubio's own voters say it made them more likely. The few undecideds who are left say it makes them less likely to support Rubio or makes no difference to them."
In other words, Romney sucks.
Bottom line is that National Research got it right in Florida, a state that with two time zones and eight media markets is notoriously hard to poll.