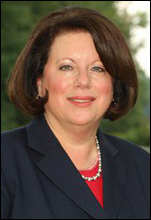 One of four abstentions when the Atlantic City state takeover bill went to a final vote and passed Monday, Senator Linda Greenstein (D-14) said that fears of a privatization of the Atlantic City fire or police departments motivated her decision not to vote 'Yes.' Citing the bill's provision allowing the state sweeping powers in altering collective bargaining agreements and its mandate that the city "monetize" its water authority, Greenstein said that her reservations about the potential for privatization efforts won out.
Greenstein said that state police and fire unions, fearful of a privatization effort similar to Camden City's failed bid to contract 911 dispatch services, brought their concerns to her before the session. Camden eliminated its police force in 2012, and merged departments with the county in 2013. Between fears of a similar restructuring of the departments in Atlantic City and those broad powers to change collective bargaining agreements, Greenstein decided to abstain.
"They didn't feel there were protections built in, and they were worried about people losing their jobs, about the process sort of working against collective bargaining," Greenstein said. "I think what the police were looking for is to have something written into the law that would say that his would not take place and wouldn't turn out the way Camden did.
"Police and fire are high on my list of concerns, I'm always concerned about their issues and so I wanted to express that through my vote."
Greenstein noted that while sponsor and Senate President Steve Sweeney (D-3) has opposed privatization of both the departments and the water authority, the language of the takeover bill would not preclude that drastic step from being taken down the road.
"He did not support that, but they were asking to have it written into the law and the sponsors were not willing to do that at that point," Greenstein said. "My experience is that when privatization takes place the services are often not as good and in the end, the savings are not as great as they make it sound."
Adding that she wouldn't characterize any of her colleagues in the Senate as full-throated supporters of a state takeover, Greenstein said she understands why so many voted 'Yes' yesterday. Greenstein did vote in favor of the PILOT bill for Atlantic City casinos, which has become apiece with the takeover in negotiations between the city, the legislature and the governor's office.
"I really do agree with many of the arguments that were made about the so-called Atlantic City takeover. I think that something needs to be done to prevent the bankruptcy there. I know how hard the Senate President worked on it and I know how much he agonized over it."