New York's most popular dishes aren't always measured by taste; instead, many gain their popularity one like at a time. Cronuts, rainbow bagels and 24-karat donuts have become social media fodder for amateur photographers hungry for likes. A delicious looking bowl of pea guacamole always does well on Instagram, and dumplings are a guaranteed dozen likes, whether they're soup dumplings in Chinatown or found uptown at Shun Lee (unfortunately, frozen ones are meant to be devoured in secret). The latest sensation are these limited ed Guac Burger Dumplings—the stuff social media dreams are made of.
Two Instagram favorites, by CHLOE. and Mimi Cheng's, teamed up for a collaboration that's innovative and like-worthy. They introduced a special menu item for the month of March, available at Mimi Cheng's. By CHLOE.'s first ever menu collaboration featured their black bean-quinoa-sweet potato patty and corn salsa inside of Mimi's dumpling wrapper. The dumpling is topped with guac and tortilla strips, and served with a side of spicy beet ketchup for dunking.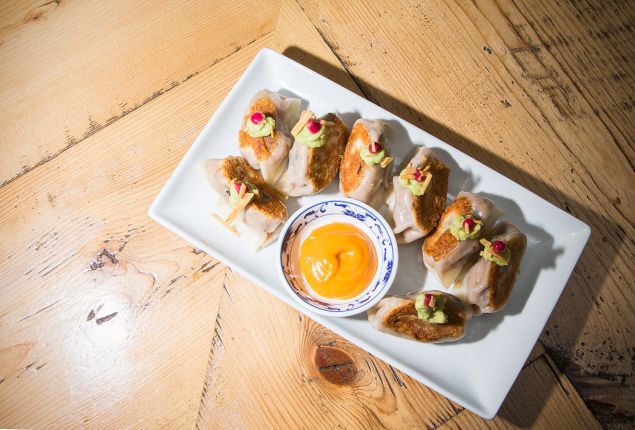 While the dish will up your social media game, it's a bit much. After all, guacamole is delicious on its own (or with tortilla chips) and dumplings simply need a dash of soy sauce, or hoisin sauce if you're feeling creative. Together, the sensation is odd; almost as if you're eating two meals, instead of one.
Vegan chef Chloe Coscarelli's guacamole veggie burger is (arguably) the best veggie burger in New York. It's dense without being heavy, with just the right amount of guacamole and tortilla topping. Once it's stuffed inside of Mimi Cheng's dumpling, which are tasty on their own, it's difficult to enjoy all of the flavors because it's so rich. If you're looking for the most delicious experience, head to by CHLOE. for their burger, and post-game with Mimi Cheng's dumplings…but if you're looking to gain followers, this compelling collaboration is a necessary taste test before March ends.