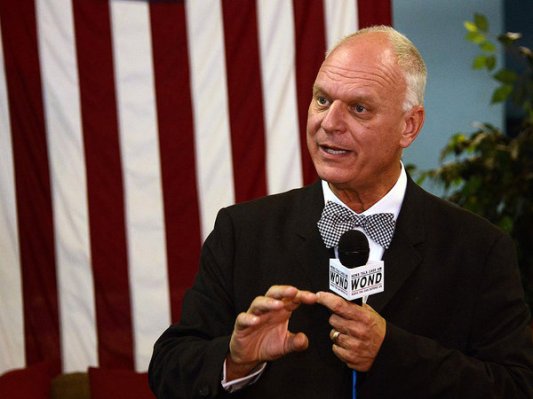 Atlantic City Mayor Don Guardian fired back against Governor Chris Christie following Christie's Thursday press conference where he threatened to withdraw his support for North Jersey casinos if the state takeover effort does not pass. Guardian has allied himself with Assembly Speaker Vince Prieto (D-32), who objects to the takeover ebcause it would allow the state Local Finance Board to alter or break collective bargaining agreements with city workers.
Responding to Christie's accusations that the city has spent "like drunken sailors," Guardian said by phone that the state's existing oversight has impeded some attempts to shore up the budget. Christie said that unless the takeover bill and its accompanying PILOT legislation pass as-is in the Assembly, he will veto them.
"The state has been involved all along," Guardian said. "Certainly, the governor is a one-man show on defeating North Jersey casinos. I mean, you have the same politicians from Trenton trying to convince the city that casinos would be good and would provide hundreds of millions of dollars. And yet, you're doing nothing to help Atlantic City than showing that the formula for helping the municipality from casinos isn't working."
Guardian also disputed Christie's numbers, which appear here. Atlantic City, he said, has an enormous number of commuters and visitors.
"The figures that the governor uses are the figures that he does not compare other cities to. It's not $262 million, it's $222 million last year, and it's $200 million this year. What we were forced to do, because the emergency manager told us to put it in, to add to the budget, seven and a half million dollars for reserves, another seven million for reserves for litigation, and 27 and a half million dollars that wasn't operating. It was used to pay tax appeals.
"Although we only have 39,000 people that live here, 51,000 people work here. 24 hours a day, three shifts every day. And it's rare on a Friday, Saturday or Sunday that you don't have at least 200,000 visitors."
Guardian said that local police and fire unions have been trying to cut a deal with the state Local Finance Board, the agency that would be able to break union contracts under the takeover bill, but that the board has not been responding.
"It seems that the state is trying to do everything they can to not let us reduce costs when they're involved, so they can just kind of jack up the numbers and try to justify why they want to take over the city."