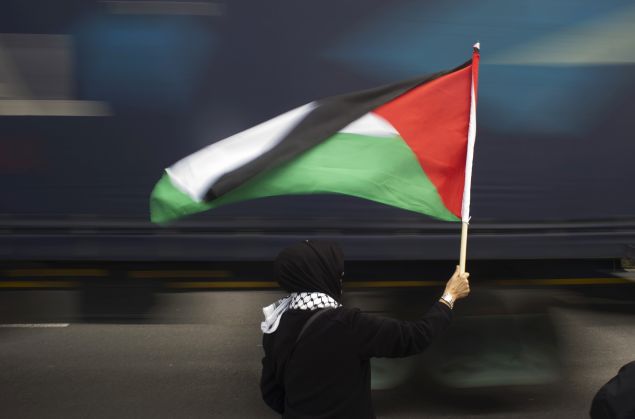 It's been a disappointing couple of months for the Boycott, Divestment and Sanctions crowd. In January, in what seemed sure to be a lay-up for reflexively anti-Israel academics targeting the Jewish state, the American Historical Association instead dealt the BDS folks a stinging blow, defeating by a more than 2 to 1 margin a resolution condemning Israel for what were claimed to be violations of Palestinian academic freedom.
Last month at McGill University in Montreal, where the BDS movement has been strong and anti-Israelism is deeply-rooted, BDS forces failed for the third time in 18 months to pass an anti-Israel motion. McGill's undergraduates rejected the latest one by a 57 percent to 43 percent vote.
A new Gallup poll released in late February found that despite an intensified effort to discredit Israel on American campuses, Americans between the ages of 18 and 29 declare their sympathies with Israel rather than the Palestinians by 54 percent to 23 percent. American support for Israel in general is steady at 62 percent and support for the Palestinians is down slightly to 15 percent, and sympathy for Israel among Democrats has actually risen over the past year.
In early March, overcoming its institutional resistance to reporting stories that tend to foster sympathy for Israel's predicament, The New York Times published two stories back-to-back, placing in stark relief Israel's status as the only country in the Middle East to protect LGBT rights. The Times first reported that a Hamas commander accused of homosexuality had been summarily executed by his Hamas colleagues. It isn't that Hamas' atrocities come as a surprise—the surprise is when The Times actually reports them.
Like the stories of gay Palestinians who flee the territories seeking refuge in Israel, the Feili story was distinctly unhelpful to the BDS narrative.
Then, in what must have seemed to the BDS'ers as pure betrayal, The Times quickly followed with the story of Payam Feili, a gay Iranian poet who fled persecution in Iran, where gay people have been executed, for Tel Aviv, where he is seeking asylum. "Long before I left Iran," Feili told The Times, "I thought that the only other place in the world I could live was Israel." The publication of the Feili story no doubt generated some "Et tu, Brute?" grumbling at BDS headquarters, where considerable resources are deployed to deride Israel's bona fides as a haven of LGBT rights by labeling those with nerve enough to point out those bona fides as "pinkwashers." Like the stories of gay Palestinians who flee the territories seeking refuge in Israel, the Feili story was distinctly unhelpful to the BDS narrative.
The BDS'ers did score what at first seemed like a media hit recently, when 40 Columbia University faculty signed an anti-Israel petition. Someone popped the balloon by pointing out that 74 Columbia faculty had signed on to a similar petition in 2002. This raised the question: What the heck is happening at Columbia? Has the reliable anti-Israel orthodoxy there hit a speed bump?
The performance of those promoting the Columbia petition seemed weak when one considered that it has over 3,800 full-time faculty members alone. That the promoters were able to get only 1 percent of all faculty to sign on to another petition denouncing Israel for being a colonialist, apartheid-loving and reactionary enterprise seems surprising, somehow, since they could have gotten a larger percentage of signatures at the average suburban Reform synagogue.
Worse, the BDS move roused a significant counterattack. Over 600 Columbia faculty, alumni and statements signed a statement rejecting the characterization of the widespread Palestinian targeting of Israeli civilians as "civil disobedience." At Columbia, as elsewhere, there are signs that the pro-Israel community, so long plagued by hubris, complacency and jaw-dropping incompetence, is at last starting to fight back.
It would be too bad, however, if the Jewish community took recent defeats of BDS as license to fall back into its habitual torpor, or penchant for mediocrity, when it comes to making Israel's case. There is no evidence that the BDS effort is abating, and every reason to think that it will mobilize ever more resources, and ever more ingenuity, in its drive to peel away American support for Israel. Countering it is going to require a good deal more than the same old, same-old from the Jewish community, which still seems to think that if its organizations just raise enough money and issue press releases that no one reads—not even the donors that are their primary audiences—it will suffice.
It won't.
As Ted Koppel told a clueless Mike Dukakis in 1988 after his robotic answer to a question about what his reaction would be if his wife were assaulted, some of the Jewish organizations just don't get it.
The American Israel Public Affairs Committee is an example. AIPAC, which has many thousands of supporters across the country, for years refused as a matter of actual policy to encourage those supporters to get out and make Israel's case in the public square, where public opinion is being formed and hardened. It was long content to confine itself to asking supporters for an annual contribution, to fly to Washington to lobby Congress once a year and to buy tickets to an annual dinner.  When asked why on earth it refused to try to deploy thousands of knowledgeable, committed pro-Israel activists on social media and in their local communities, AIPAC officials replied blandly that AIPAC just did not do that sort of thing. The problem is that the other side is doing that sort of thing—and with a sense of purpose that Israel's backers rarely match.
The haplessness on the pro-Israel side has frequently been something to behold. In the face of strong evidence that support for Israel among younger Americans was declining sharply, the leaders of one large city Jewish federation were repeatedly asked why Birthright alumni could not be encouraged to consider sharing their experiences in Israel, good and bad, with their cohorts on social media, so that the human face of Israelis could be communicated and the egregious stuff emanating from the BDS folks exposed for what it is. The Jewish leaders regularly issued assurances that this was being done, and, indeed, done well. It then emerged that, in fact, no one had even kept track of how to stay in touch with Birthright returnees; far less had anyone actually communicated with them. The soothing assurances that had been issued by the Jewish leadership turned out to be hokum at a time when hokum is exactly what can be least afforded.
What is most needed is for the pro-Israel community to reach out to the African-American, Latino and Asian-American communities that are on track shortly to constitute the new American majority. To be sure, there are some bright spots. The American Jewish Committee years ago launched a major initiative in South and Central America and with the Hispanic community at home, with impressive results. The Anti-Defamation League's regional offices have worked with new urgency to strengthen relations in the Hispanic community, joining together with it on immigration issues and organizing trips to Israel for local Latino leaders. Some of the most innovative efforts have been by relatively fresh, ground-up entities like Stand With Us and the David Project, which were created by those impatient with the ponderousness of the established organizations.
Fred Lawrence, the constitutional scholar who recently completed a 5 year stint as President of Brandeis University, sees a full-throttle outreach by the pro-Israel community to people of color as crucial to securing support for Israel going forward. "This is about repairing breaches of relationships and breaches of understanding that have occurred in past years," says Mr. Lawrence, who initiated a program called "Brandeis Bridges" that is a model for smart and important relationship-building. The program brought Jewish and African-American students at Brandeis to Israel one year, and then to Mississippi the next, reinforcing both common bonds and a mutual commitment to learning about the others' experience. Mr. Lawrence remembers having participants to his home for dinner after the Israel trip, and privately asking one young African-American woman to tell him the most memorable part for her. Without a moment's hesitation, she said, "The people." A few minutes later he went over to one of the other students, asked the same question in private and got the exact same two word reply.
Mr. Lawrence notes that there is no reason that "Brandeis Bridges," bringing Jewish and African-American students both to places vital to the civil right struggle and to Israel, could not be replicated at colleges and universities across the United States. "This is eminently scalable," says Mr. Lawrence. "This needn't be a one-off."
The recent setbacks for BDS ought not anesthetize Israel's supporters, or lull them into a false sense of comfort. The delegitimization of Israel in the United States is BDS' top priority. The emerging new America is composed of young people and people of color who continue to hear a steady stream of clever rhetoric aimed at turning them against the Jewish state. For Israel's supporters, there is simply no time for dithering or chat-fests or going through the motions. It is instead a time to bring a level of energy and resourcefulness to the battle that they are not used to bringing.