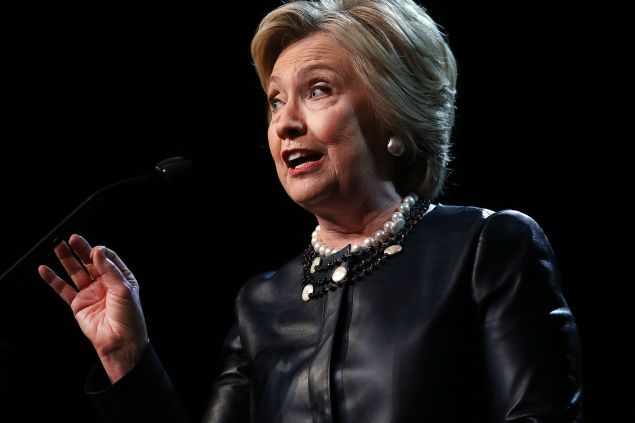 Hillary Clinton's campaign recently sunk to a new low by allowing political operative David Brock to file ethics lawsuits on their behalf against Bernie Sanders' campaign.
Despite vocally advocating for campaign finance reform, Ms. Clinton has received millions of dollars in contributions through her joint super PAC with the Democratic National Committee—the Hillary Victory Fund—and several other super PACs lobbying on her behalf. One of them, the American Democracy Legal Fund (ADLF), had the audacity to file three ethics complaints with the Federal Election Commission alleging Mr. Sanders—who does not have a super PAC—received too much money from individual donors, and accused the National Nurses Union of operating as a super PAC.
The ADLF is run by Brad Woodhouse, president of the pro-Hillary Clinton super PAC, Correct The Record. Mr. Brock is the founder of ADLF, and is also involved with Correct the Record as well as another Clinton super PAC, American Bridge—where he simultaneously advises Ms. Clinton's campaign and helps their super PACs raise millions of dollars from wealthy contributors.
"What they are doing with Correct the Record is groundbreaking," Paul Ryan, a lawyer at the Campaign Legal Center, told Time Magazine in September 2015. "It is creating new ways to undermine campaign regulation." A loophole in coordination laws between political campaigns and their super PACs allows Correct The Record to legally coordinate with the Clinton campaign because their work is done online, rather than through broadcast communications or other forms of media.
Ms. Clinton should distance herself from individuals like Mr. Brock, whose shameless career in bad politics is a liability to her campaign. Mr. Brock attacked Anita Hill after she accused Supreme Court nominee Clarence Thomas of sexual harassment in 1992, and even went so far as to write a book about the controversy. At the time a conservative, Mr. Brock gained fame for attacking the Clintons in the 1990s. He later defected from his role as a journalistic hit man for Republicans after being alienated for his homosexuality, and is now helping Ms. Clinton in similar ways.
This relationship is one-sided in favor of Mr. Brock and will only cause further damage to Ms. Clinton's reputation as dishonest and untrustworthy. Mr. Brock has already proven to be a loose cannon, likely to go on the attack without any calculated reserve. A few months ago, Mr. Sanders released his medical records to prove he was healthy after Mr. Brock demanded the documents, resulting in Ms. Clinton's campaign chairman John Podesta telling Mr. Brock to calm down. Now, Mr. Brock is trying to attack Mr. Sanders through frivolous legal action alleging Mr. Sanders, and not Ms. Clinton, is the Democratic candidate unethically raising funds.
It is bad enough that Hillary Clinton continues to benefit from super PACs and repeatedly holds lavish fundraising events—the next to be hosted by George Clooney at a ticket of $353,000 per couple—while claiming she is not tied to wealthy donors and corporations.
"Just one day after the Clinton campaign said we needed to change our tone, the leaders of their coordinated super PAC, which is funded by millions from Wall Street, filed baseless and frivolous complaints with the FEC," Mr. Sanders' campaign manager Jeff Weaver said in a statement. "Tells you all you need to know."